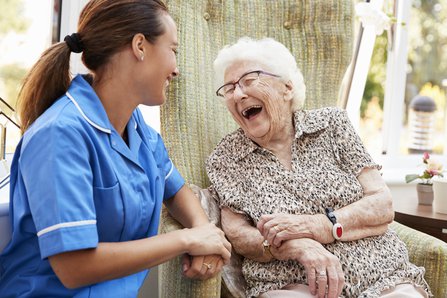 Convalescent Care is a term used to describe the short-term support provided by skilled professionals to individuals who are recovering from an illness, operation or injury.
This type of care is goal-orientated with the end goal always being for the individual to regain their independence as well as enough strength to cope without support.
FAQ's - Convalescent Care:
Where can convalescent care be provided?
| At Home | In a Care Home/Nursing Home |
| --- | --- |
| Home Care companies can provide convalescent care to individuals in the comfort of their own home until they feel strong enough to cope without support. | Convalescent care can be provided in care and nursing homes where 24/7 support can be given. |
| It can be arranged for a Carer to call on a person daily at agreed times, or some Home Care companies will even be able to provide a live-in Carer if required. | In a care home/nursing home, care can be provided in a safe, supportive and skilled environment. |
| Often, a free consultation will take place before the care is needed. A goal-orientated care plan outlining the person's care needs will be created to ensure that the Home Care company can support you as best as they can. | Convalescent care in a care/nursing home is usually seen as being more effective than home care due to equipment being readily available and experienced staff members being on hand. |
Who might benefit from convalescent care?
People who have the ability to recover from whatever caused them to require additional support are suited to convalescent care. For instance, if a person has had a hip replacement they may require support initially with tasks such as moving around and meal preparation, but once they have healed it is more than likely that they will be able to transition back to their normal lifestyle and cope without support.
Other examples of why someone might need convalescent care:
Post-surgery recovery
Hospital discharge after a fall
Following a stroke
What kind of support is supplied by convalescent care?
Convalescent care can provide support with:
Meals
Companionship
Medicine administration
Incontinence
Services available:
Comprehensive plan of care and recovery
Counselling/phychological therapy
Speech therapy
Occupational therapy
Physical therapy
How long can convalescent care be provided for?
The length of time someone receives convalescent care for greatly depends on the severity of their condition/injuries and their recommended recovery time. People tend to receive convalescent care for as little as a few days to a few months.
How is convalescent care funded?
If the care has been organised by a Local Authority as part of a package of short-term rehabilitation, the first 6 weeks of convalescent care should be free, otherwise known as 'intermediate care'. In this case, the care is either fully funded by the Local Authority, or jointly funded by the NHS and the Local Authority.
How do I organise convalescent care?
If you know in advance that you will be requiring convalescent care in a care home/nursing home, it is recommended that you contact the home 2 weeks before the care is required to reserve a bed. However, if you unexpectedly find yourself requiring convalescent care with immediate effect, it is advised that you ring home care/homes to find out about availability.
Before beginning convalescent care with a care service an assessment will be carried out on the person requiring care. This is to ensure that the home or home care company can gain a thorough understanding of what the care requirements of the individual are going to be at the time the care commences. The assessment will involve discussions about the treatment & care you will require and when & how often the care will be needed. Following the assessment, a tailored care plan will be created.
Do you know of someone who has an upcoming operation or hospital stay? If so, do you know whether they have thought about arranging convalescent care to support them afterwards? If you would like help with finding care services which offer convalescent care near you, TrustedCare can help! Please do not hesitate to get in touch today.
Are you looking for convalescent care for yourself or a loved one? Contact TrustedCare today for support in shortlisting care services near you!