The decision to look for a Nursing Home is born out of need - given any choice in the matter, nobody would wish to have to choose a Nursing Home for themselves or a loved one. Nursing Homes are specifically for people who require round-the-clock care from a Registered Nurse due to their ongoing healthcare needs.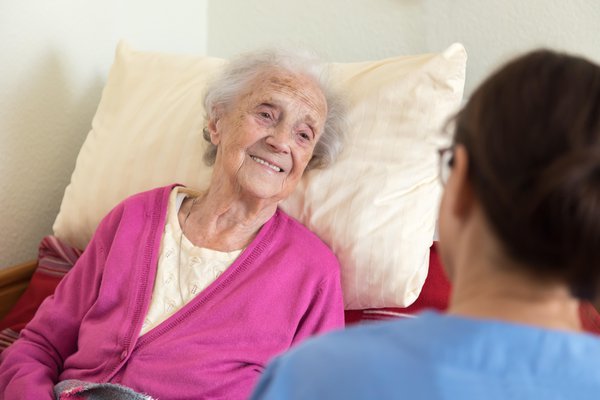 It is common that the need for ongoing nursing care is established after a Hospital admission. Often, it is the family members who are tasked with finding a suitable Nursing Home with current availability for their relative.
Such is the demand on hospital beds, many family members tell us of the pressure that is applied to them by hospital staff or Social Workers to find a Nursing Home for their relative. Although 'bed-blocking' is a huge problem for the NHS there must be a safe and suitable environment for your loved one to be discharged to before they leave Hospital.
Take 5 minutes out to read through the key considerations when choosing a Nursing Home.
1. Cost: How much does it cost?
Understanding the weekly cost of nursing care, including any funding support your relative is entitled to, is crucial. Everybody who requires nursing care is entitled to Funded Nursing Care (FNC). This is a weekly payment of £209.19 which is contributed by the NHS to help cover the cost of having a Registered Nurse on hand 24/7.
Top-tip: Always ask Nursing Homes whether the weekly fee quoted to you includes FNC.
The Nursing Home registers for FNC payments for any new residents; these are paid directly to the home for the duration of their stay. The only people who are not eligible for FNC are those who have been awarded Continuing Healthcare (CHC). Find out more about the different types of funding available to people requiring Nursing Care here.
Do not get caught out by any unexpected fees, most Nursing Homes are upfront about their costs but is always wise to clarify the following:
Are there any Administration fees for new residents?
Do residents have to pay any annual community fees, if so, when are they payable?
Is there an initial upfront deposit for care costs?
2. Care Specialisms: Can the home support the nursing needs of your relative?
Great news, you've found a Nursing Home with current availability but have you confirmed they can support the nursing needs of your relative? Despite the fact that all Nursing Homes have Registered Nurses, the care needs supported vary from home to home.
It is very common for Nursing Homes to only be able to support people with dementia if their nursing needs outweigh their dementia needs. If your relative has nursing needs but also has dementia it is important to establish whether the home is set up to support them.
If your family member is currently in hospital and you have been advised to search for a Nursing Home then a 'Nursing Assessment' will of been carried out by Hospital staff. Ask for a copy of this assessment as it outlines their exact nursing needs i.e. requires hoisting, suprapubic catheter and stoma care. Refer to this when you are speaking to shortlisted Nursing Homes and they should be able to advise if they can support you.
Lastly, if you're looking for care for a relative who is under the age of 65, be sure to clarify if the home has a minimum admission age. Due to the nature of nursing care, many homes are only registered to support people over the age of 65.
Get in touch today for free, help and support finding a Nursing Home near you
3. Visit: When can you go and visit?
You've established the cost and you've confirmed that your relative's nursing needs can be supported. The next step is to go and visit! Most Nursing Homes allow visits throughout the day, they just ask that people avoid medication rounds and meal times.
Choosing a Nursing Home is a little bit like choosing your first house, it is only by visiting a few that you'll get a sense of which one feels like home! Only you will know what is important to your family member, if they're a foodie ask to see a copy of the home's weekly menu.
Here are just a few questions you may want to ask yourself as you look around the home: Is the decor to your relative's taste? Are the corridors wide enough for their wheelchair? What are the communal areas of the home like? Do the other residents look happy?
You've ticked off your questions regarding the living environment, now it's important to establish more information about the care provided. The Home Manager should be able to provide you with answers to the following:
How many Nurses are on shift during the day?
How many Nurses are on shift during the night?
Does the home employ the services of agency Nurses? If so, what is the proportion of permanent Nurses versus agency Nurses working at the Home?
4. Ratings & Reviews: Read what other people say about the Home
Would you book a restaurant without first taking the recommendation of a friend or looking them up on TripAdvisor? So why would you choose a Nursing Home without first hearing what other people have to say! There is no one better to tell you what life is really like inside a given Nursing Home than those with first-hand experience. Simply enter the name of the home into a Google search and see what is revealed!
It is also advisable to read what the regulator has to say about the service. All nursing homes in England are regulated by the Care Quality Commission (CQC) and once inspected will be given one of the following ratings: Outstanding, Good, Requires Improvement or Inadequate. You may also want to read the Inspector's full inspection report which is available through the Nursing Home's profile on TrustedCare.co.uk or via the CQC website.
Nursing homes in Scotland and Wales are regulated by the Care Inspectorate; although the regulator for both countries has the same name they operate entirely independently. Find out more about the role of the governing body and how they inspect care services here.
5. Communication: Establish key-lines of communication
If a family member is moving into a Nursing Home then it is because they undeniably have considerable care needs. Family members report being wrought with guilt and worry about whether their family member is being well looked after. To help allay these fears it is important to establish key lines of communication between yourself and the home.
As mentioned above, most Nursing Homes have an open-door policy for family members and welcome visits throughout the day and night. However, for family members who live elsewhere or have their own healthcare needs, visiting is not always feasible. In this instance, it's important to establish lines of communication between yourself and the home.
Lots of Nursing Homes have phone lines installed in residents' rooms or else residents have their own mobile phones. (Staff are very happy to assist with charging phones and answering calls if required). If your family member is hard of hearing or too unwell to answer the phone, communicating with them over the phone might present too much of a challenge. In which case, call the Care Home directly and ask to speak to whoever has been charged with caring for your family member that day for an update.
When your family member becomes a resident a full Care Plan must have been put in place prior to their admission. The Care Plan details their care requirements and is informed by healthcare professionals, the resident themselves and the resident's family members. Within the Care Plan, key contact information will be held on the resident's family members. In the event of any emergencies, staff at the home will refer to the Care Plan and contact next-of-kin.
Communicating with your relative on an ongoing basis