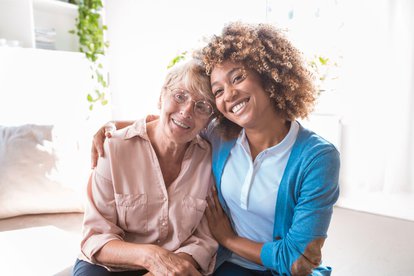 Live-in care is delivered within a care seeker's own home by a Carer who lives in a room of the care seeker's house. The Carer will be on hand 24-hours a day to support the care seeker with their care needs.
The care and support provided by a live-in care company are exactly the same as the support provided by a domiciliary care company except:
The Carer lives alongside the person in need of care
The person in need of care must have a spare bedroom which can be used to accommodate their live-in Carer
The Carer is available throughout the day to provide care & support
A live-in Carer is entitled to a 2-hour break during the day, an individual who needs constant care & support may look to cover this break by arranging a 2-hour visit from a home care company. Most Live-in Carers are happy to provide a reasonable level of support during the night e.g. 1-2 visits to the bathroom. If a high-level of support is required throughout the night then this would need to be covered by an additional Carer, as the Live-in Carer must be allowed to take adequate rest.
What support can a live-in Carer provide?
The best way to remember the typical support provided by a live-in Carer is to think about the key milestones that occur in each day. Watch the video below to find out the kind of support Brenda receives from her Helping Hands live-in Carers.
1. Getting up
Assistance with getting out of bed, including hoisting if required
Assistance with washing, grooming & dressing
2. Breakfast/Lunch/Dinner
Assistance with meal preparation & washing up
Assistance with feeding if required
3. Going to bed
Assistance with night-time routine
Assistance with getting into bed, including hoisting if required
Other things that a live-in Carer may support with:
Ongoing management of healthcare conditions including prompts to take medication
Household management including cleaning and food shopping
Supporting individuals to attend appointments/events in their local community e.g. Hospital appointments or trips to the garden centre.
Companionship - who doesn't love a chat over a cuppa!
Liaising with family & healthcare professionals - Carers can be a regular point of contact who can raise safeguarding concerns if needs be.
What types of care can Live-in care support?
Within reason, live-in care providers can support individuals with the same healthcare conditions as anyone living within a residential care home setting. Live-in Carers are subject to the same 'checks' as those who work in a residential setting. A live-in carer must be DBS and reference checked before moving into a persons' home to care for them.
Elderly (over 65 years)
Mobility
Dementia
Younger adults
Frailty (weak & delicate)
Degenerative healthcare conditions
Hoisting
Challenging behaviour
What are the benefits of Live-in care?
The care seeker doesn't have to leave the comfort of their own home meaning that they can remain in their familiar surroundings.
Undivided attention will be provided by the live-in Carer
Care seekers with a live-in Carer always have a companion, preventing the likelihood of loneliness
If a care seeker has a pet, they can continue to care for them with the help of the Carer. A study commissioned by The Live-in Care Hub found that "20% of elderly people would put their health at risk by refusing to go into care without their pet"!
Live-in care offers care seekers continuity in the sense that the same person is consistently providing their care
It provides friends & family of a care seeker with peace of mind that there is always someone looking out for their loved one.
The presence of a live-in Carer can open up new possibilities for a care seeker, leading to an improved lifestyle. For instance, they may have stopped doing certain things that they enjoy before having a live-in Carer due to no longer being capable to do so alone. A Carer can assist them to pick these hobbies back up!
Do you know of anyone who is requiring around the clock care? People often assume that residential care is their only option, but live-in care is often a possibility too and is certainly well worth looking into!  Especially as according to The Live-in Care Hub "97 per cent of people DON'T want to move into institutional care if they become ill or less able to cope."
Are you looking for live in care? Get in touch with us today for complimentary support!