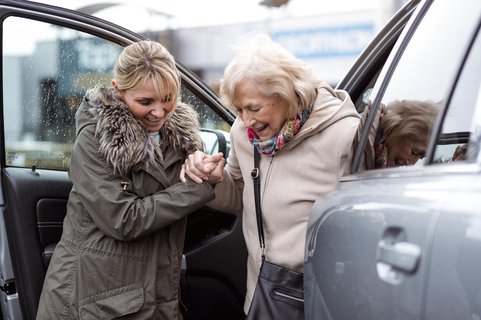 Here are just a few of the FAQs our team of Care Advisers come across when supporting people to search for home care.
If you have a specific question for our team of specialist Care Advisers then please do not hesitate to get in touch. In the rare instance that you manage to 'stump' your Adviser they will go away and come back to you in 24-hours with the answer!
When my Dad was sent home from hospital he was set-up with 6-weeks of Intermediate Care by the NHS, this is now coming to an end, what should I do?
If your Dad still requires support at home after the initial 6-weeks of intermediate care then your next steps depend on whether your Dad is eligible for Local Authority funding or will be privately-funding his care.
If your Dad will be funded by the Local Authority then you need to liaise with the Social Worker regarding your Dad's eligibility for ongoing care as soon as possible. If your Dad does not have a Social Worker then you need to get in touch with his Local Authority and ask for one to be assigned, from here a Care Needs Assessment can be arranged. This process can be timely, it is advisable to contact the Local Authority about your Dad's ongoing care needs as soon as possible, rather than at the end of his 6-weeks of intermediate care.
Similarly, if your Dad will be privately funding his home care then it is advisable to contact local home care providers as soon as possible. The Service Manager can arrange to visit your Dad at home to assess his care needs. Before starting your Dad's care the Home Care company will need to put a full Care Plan in place and schedule your Dad's care calls into their weekly rotas.
I am struggling to get up the stairs at home and don't have a downstairs bathroom, what should I do?
As we age, normal everyday tasks become harder and harder. If you're struggling with the stairs, getting out of bed or even in and out of your chair then you should contact your Local Authority or GP and ask for a Home Assessment.
Your Local Authority will arrange for an Occupational Therapist (OT) to come and visit you at home. The OT will spend time with you at home, listen to your concerns and assess your home environment. From here they will advise of any equipment or home adaptations that should make things a little bit easier.
Some equipment can be loaned to you free-of-charge, a grant may be awarded to cover the cost of specialist equipment or necessary home adaptations. The OT will also be able to share information on companies which provide equipment that may be of interest to you.
For free, help and support searching for home care then speak to TrustedCare's friendly Adviser's 7-days a week