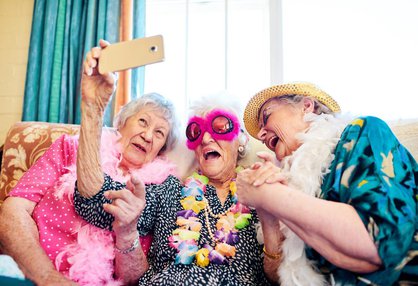 Searching for care is different for everyone, perhaps you're just getting ahead and researching your options. Or perhaps your search has been prompted by a family member unexpectedly falling unwell.
No matter what scenario has led you to search for care, the five key things for consideration remain the same.
Take Five:
1. Cost: What is the weekly cost of care and what is included?
Whether it's the first thing you ask or the last thing you ask, it is essential to find out what the weekly cost of care is going to be. Talking about 'money' is considered by many as a social taboo, deemed impolite and improper. (Especially if you're British!)
Nevertheless, it is essential to be practical when it comes to funding care and ask for an exact breakdown of weekly care fees. It is wise to ask whether there are any 'additional extras' not covered in the weekly cost, for example, haircuts or daily newspapers. It is also important to ask whether there are any planned price rises; care homes fees often see an annual percentage rise of between 2.5% and 5%.
Don't get caught out by unexpected 'one-off' charges. These charges can be significant and if unaccounted for can mean the difference between being able to afford to go ahead with your chosen care service or not. Examples of such fees are:
Administration fee for becoming a new resident; expect to pay upwards of £100
Annual community fee; expect to pay upwards of £1000
Initial upfront deposit to cover 1-2 months care; expect to pay upwards of £1,500
Local Authority Funded: If you have secured Local Authority funding then it is vital to establish whether the care service accepts the rate of pay awarded. If they do not, then you will need to establish what the 'top-up' fee per week is. Top-up fees can vary hugely, they can be a little as £5 per week to £500+ per week, payable by the family or a third party.
2. Ratings & Reviews: What are other people saying about the Care Home?
Arm yourself with information; read the latest regulatory report and seek-out verified review websites to see what is being said about the service.
All care services in England are regulated by the Care Quality Commision (CQC), both Scotlands and Wales' regulatory bodies are called the Care Inspectorate, but operate entirely independently. The purpose of these regulatory bodies is the same - to ensure registered care services are providing safe and effective care.
Each regulatory body has their own process for monitoring services, all of which include inspections. Inspectors normally spend 2-days with services before going away and reporting on their findings. As well as writing a full inspection report, the service will also be awarded with an overall rating.
There are a number of ways to find out the latest rating for a care service and gain access to the full inspection report, including:
Visiting the website of the regulatory body; simply search by the service name or location to view information held on the service
Ask to see the latest rating and report when visiting the service; it is a Government requirement that care services display their latest regulatory rating

Through TrustedCare.co.uk; view the profiles of shortlisted care services via TrustedCare.co.uk to see their latest CQC rating and link to the full inspection report
It is important to remember that the regulatory body can only report on their findings from the few days they spent with the service. Reading what service-users or family members have to say about their experience is invaluable. There are a number of ways to do this, either visit review websites directly or simply type the name of the service into Google and see what is revealed!
3. Visit: Get a sense for which service feels like Home
There is so much to be gained from visiting care services; a thousand photographs could not accurately portray the 'feel' of a home. A sense of the energy and atmosphere can only be gained by visiting.
It is important to remember that no matter how extensive an online portfolio of images a provider has, their website is only a 'shop window' of what the provider would like you to see. Images which show areas of the home in need of a little TLC (or complete renovation!) are of course going to be omitted.
As well as viewing the facilities you will get to meet key members of staff and witness day-to-day life at the home. First impressions really do count, if you felt welcomed this is going to leave a much better impression than if you were left on the doorstep ringing the bell for 5 minutes!
Walking around the home gives you the opportunity to observe resident and staff interactions, try to remember to ask yourself the following:
Do care staff appear to treat residents with kindness?
Do residents appear to be happy?
Witnessing residents at ease, smiling and laughing with fellow residents and staff often tells you all you need to know about a care service. If possible and appropriate to do so, it can sometimes be beneficial to take your loved one/potential resident to the viewing with you. It will be them living in the home afterall! A lot of homes welcome potential residents for lunch (if arranged in advance), to help them get a sense of what day-to-day life at the home is really like. This can be especially useful if the person is reluctant or uncertain about moving into a care home.
For free, help and support choosing a residential Care Home contact TrustedCare's team of friendly Care Advisers 7-days a week
4. Checklist: What's important to the person requiring care?
Don't fall prey to the Care Home with the fancy coffee machine or the glass of Champagne upon arrival! Although a very nice touch - does your relative really care for lattes and cappuccinos?
If you can't take your relative with you to the home, then try to view it through their eyes. If they use a walking frame or wheelchair, are the corridors nice and wide? Does your relative have dementia and prone to confusion and forgetfulness? If so, is the home easy to navigate with clear signposting throughout? Thinking of the persons day to day routine can be helpful to determine whether the home and available room would be well-suited.
What matters to one person might be of little consequence to another. TrustedCare have supported a care-seeker whose 'deal-breaker' was that he could have Sky Sports installed in his room as he was a complete sports fanatic!
Most Care Homes will try to be as accommodating as possible, in the words of the Spanish 'mi casa es su casa'! It's important that both new and old residents are made to feel at home.
5. Communication: Stay in touch
If somebody is moving into a Care Home it is highly probable that there are concerns about their ongoing health and well-being. Just because they've moved into a Care Home, the worries held by family members do not disappear overnight.
Most care services have an open-door policy for family members and welcome visits at any-time. However, there are all sorts of reasons why visiting regularly might not be feasible; be it living in a different county (or even country) or having healthcare needs of your own which prevent you from visiting. In this instance, it's important to establish lines of communication between yourself and your relative and yourself and the home.
Communicating with your relative on an ongoing basis
Lots of Care Homes have phone-lines installed in residents rooms, meaning it is very easy to put a landline telephone in your family members room. If phone-lines haven't been installed then it is very common for residents to have their own mobile telephones. Should the home be located in a 'black-spot' for mobile phone signal and there are no phone-lines in residents rooms, then often the home will have a cordless telephone which they are able to take to the resident, no matter where they are in the Home.
If your family member is hard of hearing then communicating with them over the phone might present too much of a challenge. In which case, call the Care Home directly and ask to speak to whomever has been charged with caring for your family member that day for an update.
How causes for concern are communicated to you
When your family member becomes a resident of a Care Home a full Care Plan must of been put in place prior to their admission. The Care Plan details their care requirements and is informed by healthcare professionals, the resident themselves and the resident's family members. Within the Care Plan key contact information will be held on resident's family members. In the event of any emergencies, staff at the home will refer to the Care Plan and contact next-of-kin.