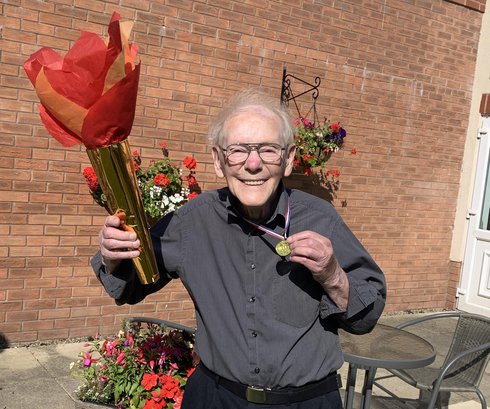 Care home residents and staff enjoyed celebrating the Tokyo Olympic Games 2020, many participating in their very own Olympic Tournaments!
Read on to find out about the innovative ways our care home & nursing home partners celebrated during the Olympics this year!
Image to the right: Bill, resident of Ashworth Grange, Ideal Carehomes with his gold medal!
Care Home Olympic Celebrations...
Challenges were set & prizes were won at Dean Wood Care Home, Bupa...
At Dean Wood care home in Brighton, staff and residents enjoyed partaking in challenges that encouraged movement and engagement. They also made Olympic torches and crowns to wear while cheering their favourite athletes on.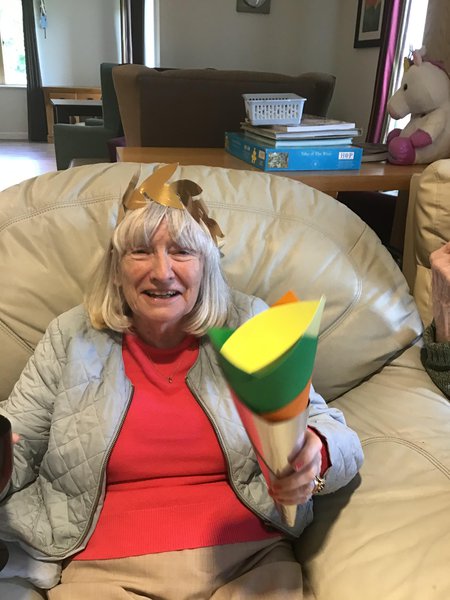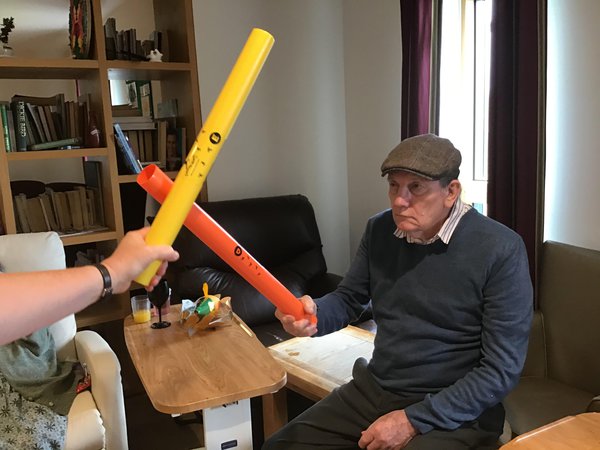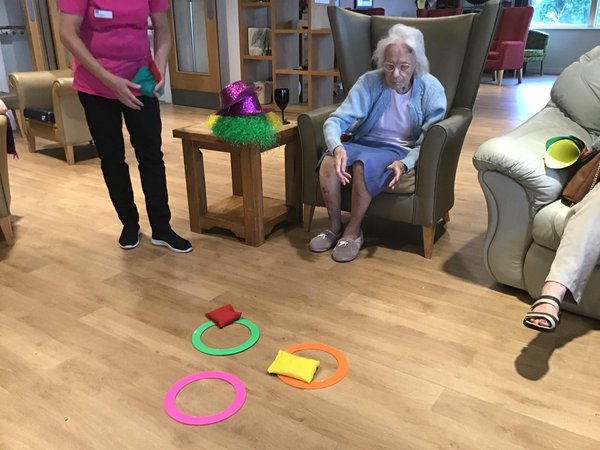 Residents and staff at Gracewell of Fareham started early and had an Olympic themed event back in May during their Greek-themed week where they threw the 'javelin' into Olympic circles!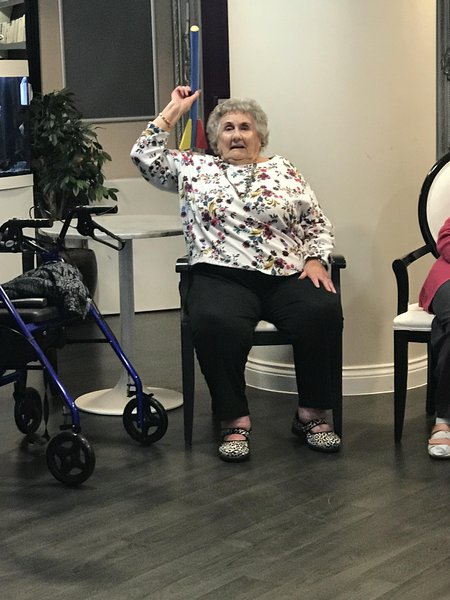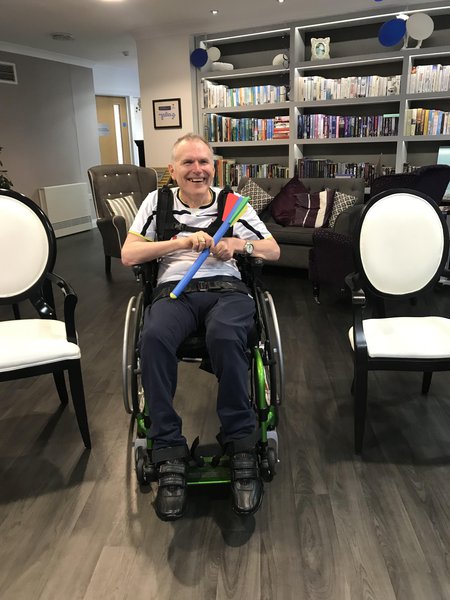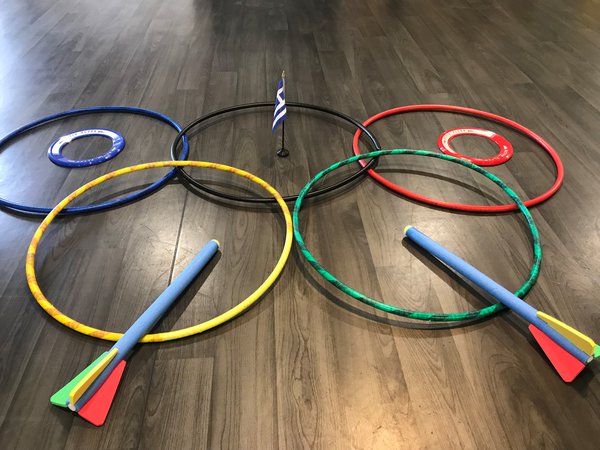 Residents at Ashworth Grange showed their competitive sides as they battled it out for top marks at their very own Olympic games...
In the spirit of the Tokyo games, carers at Ashworth Grange in Dewsbury, celebrated their very own gold, silver and bronze medallists after taking part in their own specially designed Olympic games.​ Staff pulled out all the stops to launch the games with an opening ceremony, recreating the infamous passing of the torch. The home was decorated in handmade garlands including an impressive Olympic rings mural and residents wore team GB shirts, waved flags and banners and even enjoyed a taste of Tokyo with a classic Japanese tasting menu.
Residents and staff split into four teams, named after symbolic flowers; Rose, Daisy, Lily and Poppy, to battle it out over two weeks, across nine of sports designed to suit the abilities of the care home athletes.  Games included long range bean bag toss, 10 meter hoopla, balloon volleyball, 15 meter egg and spoon race, outdoor javelin throw, and even a sack race.
As the games began, it was clear that team poppy athlete, 93-year-old, Bill Atkinson, was hitting a home record for gold medal triumphs, with an impressive 3 wins. He said, 'Our Olympic games have been a blast, it has been brilliant to take on a new challenge every day and to win gold medals along the way has been the cherry on top! I think at my age it is very important to continue to stay in good physical health and our games have been a fun way to get up and moving.'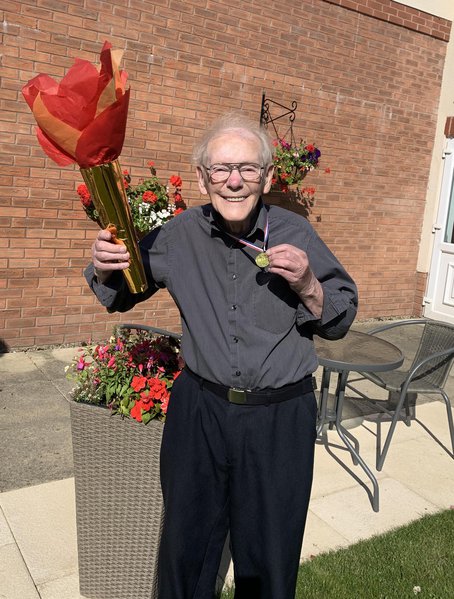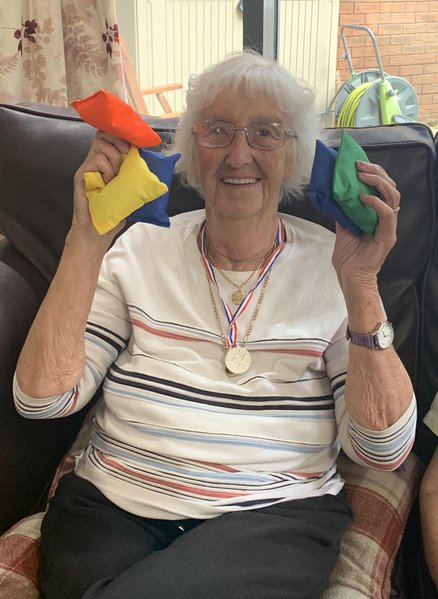 Cedar House, Cedar Care have an Olympics themed party...
All at Cedar House, a care home based in Leicestershire enjoyed a wonderful Olympics themed party with handmade torches and medals up for grabs!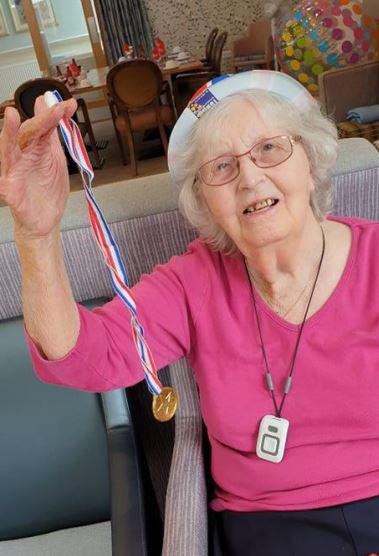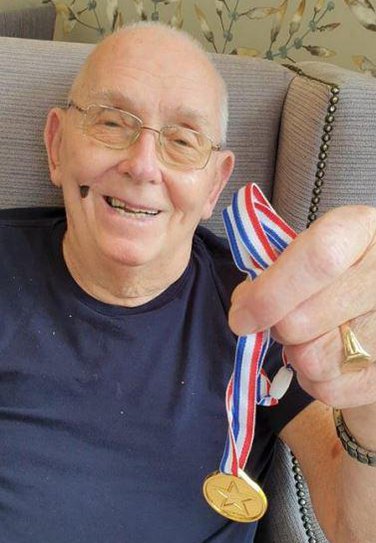 Chandler Court, Care UK hosted their own Olympic Games afternoon...
On the day of the Olympics opening ceremony, Chandler Court's Sanders Suite hosted their own Olympic games afternoon which entailed ball games, balloon tennis, ping pong amongst other activities! The lounge was decorated with GB flags and banners and residents got into the competitive spirit. Resident, Pat, scored 100 points on the target game straight away!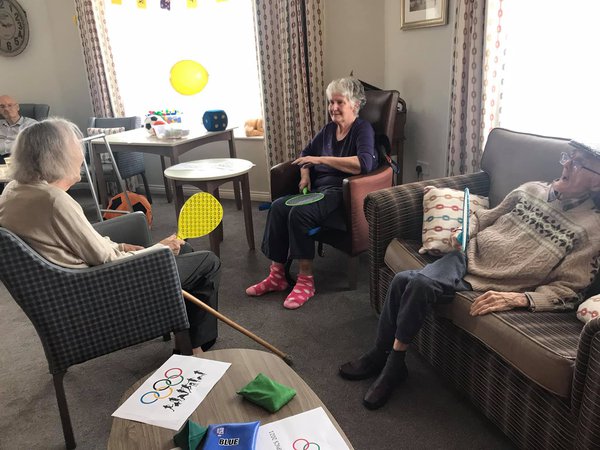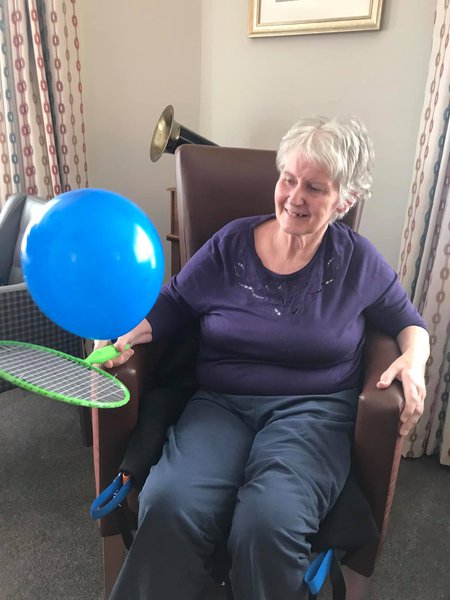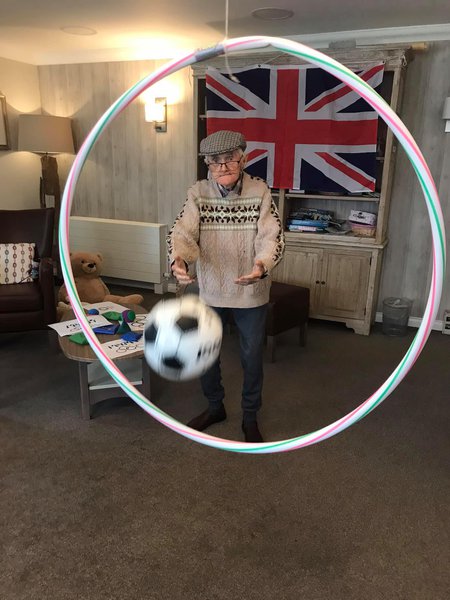 Four Oaks Care Home, Kingsley Healthcare got into the Olympics spirit!
Kingsley Healthcare's Four Oaks care home, in Partington, Manchester, certainly got into the spirit of the Olympics as you will see from the photos below.
Iwona, the home's activities coordinator, said: "We have had some great fun with the Olympics with Four Oaks residents getting involved from the torch ceremony to basketball, shooting and many more sports. This was a great way to lift everyone's spirit."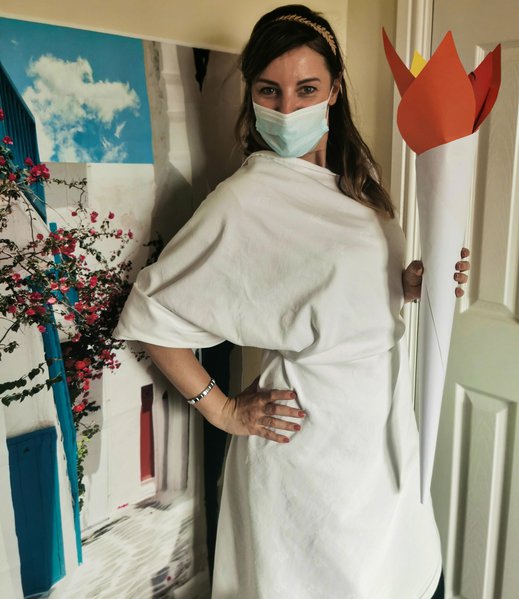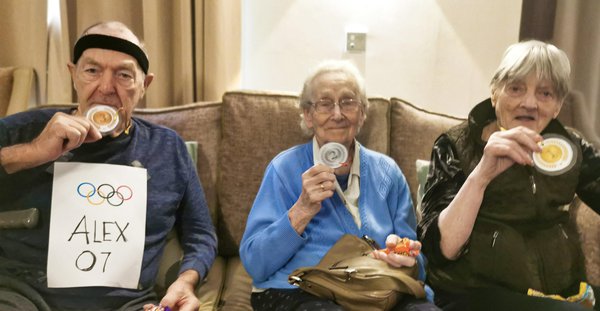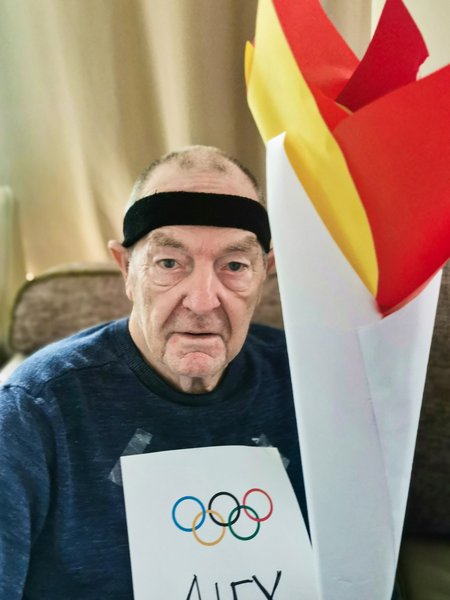 Residents at Fenchurch House Care Home enjoy Olympic themed activities...
5th August 2021; Residents and staff at Fenchurch House Care Home in Spalding Common have been enjoyed their very own Olympic Games with a range of Olympics and sport-themed activities. Named the 'Country Court Oomph-Olympics' (through a combination of the two companies running the event), residents have been trying their hand at boccia, bop-fit, artistic swimming and other events.
Fenchurch House hosted an Opening Ceremony with afternoon tea, complete with the passing of an Olympic torch to mark the opening of the event. To set the scene the home was decorated with flags and a banner made by the residents. Activity Coordinators from Country Court, the operator behind Fenchurch House, have been receiving training from partner activity provider, Oomph Wellness to help run the events. Each home across the country will be leading residents in Boccia, bop-fit, artistic swimming and an open event of their choice. Fenchurch House got their games underway with an afternoon of balloon volleyball complete with a singalong to get everyone feeling motivated.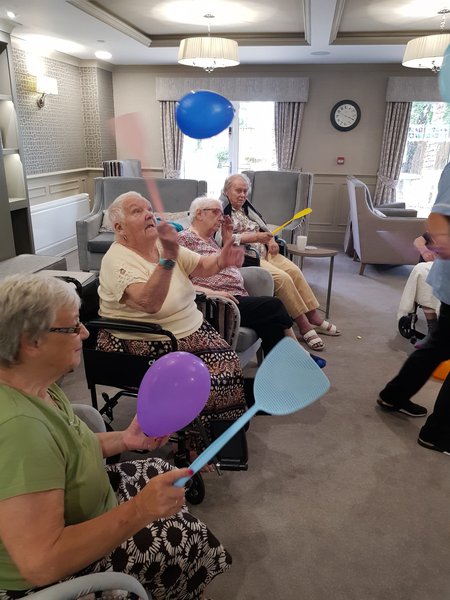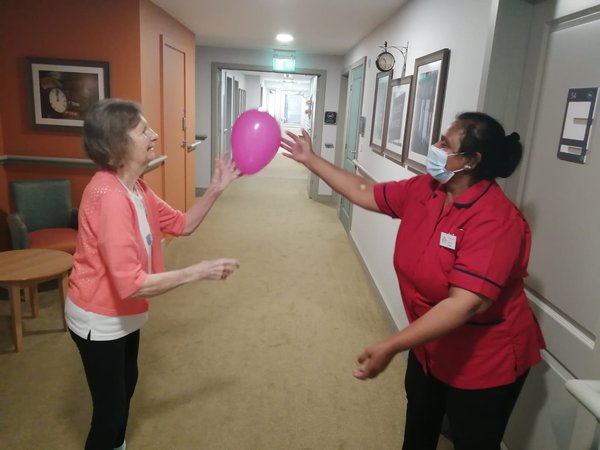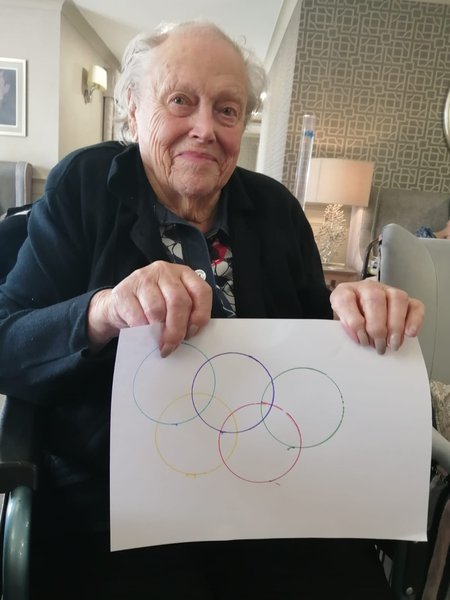 At Whittington House Nursing Home in Cheltenham, the Activities Team went the extra mile when organising the homes very own Olympic Games. In preparation for the opening ceremony, residents created their own Olympic Rings. The opening ceremony involved the residents' version of an Olympic touch relay followed by a lovely afternoon tea.
Several events were held over the course of the Olympics at Whittington House including a Spoon Relay Team Competition. The competitive spirit was shown by all participants and it was a very closely fought contest! Team Hopeful led by Evelyn, who chose the team name, were victorious and took home the gold. Their egg passing speed was just too much for Team Desperates but Team Delightful took the silver.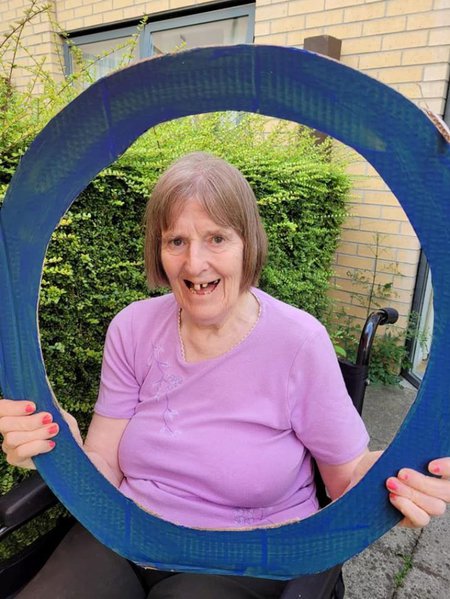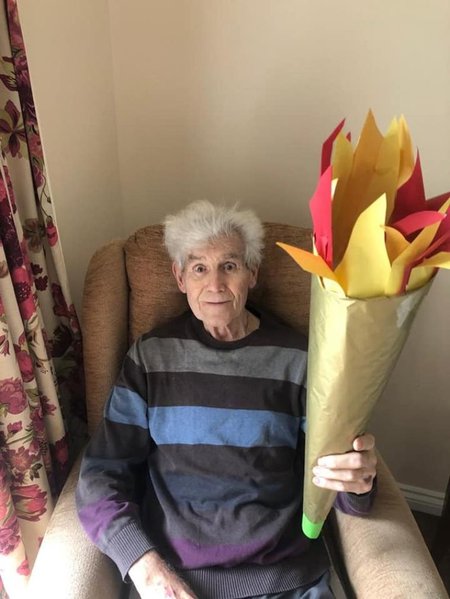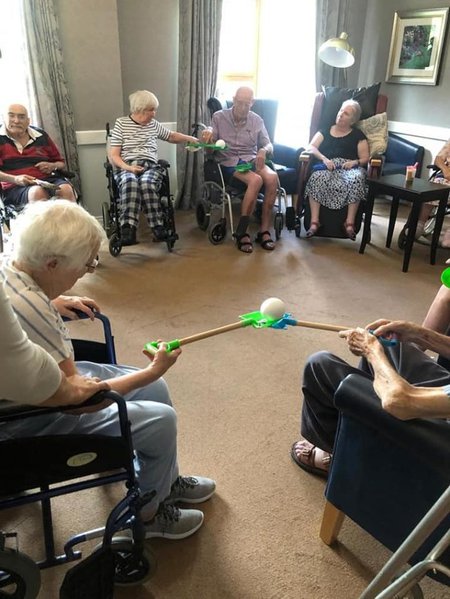 Freshford Cottage, Southcare competed in their own tournaments!
To mark the 2020 Tokyo Olympics, Freshford Cottage have started their own tournaments! Our contestants were well-trained and kept staff on their toes! Balloon tennis was full of laughter and enjoyed by both staff and residents. We also had a darts tournament which really put staff in the hands of residents as velcro balls were launched at the target (held by a brave member of staff). The day finished with 'clay pigeon' shooting... well, rubber duck shooting in our case... with water guns but the concentration levels and competitive spirits were certainly just as high. The sun even made an appearance and residents even braved the pool for diving! Only joking, no diving in paddling pools - if they scored relaxing in a paddling pool, our residents would certainly get gold!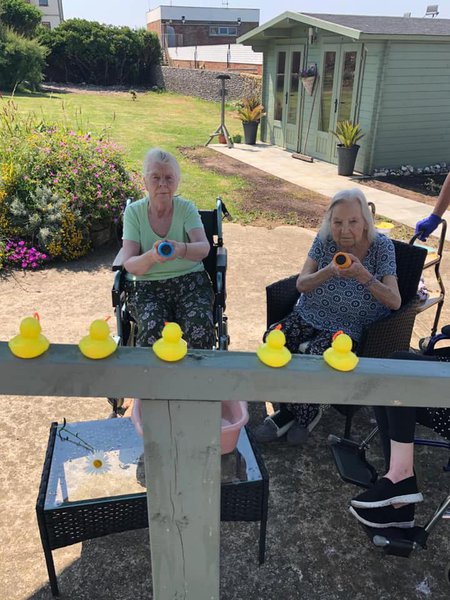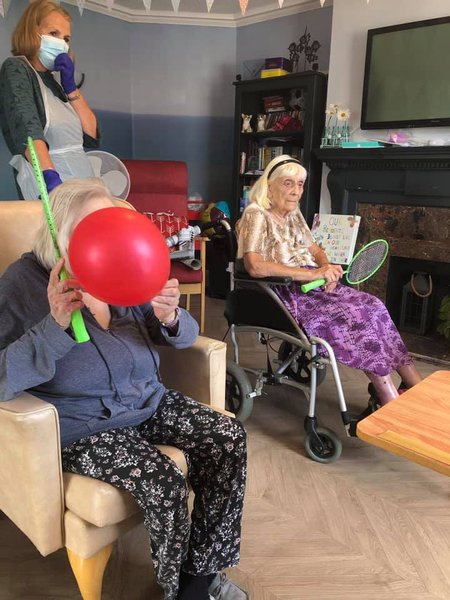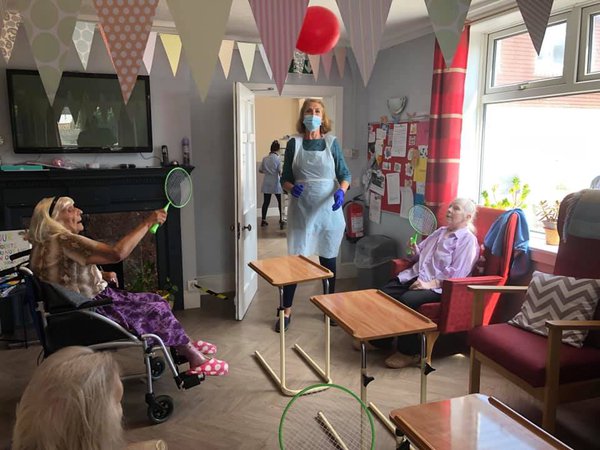 The team spirit at Woodland Grove, Oakland Care was outstanding...
The team spirit of all residents at Woodland Grove was inspirational.  They all took part with enthusiastic effort to be medal winners and enjoyed the competitive spirit along the way.  As medals were presented, they all supported each other with congratulations and praise.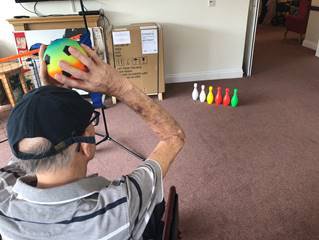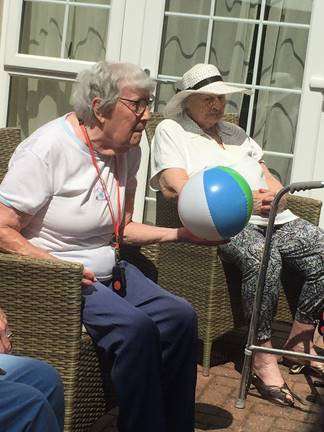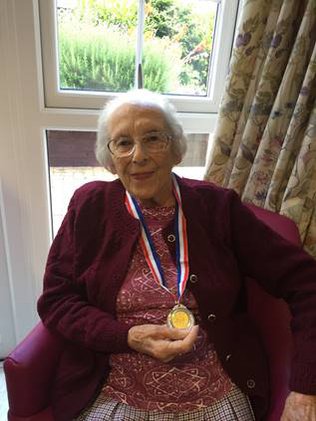 Gold Care Homes' homes had lots of fun organising Olympic events!
Included in the activities at Martins House were throw and catch with beanbags. volleyball, a skittles tournament via Zoom with other homes, playing catch and testing reactions and using swimming noodles as bats with balloons!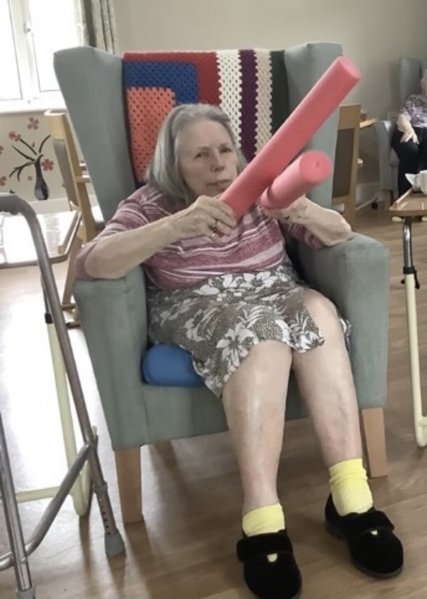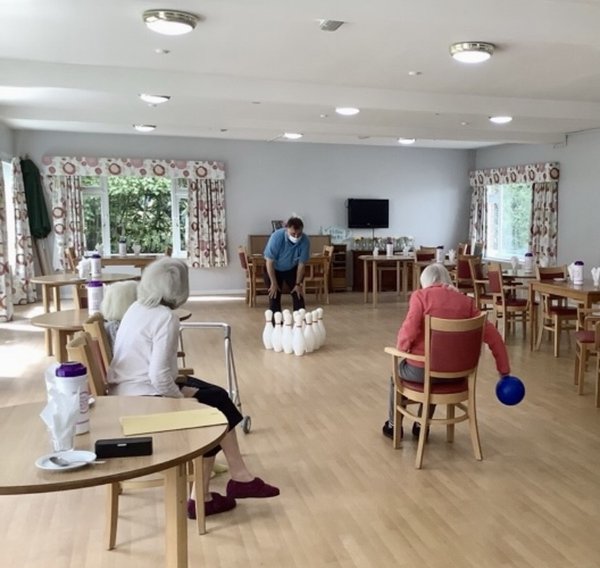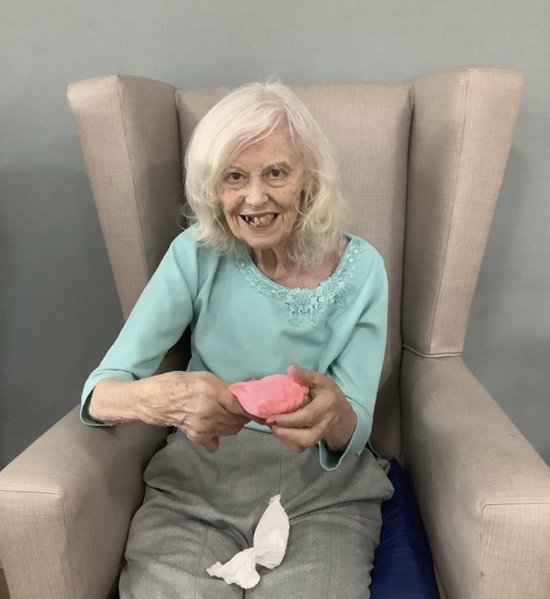 Acton's residents enjoyed the Olympics Games 2020 and they have been practising 'new Olympics disciplines': XL Tennis, Darts from close distance, Stretching, Ball kicking, Axe throwing & Cheerleading.
Sylwia Czepukowicz, Business Home Manager said "We always encourage our residents to stay active and independent as long as possible.  Any physical activities even the smallest once will boost the mind functions and energy."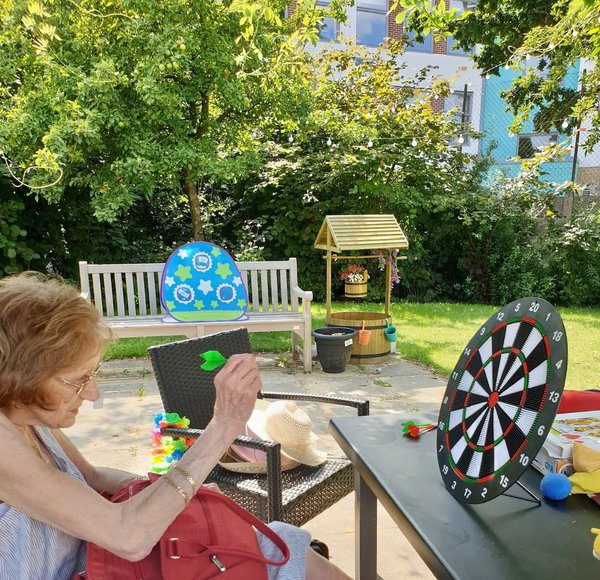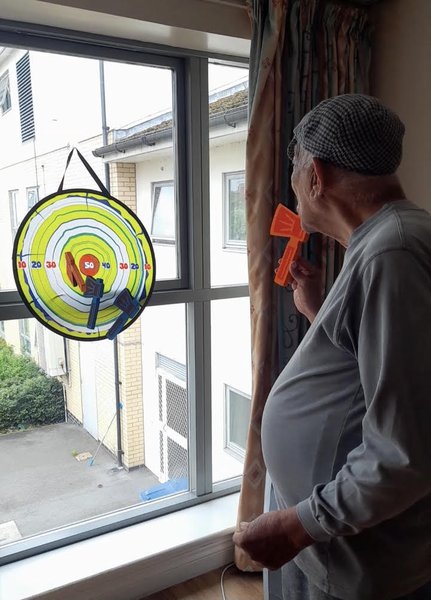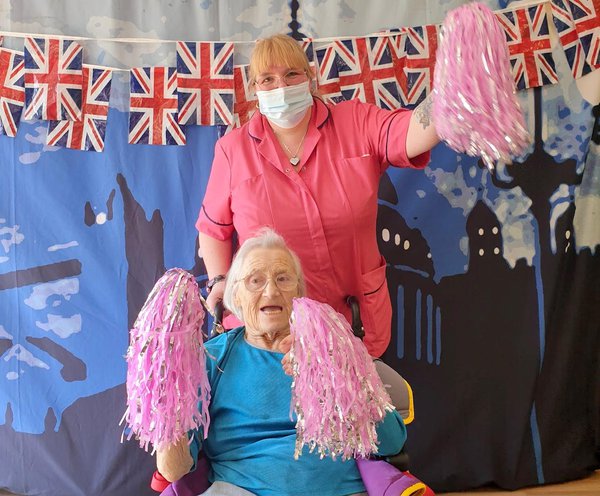 Below, you can see Manor House residents Rona and Jean in competition with the HUGE ball and residents Norma, Margaret and Willy doing some competitive stretches during their own Olympic Games!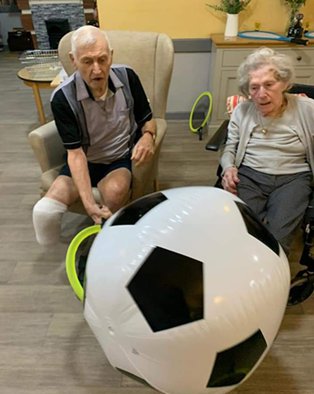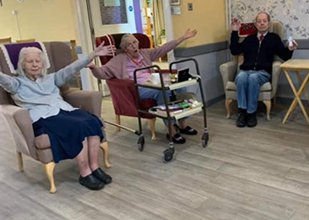 Staff & residents at Willowmead Care Home participated in a wheelchair rally race during their Olympic celebrations!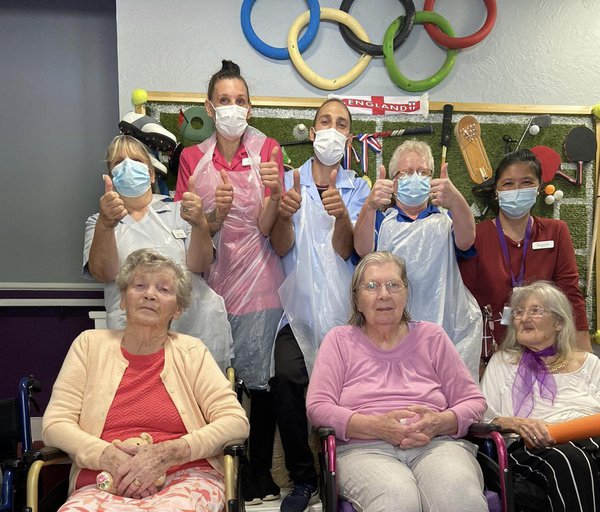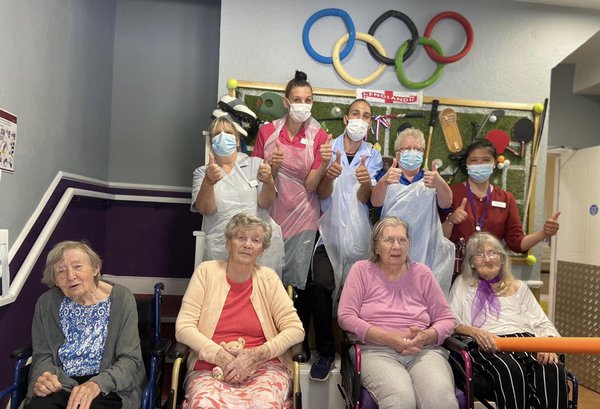 Are you looking for a care service for a loved one? We can offer free support with your search!