Right at Home Bromley
5.0 out of 5 5.0 out of 5.0 4 reviews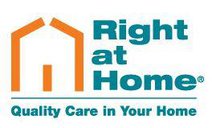 Specialisms
Day care
Dementia Care
EMI
Under 65 years
Call this provider - 020 8103 0642
Here at Right at Home Bromley our clients receive the care the way they want to have it delivered. They are involved in all decision-making, including agreement of their personalised care plan.
We know that emotional and moral support for our clients and their family can be just as important as our specialist care knowledge, so it is ingrained in the support we provide and we always keep in close contact with concerned family and friends.
We also understand that good day-to-day communication is vital to give families and loved ones peace of mind, which is why all daily records and communication sheets are kept easily accessible in the clients' home and any concern can be easily addressed through a call to the office.
Our care givers at Right at Home Bromley want more than a job. They want to make a difference in the lives of those in their care. And to ensure only the best care givers join us, we have a rigorous selection process that includes personal interviews, competency testing, psychometric testing, reference checks and background clearance.
If there are any questions or queries about Right at Home Bromley that you can think of please be sure to get in touch with us and we'll be more than happy to help.
Enterprise House
27 Hastings Road
Bromley
Kent
BR2 8NA
Send enquiry