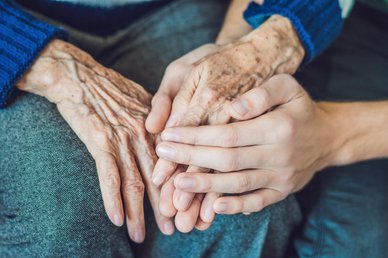 Otherwise known as 'supportive care', palliative care provides support to people who are in the last months or years of their life. It aims to provide people with an enhanced quality of life right until the end. Support will also be provided to the friends, family and carers of the person requiring palliative care.
Where can palliative care be provided?
Palliative care can be provided at your own home, care homes, hospices and hospitals. The location a person receives this type of care will be completely dependant on their needs and preferences.
Some may prefer to receive palliative care at home in a familiar environment surrounded by those that are dear to them. Whilst others may like the reassurance of being in a hospital or care home setting where they are surrounded by on-hand medical professionals.
What causes someone to need palliative care?
If someone has a chronic condition that they are unfortunately unlikely to recover from, they will likely require palliative care. The care can provide relief from some of their key symptoms such as stress and stress.
There are a number of reasons why someone may require palliative care including:
If they have an incurable illnesses such as cancer & dementia.
If they have a life limiting acute condition which has been cause by a sudden catastrophic event, such as a fire or a heart attack.
If the person is generally frail and has other conditions alongside it.
If the person have an existing condition that they are at risk of dying from suddenly.
When does palliative care start?
Palliative care is appropriate for those who have a high chance of passing away within a 12 month period.
Caroline's Story
Caroline, 42, is a wife, mum, sister and daughter. As she walked through Hospice UK's doors she had no idea what to expect but she was immediately put at ease and made to feel good about herself. She says that the hospice "allows her to be Caroline and not just an illness." She also advises that it's the little things that make the difference such as having a gentle hand massage, and knowing that her family are being supported too.
Caroline doesn't know what she would do without the support of the hospice.
Is there any funding available for palliative care?
Providing you live in England, Wales or Northern Ireland and you have a complex medical health problem, there is a chance that you may be eligible for free NHS continuing healthcare (CHC). Should you meet this criterion, the NHS is considered responsible for funding all of the person's needs in any setting. This could be in a hospice, at home, or in a care facility.
To find out whether you are eligible for NHS CHC is to ask your GP or your Social Worker to arrange an assessment. Quite often people who have long-term care needs do not qualify for NHS CHC but it is always worth being assessed as this funding could save you a lot of money.
How do I organise palliative care?
If you believe that either yourself or someone close to you will be requiring palliative care, it is highly recommended that you first speak to your doctor who will be able to provide you with some advice as well as numbers of services that may be able to assist.
Another option is to give TrustedCare a ring, or a message. We have a team of experienced Care Advisers who will be more than happy to assist you with finding appropriate care services in the location you require. They will take the time to listen to your individual care needs, and provide you with a shortlist of services that they think would best suit you. They can even arrange visits to care services on your behalf and the service is completely complimentary.
If you or someone you know will be requiring palliative care soon, please do not hesitate to get in touch with TrustedCare. We have a team of Care Advisers who are dedicated to helping people find the right care for them. Simply call, email or send us a live chat.
Are you looking for care services near you? Please contact us today to make use of our complimentary service.