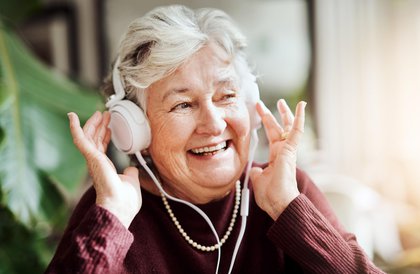 The International Longevity Centre states that "In care homes, it is estimated that 80% of people have dementia or very significant memory problems but only 5% have access to art and music."
Thankfully, some great organisations are making it their mission to bring music & art into the lives of people who are living with dementia, and those that care for them. This article will reveal who these organisations are and how they are changing peoples' lives for the better!
What is dementia?
The chances are that if you are reading this article you are already aware of what dementia is, and may even know someone who is living with the condition. However, for those of you who do not know, dementia is an umbrella term used to describe a set of symptoms. These symptoms are usually memory loss and reduced cognitive function. You can find out more information about dementia by reading our article "What's the Difference Between Dementia & Alzheimer's?"
How can music help dementia?
Research has shown that music has multiple benefits for both those who are suffering from dementia and their family, friends & Carers. Below are the top 5 benefits that music has on dementia:
It provides a way for people with dementia to engage with other people
Music helps to relieve stress & agitation - feelings that are often experienced by people who are living with dementia
Playing someone's favourite songs from the past can stimulate moments of recollection
Listening or singing along to music can dramatically help boost mood
Music can assist with breaking away from a repetitive behaviour
3 organisations promoting music therapy for dementia
Living with Harmony is a Winchester based creative music group therapy organisation who visit care homes. Their aim is to provide enjoyable group music sessions, provide care home staff members with skills training in interactive music making, and to partner with care homes in order to offer regular therapeutic music making sessions for residents.
The music therapy sessions are provided by music therapists, Alistair Clarkson and Meta Killick who are both HCPC registered and insured.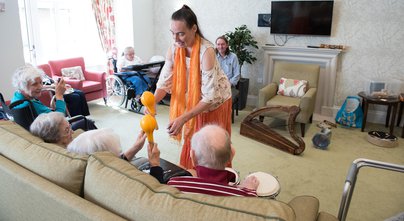 Music therapy sessions can include singing, dancing, playing instruments and talking. The sessions are tailored to the participants of the group to ensure that everyone is getting the most out of the sessions.
So far, Living with Harmony have observed the following from their therapeutic sessions:
Reduce agitation, anxiety and apathy for residents
Staff motivation and confidence
Family and friends participation and pleasure
Chiltern Music Therapy is an award-winning, not-for-profit organisation that provides music therapy and community music to people of all ages across the UK. Amongst their specialisms is dementia & Alzheimer's. The organisation currently run several community groups inclusive of their 'Music Memory Cafe' & 'Silver Singers' groups which are tailored to suit those who have dementia & Alzheimer's.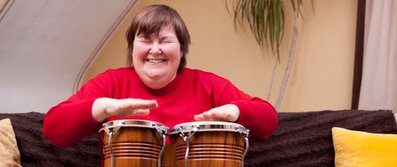 The music therapy sessions are focused on the following:
Maintaining skills to remain as independent as possible
Improving mood and reducing anxiety
Response to music
Fun!
Music for my Mind is an innovative start-up charity who aim to improve the well-being of people living with dementia as well as their families and carers by creating and making widely available, personalised music.
They are making it possible for people to create personalised playlists which act as an affordable therapy for people with dementia. As well as this, they would like to help implement a change in policy guidelines for provision of music in dementia care settings.
The innovative charity has recently been given ethical approval to begin research working with 60 care home residents with dementia, from the Quantum Care Homes. Their research will enable them to develop efficient and effective methodologies to create and deliver personalised playlists and explore the benefits of the music  listening for those people and their families.
Watch the video to see how Music for my Mind are already benefiting people with dementia and their families!
Do you know of someone with dementia who could benefit from music therapy? If so, please don't hesitate in getting in touch with any of the organisations above!
Are you currently looking for dementia care near you? Contact our team of Care Advisers for complimentary help & support.