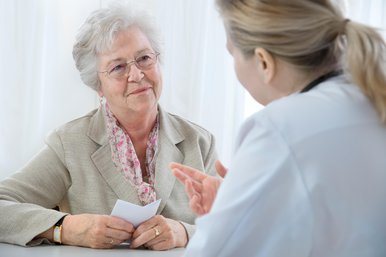 Moving a loved one into a care home is a huge life decision which involves making many important decisions. The predominant question you may be asking yourself is "Which care home should I choose?".
Visiting several care homes is a must so that you can gain a feel for the care provided by the homes, the facilities and the atmosphere. It penultimately allows you to assess whether you could see your loved one being happy there.
Undoubtedly, you will want to make the right decision first time round to avoid putting your loved one through the distress of relocating again. There are plenty of things you can ask a care home during your visit, but we have narrowed these down to 5 questions to help you make a decision.
TrustedCare's Top 5 Questions
Q1: What's included in the fees?
It is essential not to assume that everything you see during your care home visit will be included in the fees of the home. Services such as hairdressing, toiletries and physio may all incur an additional fee. Your care home visit is a great opportunity to discuss exactly what is included in the care home fees with the care home's Manager.
If you have questions buzzing around your head surrounding care home costs, we highly recommend that you read our articles 'Understanding Care Home Costs' and 'What Benefits Can I Claim to Help Pay for Care?'.
Q2: What's the activity schedule like?
It is so important that care home residents are kept entertained and stimulated, so much so that it is a regulatory requirement for care homes to provide daily activities for their residents. According to Skelton 2018, the UK physical activity guidelines recommend that 'older adults participate in at least 150 minutes a week of moderate-intensity activity'. This is equivalent to 30 minutes of exercise per day, 5 days a week.
Most care home's will have an Activities Coordinator who is dedicated to lining up activities which appeal to all of their residents. During your care home visit, it may be worth trying your luck to speak to the Activities Coordinator, or even better you may be able to watch on as an activity is going on! It is definitely worth asking what kinds of activities you can expect to see on the schedule.
Q3: What is the food like?
This question is especially important if your loved one has special dietary requirements. Although most care homes are very accommodating to dietary needs, it's always a good idea to be certain as ultimately, eating is a huge part of our daily lives!
Some homes may invite you and your loved one to have lunch with them so that you can experience what the food and lunchtime experience is like. This will also give you the chance to speak with residents and the chefs at the home.
Particular things you may like to ask care homes is whether there is a fixed menu or whether it changes regularly, and whether fresh produce is used to make meals.
Q4: What are the visiting times?
You are likely going to want to visit your loved one as much as you can to see how they are doing and to have a catch-up, especially whilst they are settling in. Therefore, enquiring about visiting times holds a high priority. Quite often, a home will be open 24/7 but will recommend that you avoid mealtimes. However, some home's may be an exception to this and have fixed visiting hours in place.
Q5: What is the staff to resident ratio?
You will want to be reassured that a care home can provide your loved one with a high quality of care and therefore it is in your best interests to ask the home what their typical staff to resident ratio is. Usually, they will answer that they base their ratio dependant on the care needs assessment. If during your visit you note that staff are under pressure & running around like headless chickens trying to keep all residents happy, this may indicate that the home hasn't got their ratio quite right.
Don't be afraid to ask the home what their staff retention rate is, this statistic can give you an idea as to whether the staff feel loyal towards the care home.
Searching for the right care home can be daunting & often overwhelming. TrustedCare can provide you with complimentary support in shortlisting suitable care services on your behalf and even booking visits for you! Please don't delay in contacting us if you could do with a helping hand.
Are you looking for care homes near you? Contact us today for free help & support!