At TrustedCare, we have held a 'Summer Care Home Garden Competition' for our care home partners with the winning 5 homes being featured in our 'Top 5 Care Home Gardens in the UK' article. This has been the perfect opportunity for our partners to showcase their beautiful gardens which their staff, residents and local communities have worked together to lovingly create and maintain.
We asked our care home partners to share what makes their gardens special and to send us photos of their green-fingered staff and residents enjoying their outdoor spaces. As usual, our fabulous partners did not fail to amaze us with their wonderful entries and the decision to pick our 5 winners was no easy task!
Read on to view and find out about the 5 gardens (or should I say paradises!) that really stood out to us...
Harleston House, a dementia care home in Lowestoft, started a garden project with the aim being to get residents outside and focused on a project that would begin in the spring and take them up to summer.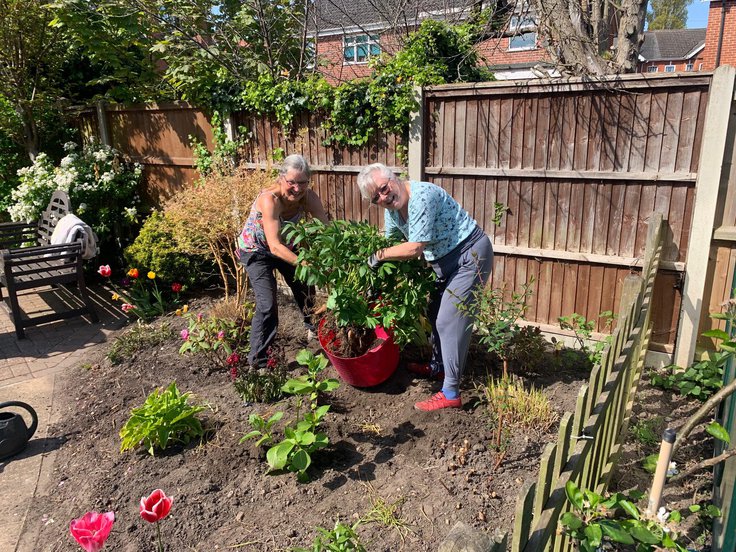 Image above: Volunteer Maureen (left) & relative Patsy (right) doing some planting in the garden
The team at Harleston House also wanted to get others involved to make it a community event and they achieved this by obtaining help and support from relatives and volunteers. One of Harleston House's residents who passed away recently had his wife visit every day and ponded on how she would fill her time, so she was invited to come along and get involved and now she visits every week to help in the garden. This has given her a focus and she has also been involved with trips to the garden centre and planning the next stages of the project.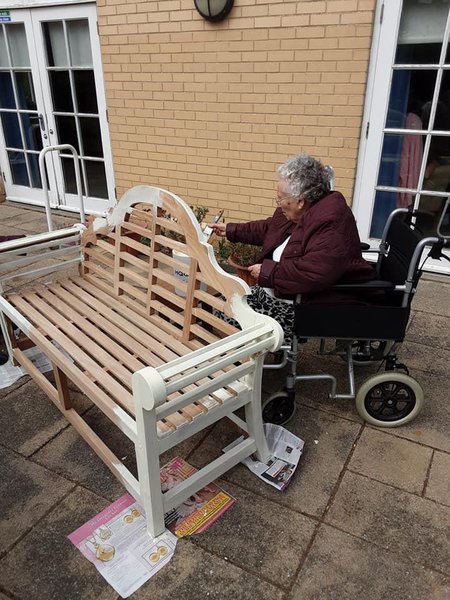 Image above: Resident, Jenny painting a garden bench
The residents had a planning meeting with Gareth, Harleston House's Activities Coordinator and the main factors for them were water features to look at and having the garden look pretty. With a brief from the residents, the team invited a colleague from Broadlands, another Greensleeves care home in Lowestoft, to give them some top tips. It was after a walk around with her that a plan began to form.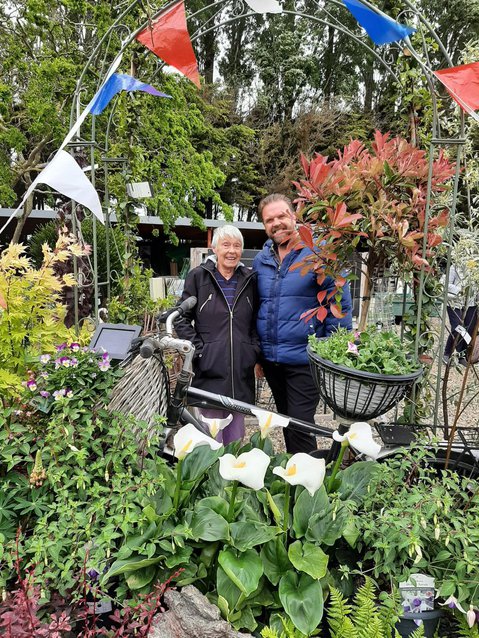 Image above: Jean, Resident with Gareth, Organiser
Since the project started at the beginning of May, Harleston House has had residents sanding down planters, repairing them, painting raised flower beds, re-potting plants, painting a huge garden wall, planting seeds and of course watering plants.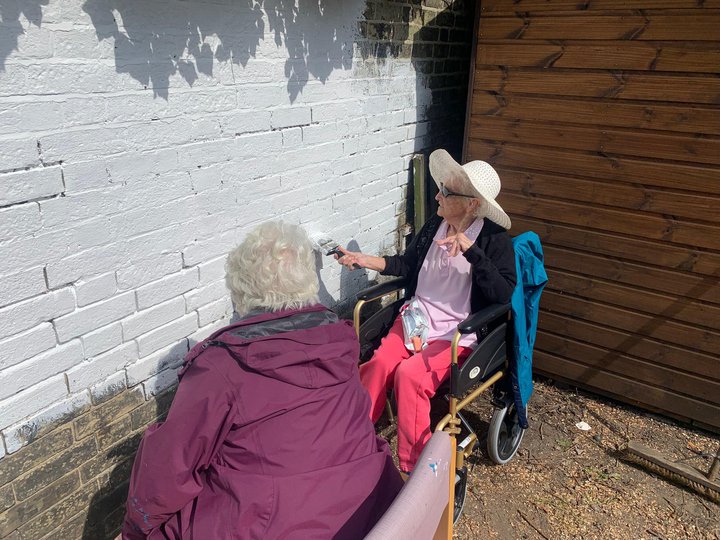 Image above: Residents Margaret and Vera painting the garden wall
Since work began, Harleston House's staff and residents have formed a Mediterranean garden area with features, a wild garden area, a fairy forest, a herb garden and a Jubilee Red, White and Blue area in one of their raised beds to mark the Queen's 70 years. Work continues and is due to finish around the end of June.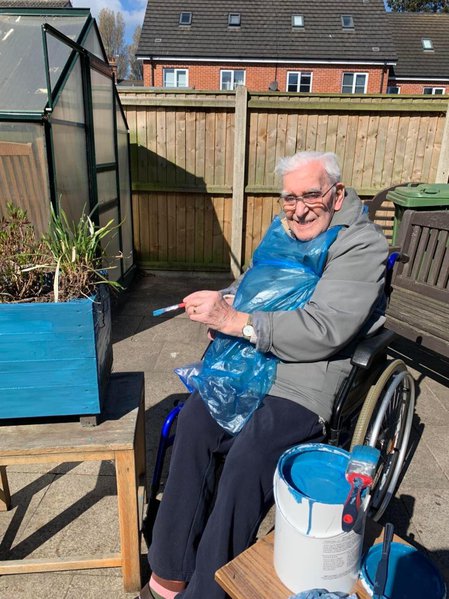 Image above: Resident, George painting some planters
Relationships between what the home is calling "The Ground Force Team" have formed and the residents have been enjoying working away in the garden and it has given many opportunities for activity outside. One resident also visits an allotment once a week as staff could see the joy she was getting from the garden, also after losing her husband it has kept Patsy busy and she can still visit a place she thinks so much of. One of the volunteers has also been asked to take on a part-time contract for a gardener for the home so they can carry on with the fantastic work that they have already contributed. So, it really has created many opportunities and brought lots of pleasure.
The Spinney, Carebase
Welcome to The Spinney Garden – an oasis of sensory stimulation and socialisation; a safe space for reflection, tranquillity and quiet observation; a veritable vista of loveliness!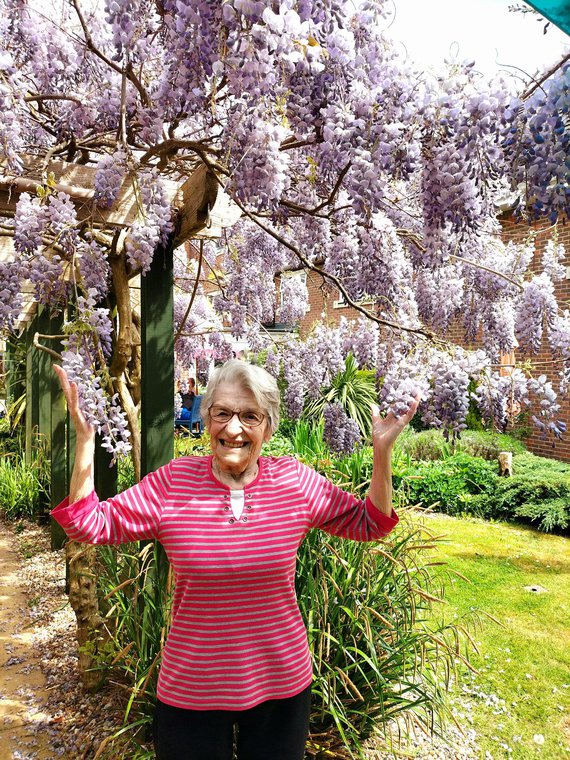 Image above: Resident standing underneath the Wisteria
The Spinney are enormously proud of their stupendous garden that they are lucky enough to be able to offer to their valued residents and staff. From the comfortably shady and gloriously sunny seating areas and the manicured lawns to the pots bursting with colour, from the wisteria-covered extended pergola to the expanse of sweet lavender and the somnolence-inducing water feature (a tower of Greek urns and pots) and stunning statuettes there is something for everyone who ventures into The Spinney Garden.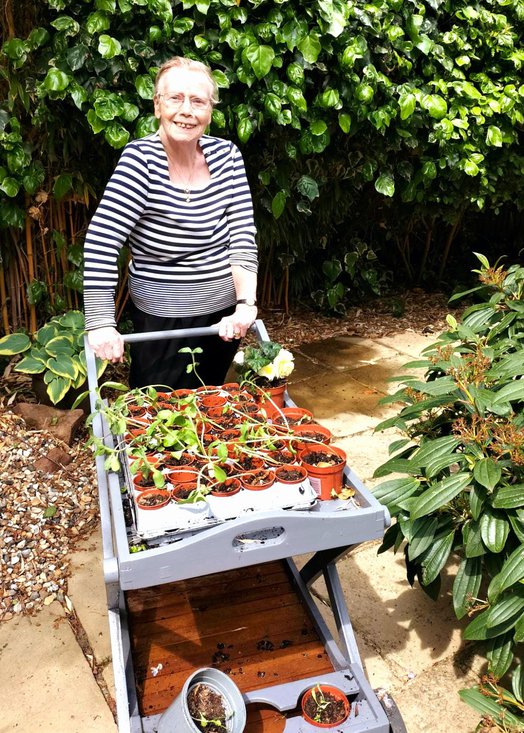 Image above: Resident enjoying a spot of gardening!
Maintaining The Spinney's precious garden is truly a joint effort. Residents take part in the planning, buying, planting and nurturing of the wide range of flowers and shrubs that they have in their garden – all under the patient and watchful eye of Alan, Head of Maintenance who also happens to be a qualified landscape gardener. Some of the planting respectfully takes place in memory of past residents, memorialising those who had enjoyed the garden in earlier times.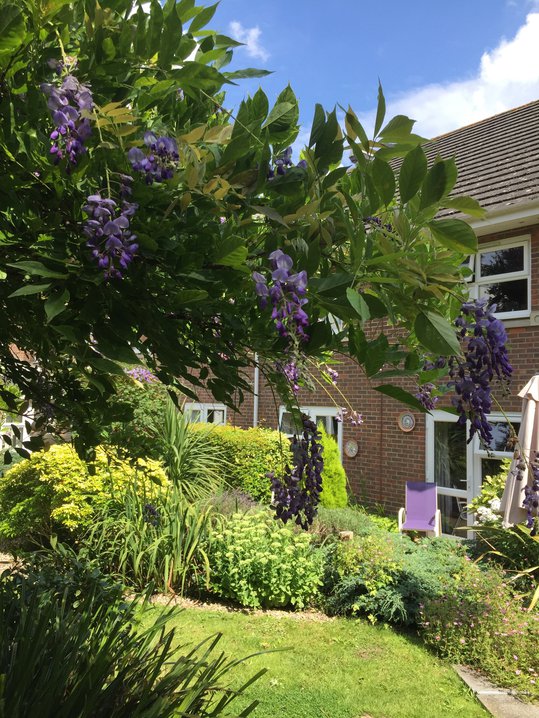 Image above: The Spinney's beautiful garden
The Spinney Garden is enjoyed by everyone in the Spinney Family –  residents and their families, hardworking staff and all other visitors to the home. The team stage as many events as possible in the decking area at the top of the garden and for those residents who celebrate their birthdays during the summer months an outdoor party is hugely anticipated and attended with joyous (never raucous!) enthusiasm.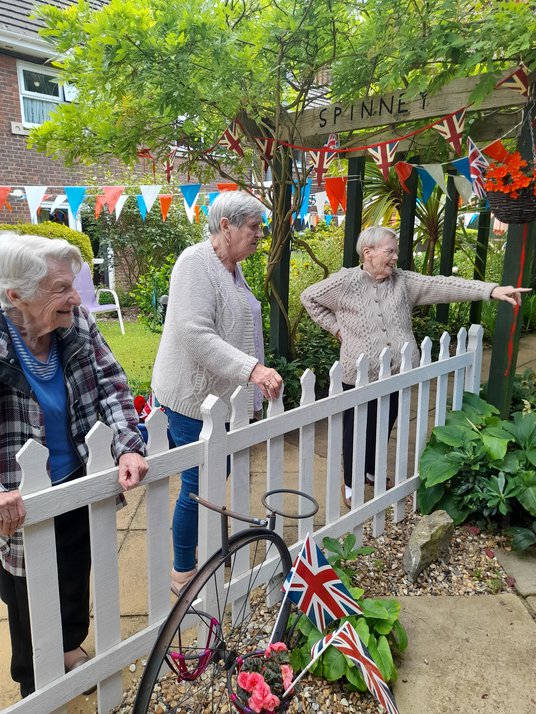 Image above: Residents enjoying Jubilee celebrations in the garden
Lolling around playfully at every opportunity is The Spinney cat – Ruby. Thankfully, Ruby's presence doesn't deter the abundance of smaller visitors to the garden. From the bees attracted to the lavender to the sound of birdsong throughout the day; from the butterflies fluttering around the residents as they enjoy afternoon tea to the hedgehogs, spotted at dusk seeking out a morsel or two among the shrubs.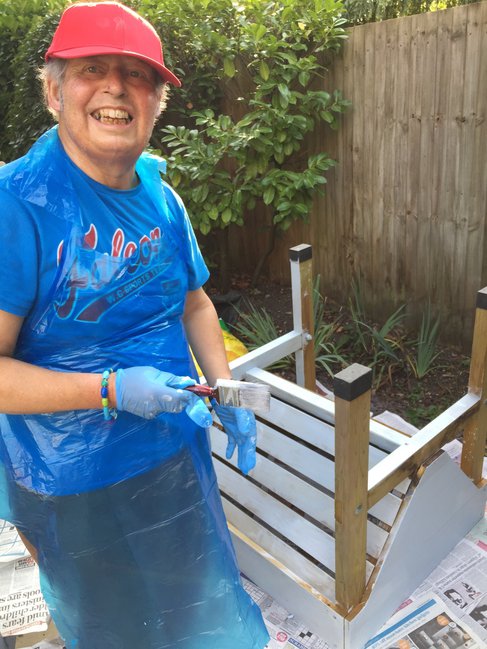 Image above: Resident helping out with painting garden furniture
The Spinney Garden, especially during the Spring and Summer, is the centrepiece of the home. A number of residents' rooms lead directly to the garden but it is cherished by all. For our staff, during well-earned breaks, the garden is where they recharge, take timeout, kickback and let loose with their thoughts and feelings. It would be no overstatement to say that without our garden, our oasis, our sanctuary, steering a course during the past two years would have been much harder and for that we are all so grateful to know and love The Spinney Garden.
Colette Senior, Lifestyles Manager at Ashworth Grange, runs a Garden Club every Thursday which residents and some family members go along to. All at Ashworth Grange are very proud of their garden and residents work extremely hard with Colette and Jim, the home's maintenance man to make it a place everyone can enjoy.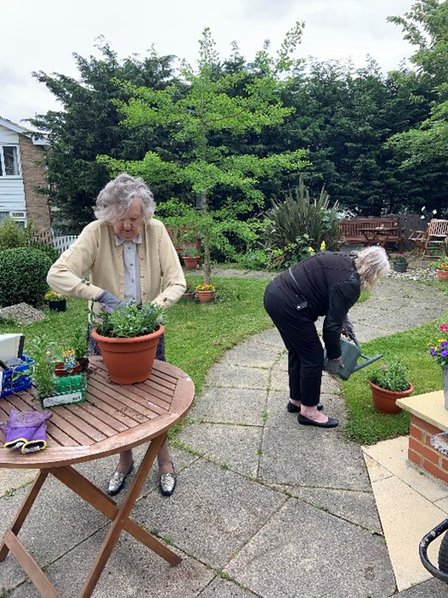 Image above: Weekly garden club is very busy with residents, families and staff
Last year, the team decided to make an 'outside entertainment area' as residents really missed having singers coming into the home (due to Covid). They even built a bar stocked with wine, beer and cold drinks for use when they hold an event. Colette asked some of the residents what they should call the bar and Betty said 'Tipsy Bar' which everyone agreed was the perfect name for it.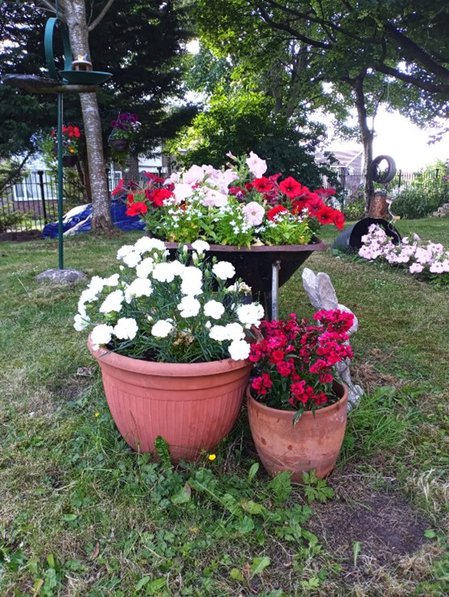 Image above: Recycling an old wheelbarrow and filling it with gorgeous colourful plants
Ashworth Grange have managed to make many memories with families and friends using the outside entertainment area...the latest in June has been the Jubilee party and they also held their annual Pride event. Residents really look forward to live entertainment coming along and sharing afternoons with their loved ones.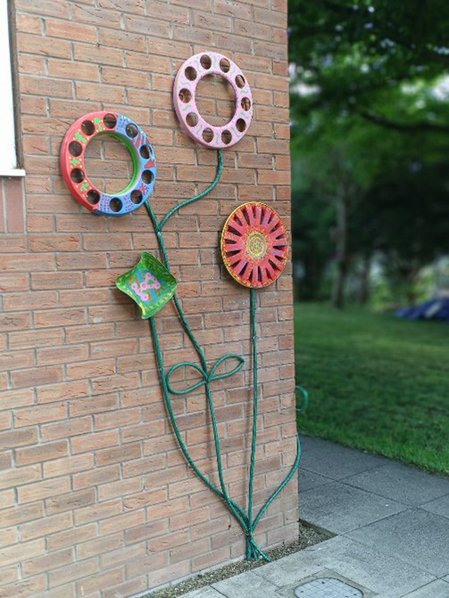 Image above: Recycled wheel trims painted by residents to help brighten up a dark corner in the garden
This year residents have worked with Colette to make a Garden Trail so that school children could come along and have some fun. Ashworth Grange has many quirky things around the garden including pot squirrels, hedgehog houses and even a monkey swinging from a tree. They had children from Boothroyd Primary Academy come along to do the Trail and they all had so much fun and the residents loved helping them find things. The Flatts nursery children are due to come along to have a go as well!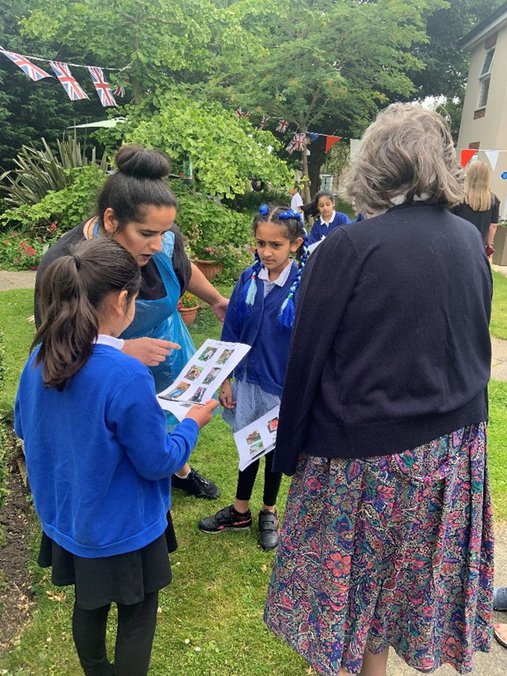 Image above: Local school children taking part in the garden trail
The garden at Ashworth brings so much joy to everyone, residents and families as well as staff, even their local community enjoy looking at it and talking to residents as they are out walking.
Folkestone Care Centre's garden is relatively new as it was designed 4 yrs ago when the home was first built. The brief was to create an English Riviera style planting scheme which helps reminiscence, adds to a sense of belonging and gives opportunity to relax and escape daily stresses. It's a healing garden for all to enjoy, with restorative benefits to help cognition and support engagement.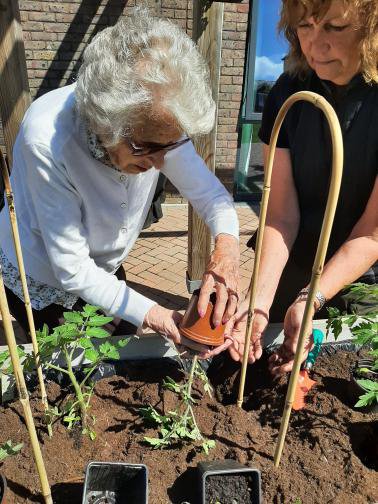 Image above: Resident doing a spot of gardening with the help of a staff member
The pathways are all wheelchair friendly and there are recessed areas with seating, the planting has different shades of evergreen to ensure there is something to look at all year round with colourful bulbs and annuals added to give seasonal colour. It's often viewed by residents from windows on different floors from the main building so the pathways and architectural plants were designed to add interest from a birds eye perspective.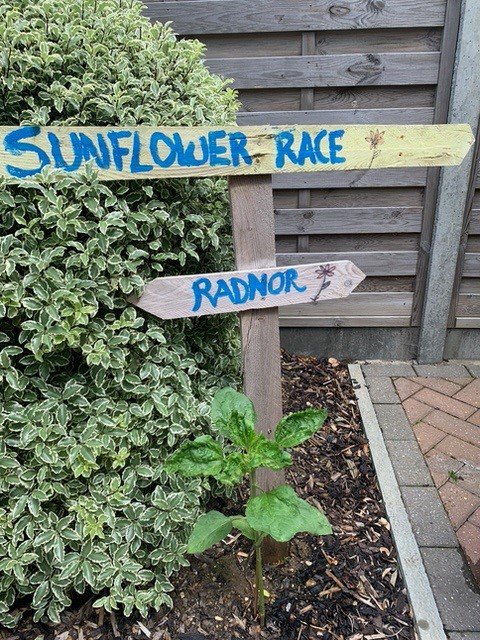 Image above: Folkestone's sunflower race has begun!
Residents enjoy finding a calm space in nature and when family visit they chat about the plants in flower, it's a highlight to enjoy afternoon tea on sunny days. Residents regularly join our gardener, Julie, to share stories of their horticultural experiences too.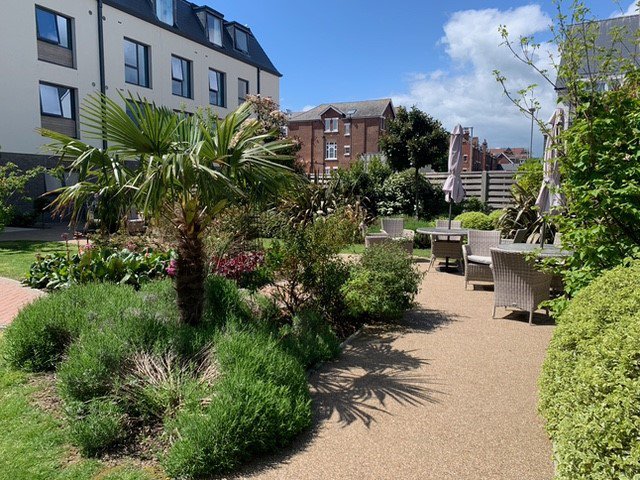 Image above: Folkestone's lovely garden with plants and plenty of seating
There are regular activities outside with garden games, bowls, coigts, bean bag throws into the hoop which really gets quite competitive!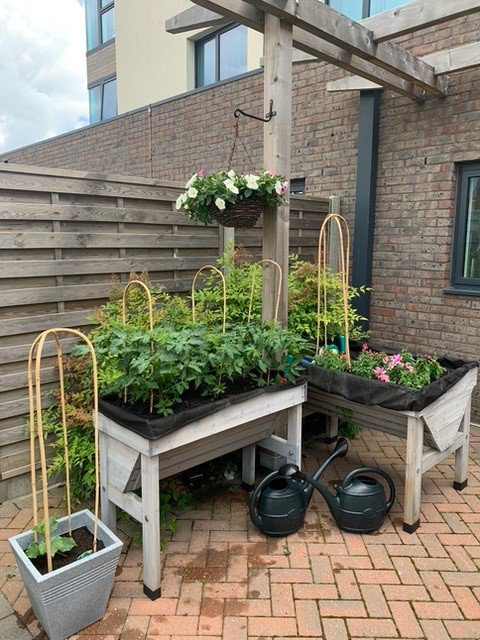 Image above: Some of the plants Folkestone's gardener and residents have been growing!
Folkestone's gardening club recently planted tomatoes, cucumbers and herbs which will hopefully appear in the homes' kitchen if the sun shines favourably and sweet peas, sunflowers and hanging baskets were added for summer colour. Everyone is encouraged to help with tasks such as watering. Picking herbs for the kitchen, dead heading and compete for the tallest sunflower accolade.
A planting plan is on display to help identify plants and it points out those in flower each month or that are scented.
Belmont House Care Home have a lovely, large, landscaped garden, which is perfect for relaxing and meeting family when they visit. Their wellbeing team put together regular activities and events in our garden, including BBQs, afternoon tea and gardening. For residents who enjoy gardening, Belmont House has raised flower beds for easy accessibility, so that residents can continue doing what they love.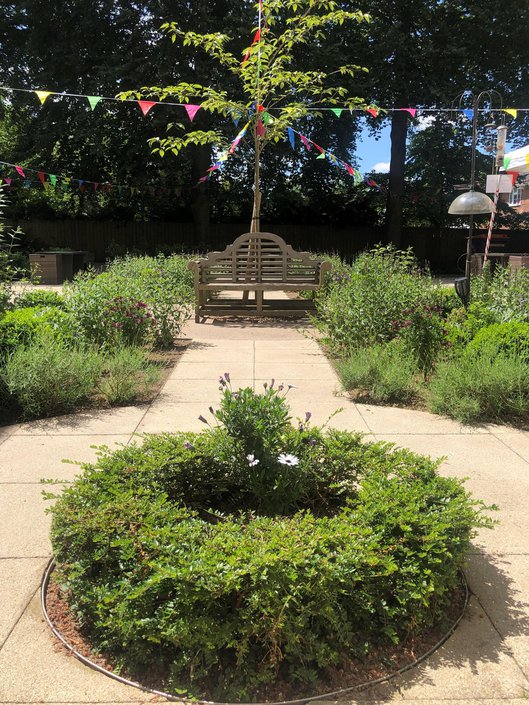 Image above: Belmont House's beautifully kept garden
As part of The Queen's Platinum Jubilee celebrations, Belmont House supported The Queen's Green Canopy. This is a unique tree-planting initiative created to mark Her Majesty's Platinum Jubilee. Belmont House has chosen a rosy, Pink Flamingo tree to plant in their garden. Madam Mayor of Sutton, Councillor Trish Fivey, planted the tree with a little help from their Clinical Lead, Aries.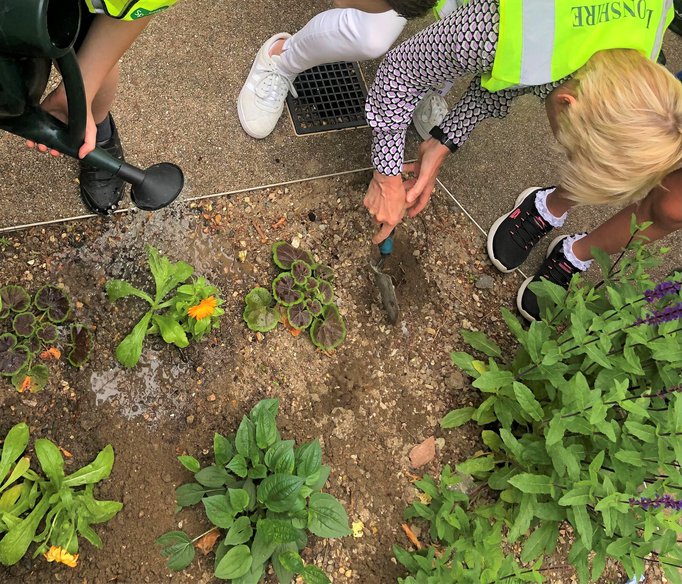 Image above: Community gardening project in action
Belmont House has recently been involved in a community gardening project with their local Primary School in Sutton. Pupils have been taking part in the Royal Horticultural Society (RHS) Live Well initiative, which inspires children to enjoy plants and gardening, giving them a healthy hobby for their whole lives. RHS donated Calendula officinalis seeds, which pupils have planted, nurtured and now generously donated to residents at Belmont House, for them to continue taking care of. Pupils enjoyed planting a few in the garden on their visit, giving the gardens a pretty splash of yellow!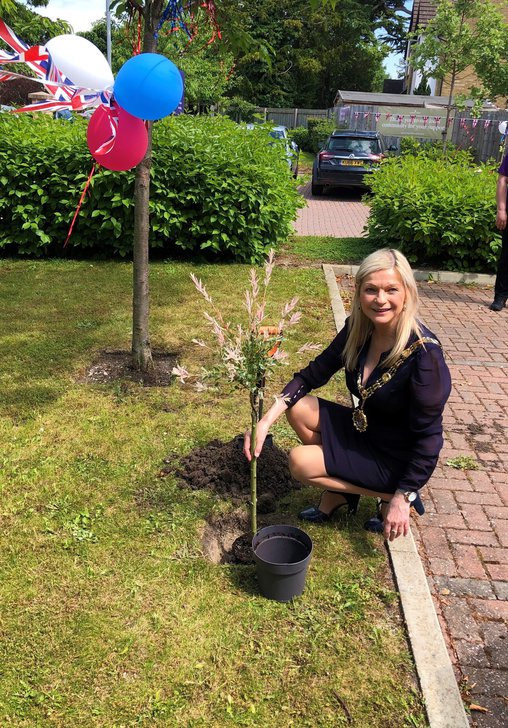 Image above:  Madam Mayor of Sutton, Councillor Trish Fivey, planting the flamingo tree