"Around 1 in 3 adults over the age of 65 who live at home will have at least 1 fall a year."
NHS
Alarm pendants are a brilliant way of providing older people with peace of mind that if they run into a medical emergency, or have a fall at home, they have a way of calling for help.
View TrustedCare's top 5 alarm pendants for older people on the market right now below.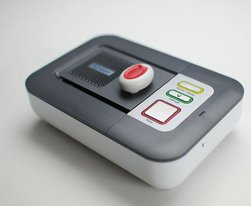 Key Features:
Support battery - You needn't worry about the alarm pendants functionality during a powercut due to the support battery which will kick into action in this instance. The support battery has 40 hours of life and will automatically re-charge once you power is back.
Red/Yellow/Green button system - To be connected to the Lifeline 24 Response Team, press the red button; if you have pressed the red button by mistake, press the green button to cancel; if you are due to be away from home for a period of time, press the yellow button.
Loudspeaker - The loudspeaker feature is used by Lifeline 24's Response Team to enable them to communicate with you effectively during an emergency.
Microphone - This is to enable you to communicate with the Lifeline 24's Response Team in the circumstance that you require help.
How does it work?
The alarm unit is connected to a pendant which can either be worn on your wrist or around your neck. In the case that you fall unwell or have an accident at home, you can have the peace of mind that pressing the red button on the pendant sends an alert to the 24/7 Response Team who will respond via the loudspeaker on the alarm unit.
The team member responding to your alert will assess your situation, and will usually call your emergency contacts which will have been set up during the set-up of the alarm. Should medical assistance be required, the team member will call the emergency services for you and pass on information about your condition to them.
Cost:
Note: The prices below include VAT
| Monthly | Annually | Fall Detector |
| --- | --- | --- |
| £14.99 | £143 | £227 |
| £42 one-off set up fee | £42 one-off set up fee | £42 one-off set up fee |
| Pay £56.99 today | Pay £185 today | Pay £269 today |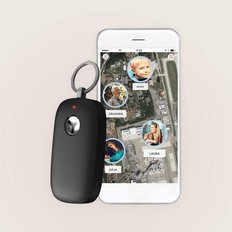 Key Features:
User-Friendly - The app is easy to use and work on any smartphone
GPS tracker and SOS alarm - Allows family members to see where their loved one is located
3G, wifi and GPS - Allows for accurate tracking both indoors and outdoors
How does it work?
The person in possession of the Yepzon Freedom Personal Safety Alarm's activity can be tracked via a free smartphone app. The device can be tracked by multiple smartphone's and when the person presses the alarm button, each of these smartphone users will receive a notification. The app will allow people close to the person to view their exact whereabouts, allowing them to respond.
The battery of the safety alarm has a long-life, normally lasting several weeks. Conveniently, the pendant is small, has an easy to use attaching mechanism, is shock resistant and spill resistant. Not only this, it is also very stylish!
How much does it cost?
You can purchase the Yepzon Freedom alarm pendant for £119.99 from Live Better With. The pendant will come with a built in SIM as well as 5MB of data which is likely to last around 1 month. The on-going data cost is approximately £4.95 per 5MB but the app is free to use & download.
Read our article "Live Better With Dementia Products" if you are interested in viewing some of the Live Better With's other products (they're great!).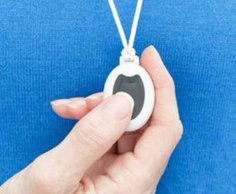 Key Features:
Can be used within 75m of the persons home - Works in the home and the garden
Pendant -  Can conveniently be worn around the wrist or around the neck
Quick response - 98% of calls are answered within 60 seconds
How does it work?
Age UK's Alarm pendant can be worn around the neck or on the wrist and aims to give users the freedom to feel independent in their own home. In the instance the person has an accident at home, they can press the button on the pendant which will call the 24-hour Emergency Resolution Centre for help.
Friends & family of a person will be alerted when they press the button which provides them with peace of mind that if something happens to their loved one and they press the alarm button, they will be alerted.
How much does it cost?
There are two different options for payment of the Age UK Personal Alarm:
| Self-Connect | We-Connect |
| --- | --- |
| Initial monthly cost - £19.78 (inc VAT) | Initial monthly cost - £19.78 (inc VAT) |
| Setup fee - £82.80  (inc VAT) | Setup fee - £201.60  (inc VAT) |
| Pay today - £102.58  (inc VAT) | Pay today - £221.38  (inc VAT) |
Key Features:
Response Team - Highly trained staff members
Speedy response - Fastest response in the UK - calls are answered within 9 seconds!
Latest equipment - Including a pendant and a base unit that plugs into your phone line.
The loudspeaker -  This is located on the base unit so that you can communicate with the response team effectively no matter where you are in the house.
How does it work?
Press the button on the pendant, or the red button on the base unit to be connected to the response team.  The response team will ask you some questions about your current situation so that they know how to help you. They will be able to either contact the emergency services on your behalf or contact your chosen emergency contacts which may be family members or friends.
How much does it cost?
There are three different payment plans available for the Telecare 24 Pendant Alarm. Optional extras are available which incur additional costs.
| Quarterly | Annually | Fall Alarm Plan |
| --- | --- | --- |
| £41.97 | £120 | £190 |
| £45 one-off set up fee | £45 one-off set up fee | £45 one-off set up fee |
| Pay £86.97 today | Pay £165 today | Pay £235 today |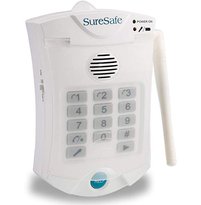 Key Features:
Water Resistant - The personal alarm comes with a water resistant pendant, as well as a splash proof wristwatch.
Easy to setup - Plug in and you're ready to go!
Emergency contacts - You can save emergency contacts to the alarm unit and these people will be notified if you press the panic button.
How does it work?
When the panic button is pressed on the alarm pendant, which can be worn on your wrist, around your neck or hung around the house, you will be connected through to the emergency response team who will be able to help you by finding out what your situation is and arranging for appropriate support to be provided whether that be from the emergency services, or someone on your emergency contacts list.
How much does it cost?
Amazon are selling this SureSafe Personal Alarm for a one-off cost of £77.95. There are no installation or on-going costs.
Alarm pendants can provide a sense of security for older people, particularly those who are living alone and would like to stay independent for as long as possible. However, if you know of someone who could do with a bit more support than what an alarm pendant can provide, home care may be a suitable option. Read our article 'Why Choose Home Care' to find out more about the kind of support home care can provide.
Are you looking for care services near you? Please get in touch with us for complimentary support