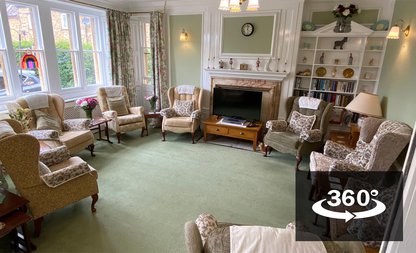 Amidst the pandemic, care homes and nursing homes have been adapting and coming up with solutions to show off their facilities to prospective care seekers without risking the safety of residents, staff and visitors.
Virtual Tours have been a lifeline for care providers and, whilst they don't quite have the same impact as an in-person visit, they provide care seekers with a good idea of the facilities and layout of the home.
5 Benefits of Virtual Tours
1. Showcase care home
Virtual Tours allow you to show off the interior and exterior of your care home to prospective care seekers. You can ensure that future residents and their families have a good idea of what the facilities and the layout of the home are like. Furthermore, a virtual tour allows care seekers to see the home when it is at it's best.
2. Competitive advantage
During the pandemic, when visiting a care home in person is not an option, virtual tours are the closest thing to showing care seekers what your home is like within. Most care seekers are keen to view a care home before they place the care of their loved ones in their hands. Therefore, it is likely that a care seeker will be drawn towards the home that has a virtual tour against the one that doesn't. This is because virtual tours help a care seeker to trust their service.
Google's algorithm likes video/virtual tours meaning that possessing one on your own website and 3rd party websites could aid your home in ranking above competitors, consequently increasing visibility to future care seekers.
3. Increased convenience
One of the great things about virtual tours is their convenience. Care seekers can experience the virtual tour within the click of a button. Not only this, they can take as much time as they wish to explore the different areas of the home.
As opposed to in-person visits, virtual tours are a quicker way of getting a feel for a care home and care seekers don't have to book time out of their day to attend a visit, making it incredibly time-effective.
Virtual Tours also give family who live far away, particularly during the pandemic, the opportunity to be involved in the decision making process of choosing a care home for their loved ones.
4. Safe
Virtual tours don't involve any in-person contact, making them a much safer way of getting an idea of what the home is like during the Covid-19 pandemic. The fewer visitors that enter the care home, the less chance of the virus being transmitted to residents, staff and visitors.
5. No technical skills needed
Once a virtual tour has been created, there are no technical skills required to share it with care seekers. Care home staff will be given a link to the virtual tour which they can share via email, WhatsApp or any other messaging app used to communicate with care seekers.
TrustedCare's virtual tour service
At TrustedCare, we offer a virtual tour creation & hosting service to care providers looking to increase referrals to their homes particularly during the pandemic.
Here are some examples of care homes we have completed a virtual tour for:
The virtual tour can be added to your online listings, including your own website, TrustedCare.co.uk & your Google My Business listing.
Simply get in touch with our friendly team today via the details on the banner below to enquire how we can help you showcase your care homes.
If you are interested in our virtual tour service, please get in touch today!