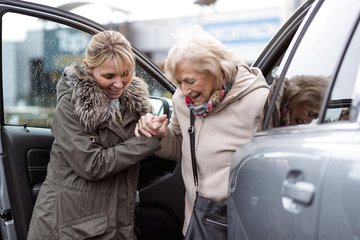 We understand that looking after someone who has Alzheimer's Disease at home is both rewarding yet incredibly challenging. Being the primary carer of a loved one who has Alzheimer's is not something that anyone prepares for until it happens, which is why we have put together this article offering some guidance.
What is Alzheimer's Disease?
Alzheimer's Disease is a specific type of dementia, caused by a particular group of brain cells becoming damaged. The damage to these brain cells occurs years before any symptoms develop. Abnormal protein deposits form plaques and tangles in the brain which lead to the connections between brain cells becoming lost and they begin to die.
1. Research Alzheimer's Disease
Ensuring that you have a high level of understanding of Alzheimer's Disease is imperative if you are the primary Carer of someone who suffers from the disease. There are several ways that you can learn more about Alzheimer's:
Books/literature/guides -

Buy books online from stores such as Amazon, from book stores such as Waterstones or from charity shops
Purchase e-books online from Amazon
Borrow books from your local library - find yours here

Google -
Courses -
Talks -
2. Create a routine
Creating a daily routine is helpful for both you and your loved one with Alzheimer's. Memory loss is a common symptom people with Alzheimer's experience so they really appreciate and find comfort in familiarity. It is important to consider the following when creating a plan:
What your loved one's routine was prior to diagnosis
What their likes/dislikes/interests are
Allowing additional time for mealtimes & personal care
Sticking to regular wake up/bed times
What times of day your loved one is at their best
Once you have created your daily routine plan, we recommend that you try to stick to it as much as possible as any divergences could cause your loved one anxiety & confusion. However, you will, of course, need to make allowances for if you have adhoc doctors appointments, or if your loved one's condition worsens.
3. Plan Activities
Alzheimer's Disease is known to lead to individuals withdrawing from things that they enjoy such as activities or hobbies. Encouraging your loved one with Alzheimer's to continue doing the things that once made them happy will lead to them having an enhanced quality of life. As well as this, it can help to prevent memory-loss, a common symptom of Alzheimer's.
Engaging in activities can help people living with Alzheimer's by reducing irritability & anxiety, promoting emotional connections and self-expression.
Examples of activities that you could do with your loved one:
Gardening - if they have green-fingers, there's no reason why they should stop nurturing their garden or allotment. You could do some weeding together, re-pot plants or plant new ones!
Baking - if your loved one was a born baker, bring out their old recipe books and recreate the ones they used to frequently make. This could be a great way of encouraging them to reminise.
Listen to Music - music has proven to be a brilliant way for people with Alzheimer's & dementia to reminisce & reduce agitation. Pop on some music from their favourite artists, or songs that mark important events such as your wedding song and have a sing-along & dance together.
Cleaning - for some, this one may not sound very appealing! However, cleaning is one of those tasks that we have all grown up doing, and can help your loved one feel a sense of achievement which can help with their self-confidence.
Walking - go on a walk together to get some fresh air, and exercise. Choose your favourite local walk route and follow this each time so that your loved one is familiar with the route. New things can often upset people who have Alzheimer's.
4. Promote communication
Unfortunately, deterioration of communication skills is one of the symptoms of Alzheimer's Disease. This is why it is so important to ensure you promote communication as much as possible to slow the decline of your loved ones abilities. The Carer of a person who has Alzheimer's needs to be prepared to be understanding, patient and to listen to their loved one.
Someone with Alzheimer's may experience the following communication barriers:
Being unable to find the right words for what they want to say
Repeating themselves over and over
Withdrawing from conversations
Losing their train of thought
Describing an object rather than naming it
Things you can do to encourage your relative to communicate:
Include them in conversations
Maintain eye contact with them while you are speaking with them
Offer reassurance if you can see that they are becoming flustered
Avoid complex questions, instead using simple closed questions
Resist correcting them as this could be discouraging
Provide visual or written ques
Read our article containing 5 tips for encouraging socialisation for someone with dementia
5. Keep their safety in mind
If you live with someone who has Alzheimer's, it is essential that you consider their safety at home. Alzheimer's can result in a person having poor judgement, disorientation, balance issues and sensory impairment which can affect their safety.
Your home is the place where your loved one will spend a lot of their time, making it crucial that you evaluate whether there are any safety hazards lying around. Here are some precautions you can take:
Ensure that there are no trip hazards lying around on the floor
Install grab bars, non-skid mats and a shower chair in the bathroom
Install a chair lift if your loved one struggles with stairs or is prone to falling
Set the thermostat on your hot water heated to prevent them from burning themselves
Keep medication is a safe place to avoid accidental overdose
Remove door locks (except entrances of course!)
In the kitchen, install safety knobs on appliances to prevent them from leaving them on by accident
If your loved one has poor mobility and uses mobility aids, ensure that they can safely get in and out of your home whether that mean installing a ramp.
If you have a swimming pool or hot tub, ensure that they are covered over
Use night lights or automatic lighting in the hallway incase your loved one gets up in the nights
Prepare for emergency's by always having emergency services numbers to hand
Read our article on how to keep your loved one with dementia safe during a pandemic
6. Accept support
It is important to remember that it is perfectly ok to ask for support whilst caring for someone who has Alzheimer's. Being the primary carer of a loved one is a full-time job and therefore essential that you look after your own health so that you can care for them to your best capability. Taking a short break or accepting help from family/a care service can prevent you from physical and emotional exhaustion which could lead to you no longer being fit to care for your loved one.
The NHS advice for carers is to:
Ensure you are registered as a carer with your GP
Apply for a free carer's assessment from your Local Authority which can recommend:

Respite care
Help with housework and shopping
Local support groups

Check whether you are eligible for any benefits
Find out about training courses that could help you
Some charities offer free support and advice to people caring for someone with Alzheimer's:
If you are the carer of someone with Alzheimer's and feel that you need a break, please get in touch with our Care Advisers. They will be able to assist you in finding suitable respite care for your loved one.
Are you looking for care for someone with Alzheimer's? Please get in touch with us today for free support