As the country adapts to the necessary measures needed to protect our elderly and vulnerable during the midst of a pandemic, the "normal" process for choosing a care or nursing home has changed.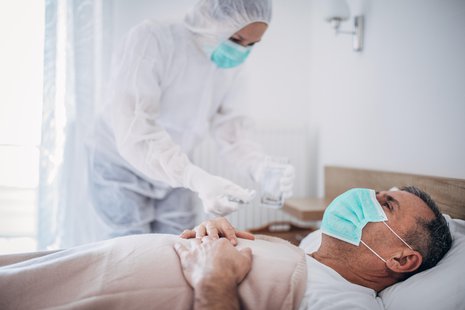 In pre-pandemic circumstances, relatives would be urged to visit shortlisted care services allowing them to make informed decisions about which environment is right for their family member. The 'visit' is so much more than just witnessing the surroundings; interacting with staff/residents allows visitors to and get a sense of whether the home's culture and values are aligned to their own.
Care services are being as innovative as possible to ensure that they are able to continue communicating with the outside World and continue to support new individuals in need of care.
Let's explore the various ways to find out about care services, the process for admissions & what to expect upon moving into a home.
How to view homes without visiting
Where safe to do so, some care homes are allowing potential care seekers to visit their homes again, of course, whilst following strict protocols such as wearing PPE and abiding by social distancing guidance. Many homes are opening their gardens or designating particular rooms for visiting at pre-arranged times.
In cases where homes are closed to external visitors, here are some of the ways you can get a sense of the aesthetics of individual services without visiting:
Browse images of their service online
Many care providers will have their own website where you browse through a gallery of images. Or else, many care providers will have images of the exterior/interior of their home on their Google Business listing. Simply type in the name of the service into Google, click on the map to view any available pictures.
2. Request an email brochure
Lots of care providers have a pdf version of their brochure which they can easily attach to an email. The brochure will share information on the values, ethos and day-to-day life in the home as well as showing pictures of the service.
3. Request a postal brochure
Similarly, most care services have a printed brochure which they can pop in the post to you. It's still important to follow infection-control measures on items sent by post, as COVID-19 can live on surfaces for a matter of days.
4. Request a photo of available rooms via email/picture messaging
If you would like to take a peek at any available bedrooms in the care service then just ask the Manager/Administrator whether they would be able to take a picture and send it to you via email or picture messaging.
5. Virtual tour of homes
Many care providers are offering virtual tours. Some providers had these already and are able to email a link to their virtual video tour or share a link to watch the tour on YouTube. Where the provider doesn't have a pre-existing video, some Managers are happy to arrange a video conferencing call where they can walk you around the home.
For free, help and support please give us a ring and speak with our dedicated Adviser team.
Admissions to homes
Along with visits, care providers have changed their process for conducting an 'assessment' during these challenging times. It is a legal requirement to conduct a pre-admission assessment before admitting a new resident. Previously, all assessments were conducted face-to-face, now many assessments for residential/nursing care are being conducted over the telephone, by trusted assessors or via self-assessment with the help of family members or an advocate.
Care providers are speaking with relevant stakeholders, e.g. medical professionals & family members, to get an accurate picture of the person's care needs before coming to any firm decision about whether they can support.
If the care provider confirms they can support the individual's care needs, providing there is a bed available, admissions can take place within 24 hours.
What to expect upon moving into a home
Upon moving into a care home, some care providers are isolating new residents to their rooms for a minimum of 14 days. Of course, care is still provided to the individual whilst they are isolating and they will be able to speak/interact with the care staff, they will however not be able to use communal areas of the home straight away. In some cases, as long as the care home is comfortable with it if the resident has already completed 14 days of isolation in another setting, they may not have to complete it at the care home. Furthermore, if a resident has completed part of the 14 days of isolation in another setting, they may only be required to complete the remaining days. Each care provider will have its own policy so it is always worth checking with individual homes.
Carers & Nurses will deliver care to the individual in the confines of their room whilst wearing protective clothing for the initial isolation period. Once the isolation period has passed, individuals will be able to use the communal areas of the home whilst maintaining a 2-metre distance between themselves and other residents.
For more information on what to expect when moving into a care home during a lockdown, visit our article "What to Expect When Moving into a Care Home During Lockdown".
To speak with TrustedCare's team of dedicated Care Adviser's about the process of moving into a home during a pandemic then please do call: 01865 680443, email: hello@trustedcare.co.uk or speak with an Adviser over Live-Chat.