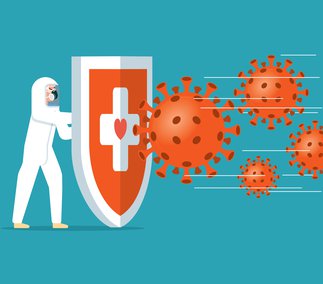 We are now weeks into the COVID-19 lockdown and things that were once alien to us are becoming the norm! This article will help you understand what to expect when moving someone dear to you into a care/nursing home during the current circumstances.
Read on to find out about how assessments & admissions have changed and what to expect next.
Assessments
Before the lockdown, where possible a care needs assessment on a prospective resident would be carried out in person so that the assessor could fully understand the persons' requirements. However, to prevent the spread of the coronavirus, and in turn, protect the existing residents at the home, assessments are predominantly being carried out over the phone.
If a prospective resident is coming straight from the hospital, all necessary paperwork will be completed over the phone with the hospital discharge team and ward staff along with input from the GP.
Should a prospective resident be coming from their home, their family members will be asked to organise for their GP to fill in a questionnaire about the persons' care needs. A family member may also need to with their loved one at a set-time to go through a telephone assessment with the care provider.
Admissions from Hospital
In the case that a prospective resident is being admitted to the home straight from  hospital, they will need to be tested for Covid-19. It is important that the test comes back as negative so as to not bring the virus into the home, especially if the home doesn't have any cases.
As a precautionary measure, all new residents in care homes will need to isolate in their room for 14 days upon arriving at the home even if they have tested negative for Covid-19. This is to ensure that if they begin to display symptoms of the virus, they will not have had contact with other residents.
Admissions from Home
Similarly to care home admissions from hospital, prospective residents coming to the home from home will need to test negative for Covid-19 before being admitted.
If a prospective resident is being admitted from their home, it will need to be arranged by their family for their GP to fill in a questionnaire about the persons care needs. This will help the home understand the extent of the persons' care requirements and allow them to prepare.
As with admissions from hospital, residents who have moved to the care home from home will be required to isolate in their room for 14 days just incase they begin to show signs of Covid-19.
What else to expect...
Carers/Nurses in care homes will be wearing personal protective equipment (PPE) to protect the residents. We recommend that you explain this to your loved one before they move into the home so that they are not alarmed.
Most homes are unable to allow external visitors into the home at present whether this is family members or entertainers. We understand how difficult this is but you need to be prepared for not being able to physically see your loved one for a while. To make this a little bit easier, many homes are trying their utmost best to keep residents connected with their loved ones by setting up Skype calls and regular phone calls.
Some Carers have decided to move into the home they work at in order to care for the residents during lockdown, and to protect their own families.
You are likely wondering what the next steps are expected to be?
As the weeks go on, one thing is certain, care/nursing homes will continue to adapt their working practices. One thing that will be at the forefront of their mind is how they safely allow visits from family members of residents. On the 15th April, lockdown visiting restrictions were relaxed to allow family members to be with loved ones receiving end-of-life care. Social distancing is likely to remain until a vaccine or effective treatment for COVID-19 is found. However, in a short space of time, care/nursing homes are heroically adapting and doing all they can to protect their residents and stay in touch with family members.
Are you looking for support with finding a care/nursing home for a loved one? We can help!