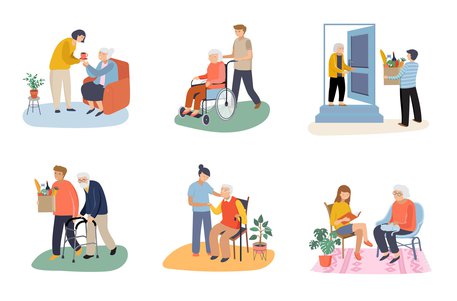 Finding daily tasks at home challenging but not ready to move into a care home? Home care where trained carers visit you in your own home to provide care support could be the right option for you!
This article outlines the 5 key stages of arranging home care to help point you in the right direction.
5 Stages of Arranging Home Care
1. Contact your local council
There are a couple of approaches that you can take when beginning your search for home care. You can either:
Arrange home care privately by yourself and/or with the help of loved ones
Contact your local council who can help you arrange home care
2. Request a care needs & financial assessment
Care Needs Assessment
Regardless of whether you would prefer to make arrangements by yourself or get help from your local council, we highly recommend that you request a care needs assessment from your council. This is because a care needs assessment captures your individual care requirements in a nutshell and can be shared with prospective home care providers or private carers to explain the level of support you need.
The purpose of the care needs assessment is to help the council determine whether or not you are eligible for care. If they decide that you are eligible, the council can arrange your home care for you. Even if they decide that you are not, they will still provide you with advice on where you can get help within your community.
Usually, during a care needs assessment, a care specialist will speak with you and have a look around your home to work out your care requirements. Due to the COVID-19 pandemic, there is a chance that this may be carried out via phone, video call or online assessment where appropriate. Your assessor will talk to other professionals involved in your care such as your GP if you are happy for them to do so.
You can request a free care needs assessment by contacting your local council. If you are unsure of who your local council is, you can search your postcode via the Gov website here which will provide you with a link through to their website. Here, you will be able to find their contact details.
Financial Assessment
The next course of action will be getting a financial assessment completed by your local council. This will determine whether you are eligible for any funding from your council or will need to privately fund your care.
Whilst conducting your financial assessment, your local council will assess your personal assets. Personal assets include your income, savings, investments and property.
If your council conclude that you are eligible for funding from the council, you will be given a care and support plan which outlines your care requirements, how they will be met and your personal budget. Your personal budget is the figure your council predict your care will cost. It can either be received as a direct payment allowing you to arrange a private carer yourself or can be paid directly to a home care provider.
In the instance that council decide that you are not eligible for any council funding, you will be required to meet your care costs yourself.
3. Check whether you are eligible for any benefits
Even if the council have determined that you are not eligible for any funding, it is definitely worth looking into whether you are eligible for any benefits to help you cover your care fees.
If you are over State Pension age and have an illness or disability you may be eligible for a variety of benefits which are not means tested. Here are just a few of the benefits you may be eligible for if you are over 65 years old:
4. Begin searching for home care providers / private carers
Once your care needs and funding arrangements have been ascertained, you can begin searching for suitable home care providers or private carers, whichever your preference. We understand that it can be difficult knowing where to begin your search so here are some suggestions to point you in the right direction:
Home Care Providers
Private Carers
Search Google for 'Introductory Agencies in (your location)'.  Read our article to find out more information on what an introductory agency is.
Publish an advert in your local newspaper or a classified jobs website
Speak to friends & family to ask whether they know of any recommended private carers
5. Make contact
Once you have a shortlist of potential home care providers/private carers, we recommend that you make contact with them to ask any questions you may have and check whether they can support your care needs and have availability.
If you decide that you would like to proceed with a home care service/private carer, you will be offered a more in-depth meeting with the Care Manager/private carer to discuss further and make arrangements. Due to social distancing measures, many services are happy to arrange meetings over the phone or video chat to reduce contact.
As soon as all necessary arrangements have been made and a start date has been established, your home care will begin!
If you have any questions about arranging home care, please do get in contact with our Care Advisers for free help & advice.
Are you starting your search for home care? Please get in touch with us today for free support