Promedica24 UK
Weekly prices: From £895
5.0 out of 5 5.0 out of 5.0 3 reviews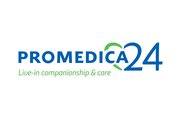 Specialisms
Dementia Care
EMI
Learning Disabilities
Old Age (65 years+)
Palliative Care
Physical Disabilities
Respite Care
Under 65 years
Younger Adults (18 - 25)
Call this provider - 020 3319 6487
Promedica24 supports people of all ages with live-in care or home care across the UK. Round the clock care is provided by our dedicated care team, overseen by our experienced Management Team.
Promedica24's live-in service means that you or your loved one will be provided with 24/7 care by a professional Carer who lives with you. The support a Live-in Carer provides is not just limited to personal care, they are on hand to support you with all elements of day-to-day life. A Live-in Carer will require their own living quarters within your home and be entitled to a minimum of a 2-hour break during the day.
Before becoming a client at Promedica24, our Management Team will have met the prospective client and conducted a Care Needs Assessment. This initial assessment allows the Care Manager to put a full Care Plan in place.
We understand that cost plays a big part in selecting a live-in care provider and encourage you to give Promedica24 UK a call to discuss weekly fees in more detail and if applicable, enquire about our capacity to take on clients who are funded by their Local Authority. Our weekly cost will be calculated upon completion of a care assessment carried out by a member of our team. but fees start at £695. We are able to support a wide range of care requirements including respite care, dementia care and palliative care.
Please do give us a ring to find out more about what we can offer at Promedica24. We would be delighted to spend time finding out about your or your loved ones care needs and share information on the care we provide.
Frequently Asked Questions about Promedica24 UK
How much are the fees at Promedica24 UK?
The weekly cost of care provided by Promedica24 UK starts at £895 but will depend upon the individuals care requirements. Contact Promedica24 UK's Care Manager on 020 3319 6487 to arrange a Care Needs Assessment. Learn more about live-in care costs.
Does Promedica24 UK accept Local Authority funded clients?
Promedica24 UK may be able to accept clients who are funded by their Local Authority. Contact Promedica24 UK's Care Manager on 020 3319 6487 to discuss further.
Is Promedica24 UK regulated by the Care Quality Commission (CQC)?
Yes, Promedica24 UK is registered with the CQC.
Does Promedica24 UK provide end of life care?
Do we get to choose the carer?
Yes, Promedica24 UK will work with you, your friends & family and their team of Carers to land upon a collaborative decision as to which Carer is the best match for you.