Noble Live-in Care
Weekly prices: From £950
0 out of 5 0.0 out of 5.0 0 reviews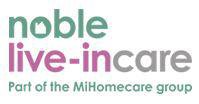 Specialisms
Dementia Care
Learning Difficulties
Old Age (65 years+)
Palliative Care
Physical Disabilities
Respite Care
Under 65 years
Younger Adults (18 - 25)
Call this provider - 0117 463 0127
Noble Live-in Care is a live-in care provider with over 23 years of experience. We provide a lifeline to people with care requirements across the UK, who want to live independently, in the familiar surroundings of their own homes and communities. We offer respite, nursing, companionship, dementia, palliative and emergency care to support clients with a range of healthcare needs including complex health conditions such as brain and spinal injuries.
Our highly trained, dedicated and compassionate Care Workers provide personalised, one-to-one, live-in care and companionship. All members of Noble Live-in Care are trained to be able to support a huge range of personal care services. Our staff liaise closely with healthcare professionals and cover all aspects of live-in, nursing and companionship care as required.
The highest level of care embracing independence, choice, privacy, dignity & respect is the whole team's absolute goal. Experienced carers work individually with each client to develop a unique, personalised, and flexible care plan that is continually monitored and updated to account for any changes to care needs or personal preferences.
Our Care Workers are carefully matched to client's to ensure common ground and interests. They support clients to maintain their independence and lifestyle with activities and hobbies inside the home or out in the community. Your Care Worker is trained to share your life and maintain boundaries by respecting your home, belongings, lifestyle and choices without judgement.
To find out more about the care provided at Noble Live-in Care then please get in touch. Our management team would be delighted to spend time finding out about your or your loved ones care needs and arrange a visit from your Local Area Advisor to share information on the care we provide.