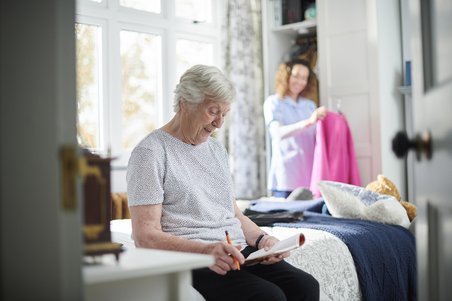 You may have come across the term Section 117 aftercare before, but without doing a quick Google, it may not mean anything to you!
We have popped together this article to help you understand the in's and out's of Section 117 aftercare including what it is, who's eligible and how long it lasts.
Please note that the information below is relevant to England and applies to adults.
What is Section 117 Aftercare?
Section 117 aftercare is the care that some individuals have a right to receive when they leave hospital after being kept there under the Mental Health Act. This care is provided completely free of charge upon discharge from hospital.  Sometimes Section 117 aftercare is organised under the Care Programme Approach (CPA).
Included in the support a person who has been granted Section 117 receives is healthcare, specialist housing and social care, support with meeting people, work and education and free prescriptions for mental health medication. These services are meant to help a person meet needs resulting from their mental health condition and to reduce their chances of being re-admitted to hospital or their condition worsening.
Who is eligible for Section 117 funding?
To be eligible for Section 117 funding, you will need to be in hospital under the following sections of the Mental Health Act 1983:
Other eligibility criteria includes:
Restricted patient on a conditional discharge
Discharged onto a Community Treatment Order (CTO) for the entire duration of their CTO
Who organises Section 117 funding?
The responsibility of arranging a person's funding for Section 117 aftercare falls to either:
Local Authority / Social Services
Local NHS Clinical Commissioning Group (CCG)
They will either provide the aftercare services or organise for them to be provided with the help of voluntary agencies.
Payments can either be paid directly to the services providing your care, or you can ask to receive direct payments to yourself or someone of your choosing. However, in order to ask for direct payments to yourself or someone else, you must meet the eligibility criteria including:
Being deemed as having the capability/mental capacity to ask for direct payments
If you have chosen someone to receive payments, they need to have agreed to this
The local authority will need to be satisfied that making direct payments are appropriate and will be the most effective way of meeting your care needs.
The local authority are satisfied that you or the person you have chosen to receive payments are capable of managing the payments made.
How long does Section 117 last?
Section 117 will last for as long as your local authority or CCG assess that you require it. It will only cease when a person is deemed to be able to stay well and out of hospital without it.
The person who has been receiving Section 117 aftercare will be fully involved in any decision making regarding their aftercare ending which is in line with the English Codes of Practise.
English Codes of Practise also state that an individuals Section 117 aftercare should not end for any of the following reasons:
The person is not on CTO or Section 17 leave
The person has been discharged from the care of specialist mental health services
They have returned to hospital as a voluntary patient or have been detained
They have been deprived of their liberty under the Mental Capacity Act
If an arbitrary duration of time has passed since the care began
Who decides where Section 117 aftercare takes place?
In April 2015, a new regulation was put in place permitting the service user and their family to make a decision on the care home or supported housing they would like to receive their Section 117 aftercare. The local authority will be obligated to let you receive your Section 117 aftercare in your chosen location if you meet the following criteria:
The individual is over the age of 18
The chosen location will meet your care needs
The local authority was going to offer you the same type of housing
The location has availability for the individual to move in
If the chosen housing is more expensive, that the individual or someone they know will pay the difference. The person who is happy to pay the difference will need to have their agreement in writing.
The housing provider agrees to the local authority's standard terms
Are you looking for a care service near you?
Please get in touch for one-to-one support with your search!