Stairlifts can be life-changing for older people who have limited mobility as a result of general ageing, illness or injury.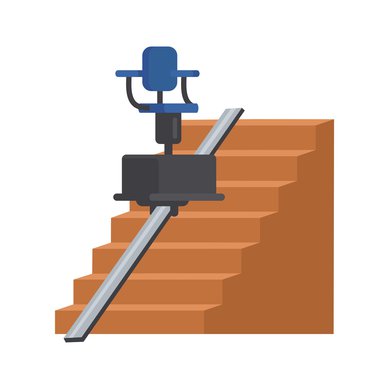 There are many benefits to installing a stairlift in the home including restored confidence for those who are prone to falls, being able to maintain independence in the home and safety.
We understand that it can be difficult to decide which stairlift to go for, particularly when there are so many different options to choose from. So, to make your life easier, we have shortlisted 5 highly recommended stairlifts available to buy in the UK below.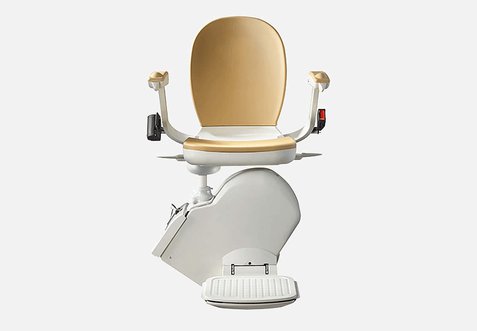 Cost: Dependant on personal requirements and staircase configuration. All Acorn Stairlifts are tailor-made for the customer. Please fill out Acorn Staircase's free quote form for a quote. The starting cost is around £2,200.
Max weight capacity: 159kg
Features
Suitable for indoor staircases
Next day installation available
Smooth start and stop mechanism allowing effortless gliding up and down the stairs
Fits quickly and easily to the stairs rather than the wall
Low running costs
Folds away when not in use
Optional hinged rail designed to eliminate any opstructions
Safety features including seat belt, diagnostic display and back up battery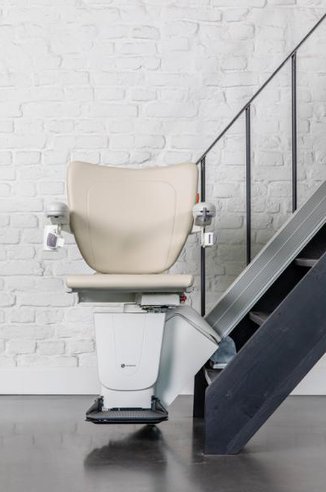 Cost: Dependant on personal requirements and stair configuration but start at £1,434. Contact Handicare on 01384 912 033 for more details.
Max weight capacity: 140kg
Features:
Has the slimmest rail on the market
Compact design which can be folded when not in use
The seat swivels at the top landing ensuring that you can get on and off with ease
Comes with safety sensors which will stop the lift if there is an obstruction
Non greased rail due to patented technology
4 quiet and reliable motors due to patented 4 wheel drive technology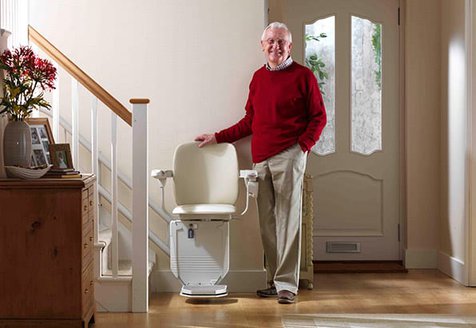 Cost: Dependent on the length of track, style of chair and customisable features but starts at £2,000
Max weight capacity: 160kg (straight stairs) or 120-135kg (curved stairs)
Features:
Ideal for straight rails and modular or custom made curved rails
Wide range of woven or vinyl upholsteries
Available in 2 seat widths
Folds away neatly when not in use
Fitted to the stairs rather than the wall
Manual and powered swivel seat options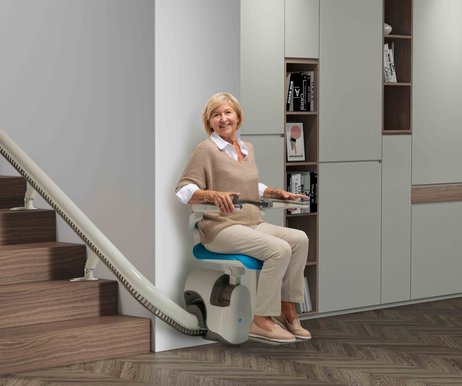 Cost: thyssenkrupp base their prices on a number of factors including personal requirements, the staircase configuration and customisations. Contact thyssenkrupp on 0800 783 9551 for more details.
Features:
Modern and timeless design with no mechanics or cables on show
Choice of fire resistant, moistureproof upholstery
You can opt for manual or automatic folding of the stairlift
Operated with a unique flip-up joystick
Foam padded seat and backrest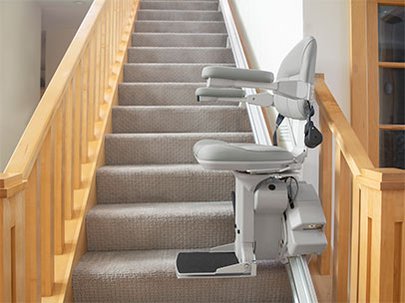 Cost: From £2,395
Max weight capacity: 190kg
Features:
Luxurious design
Multiple optional extras to choose from
Runs smoothly and quietly
Continuously charges the unit anywhere on the rail
Offset swivel seat, flip up arms and a folding footrest/seat
Comparison
| | Acorn 130 Straight Stairlift/180 Curved Stairlift | Handicare 1100 | Stannah - The Siena | thyssenkrupp Home Solutions S200 | Bruno - Elite Stair Lift |
| --- | --- | --- | --- | --- | --- |
| Cost | From £2,200 | From £1,434 | From £2,000 | N/A | From £2,395 |
| Max weight capacity | 159kg | 140kg | 160kg | N/A | 190kg |
Are you looking for a care service? Get in touch for free help & advice!