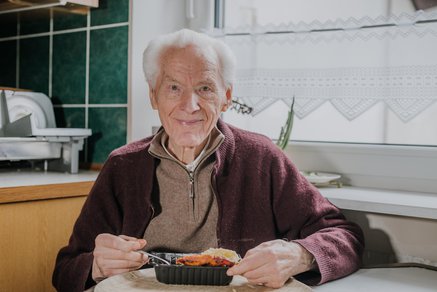 Meal delivery services can be a lifesaver for older people who are starting to find that meal preparation is becoming too much for them.
We have shortlisted 5 meal delivery services suitable for the needs of older people. Scroll down to read more information about each one!
Top 5 Meal Delivery Services...
Wiltshire Farm Foods have been offering their exceptional meal delivery service for the past 30 years. The company delivers scrumptious frozen meals which are delivered for free straight to your door by our friendly local team in your area.
There is a selection of over 340 varied recipes to choose from meaning that our customers never grow bored of their meals! Wiltshire Farm Foods use sustainable ingredients whenever they can and are members of the Ethical Trading Initiative as well as supporters of British Food & Farming Industries. Wiltshire Farm Foods cater for a wide range of dietary requirements such as gluten-free, dairy-free and low fat to ensure that there is something for everyone. Meals come in 3 sizes: standard, hearty and mini for those who have a smaller appetite!
To find out whether Wiltshire Farm Foods deliver to your area, enter your postcode into the 'Enter Delivery Postcode' section of the homepage our their website. One of the many perks of using Wiltshire Farm Foods is that you can choose how little or often you would like to receive your deliveries. Customers are not tied into a contract giving you the flexibility to start/stop receiving deliveries whenever you like!
There are 2 ways that you can order from Wiltshire Farm Foods,  you can either browse and order from their website, or give them a phone call on 0808 239 110. Customers can also request a brochure with details of all of the meal options by filling in an online form or by giving them a ring.
Oakhouse Foods started its journey in 1994 with the ambition to create delicious, nutritious frozen meals that are quick and easy to enjoy at home. They pride themselves on going the extra mile for their customers and providing a personal experience. They achieve this through their friendly home delivery service where the same local driver with delivering meals to your door, every time!
The company offers a solution for older people who are finding preparing and cooking meals a little bit too taxing. They deliver frozen meals to your doorstep as and when you like. The only preparation required is popping the meal in the microwave or oven, making for a quick, easy and delicious meal.
Customers of Oakhouse Foods are presented with a selection of over 350 frozen meals and dessert options to choose from, making it impossible to grow bored! Within the vast selection of meals, there is something for everyone no matter what their personal preferences are, or how many intolerances they have. The meals are flash-frozen to ensure that all of the goodness and flavours are maintained.
To begin ordering from Oakhouse Foods, you will need to navigate to their website where you will be able to browse their selection of meals and 'add' them to your bag. When you're at the checkout, you will be able to select a date and time that suits you best for delivery.
Parsley Box was born when Founders, Adrienne and Gordon struggled to find a good solution for Gordon's mum who was living on her own and whom they were worried wasn't eating properly. The company deliver microwavable meals which can be cupboard stored for up to 6 months, saving space in your fridge or freezer!
The meals provided by Parsley Box are batch-cooked in UK kitchens and are high-quality. Their food is cooked using a special cooking method which is alike pressure cooking where the food is sealed and then slow-cooked under a vacuum which helps to ensure that all of the flavours and nutrients are locked into the meals. Many of the meals on offer are gluten-free and the company are looking to introduce vegetarian and vegan meals in the future to cater for more dietary requirements.
Customers do not need to sign up for a subscription to receive their delicious meals and they can be ordered either online, via phone or by post depending on the method you prefer.
Free next-day delivery is offered providing the order total is above £29 and if the order has been placed online or via phone before 3 pm Monday - Thursday.
Apetito offers a 'Hot Meals on Wheels' service in partnership with Wiltshire Farm Foods. In order to start receiving Apetitos meal delivery service, you can contact your local centre or council. Once you have signed up, you will continue to receive meals unless you have requested to amend or cancel which you can do anytime.
Customers can decide whether they would like to receive a hot meal up to 7 days a week, 365 days per year and can choose from a wide selection of yummy meals! Apetito caters for a huge variety of requirements and special diets including meals that are easy-to-swallow dysphagia-friendly and those who have smaller appetites. Apetitos standard offering is a 2-course hot lunch which can be upgraded to 3 courses for an additional charge. There are around 200 different meals in Apetitos range and there will be a choice of up to 5 meals for each course.
Apetitos meals are delivered by a friendly team of qualified drivers who will not only deliver meals but will also check in on customers to make sure that they are happy & well.  If they are concerned about an individual, they will immediately contact their next of kin. All drivers are DBS checked and carry identification badges with them.
COOK was started by its Founder, Ed, in 1997 and along with talented chef, Dale, the pair opened a small shop in Fareham selling hand-prepared frozen meals. Since then and after a lot of trial and error, COOK now has 90 shops across the UK, a home delivery service, a network of concessions in like-minded retailers, a puddings kitchen in Somerset as well as 2 kitchens in Kent!
The way COOK works is that they cook high-quality meals and then freeze them using nature's preservative to lock in flavour whilst reducing waste ready to send to your door! All of COOK's meals can be either microwaved or cooking in your oven.
To find out whether COOK delivers in your area, add a meal to your bag on the website and you will be prompted to enter your postcode. This will then tell you information including whether they offer delivery to your address, how much you need to spend to get free delivery, what the minimum order requirement in and whether there is a click and collect option.
Are you looking for care for a loved one? Please get in touch for free support!