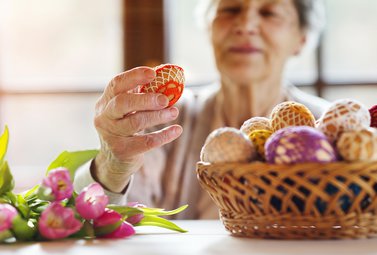 Our second Easter spent in lockdown is approaching, and once again it will be very different to pre-Covid times! Government guidance sadly means that care homes won't be able to invite everyone for a big Easter Bank Holiday weekend celebration as they usually would. However, care home staff will still try their best to make the weekend as enjoyable as possible for their residents.
We are great believers in making the best of every situation and believe that there are still ways that care homes can make Easter a special time for their residents.
5 Lockdown Friendly Easter Activities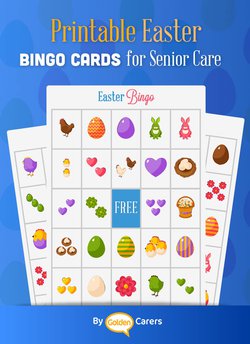 1. Easter Bingo
Bingo is a fabulously simple and adaptable activity, so why not create an Easter edition for your residents!
As well as helping to stimulate older peoples' sight, touch and hearing, bingo helps to ease feelings of loneliness which many may be feeling at the moment as a result of the pandemic and restrictions around visiting.
To make your life easier, Golden Carers are offering free Easter-themed bingo cards available to download and print! (See image)
2. Easter Egg Decorating
Easter eggs have been symbolic of Easter of many, many years. They are an ancient symbol of new life and it has been a tradition to decorate them since the 13th century!
There are all kinds of ways that you can decorate hardboiled eggs, from dying, painting, to creating a crotchet case for them! It's an enjoyable activity to get residents into the Easter spirit whilst being able to use their imaginations. Make sure you take a photo of your residents with their creations to send to their families!
Laura Shack from the National Trust demonstrates how to use natural dyes to decorate hard-boiled eggs. (See video)
3. Sing-Along
We don't know many people who aren't uplifted by a little sing-along!
Whilst musicians aren't able to visit care home's at this current time, those who are able to will likely be more than happy to perform to your residents either from outside of the building or via video call.
The video to the right shows a perfect example of how music can brighten a care home residents' day. Last Easter, Hannah Ciotkowski bought joy to residents at Cedar Lawn Care Home in Stratford-upon-Avon.
4. Handmade Easter Chicks
Another symbol of Easter is the Easter chick which, as well as the egg, symbolises new life.
If you have residents who enjoy needlework, they may like to get creative by making an Easter chick themselves! Arts & crafts are a great way for older people to maintain dexterity in their hands and fingers. Residents' creations would make lovely gifts to their young family members.
The video to the right shows Laura Shack from the National Trust demonstrating how to make Easter chicks from scrap fabric.
5. Easter Quiz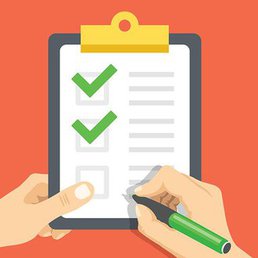 Creating an Easter themed quiz for your residents is both a cost-effective and fun way to keep everyone in good spirits.
Completing a quiz requires a bit of brainpower, helping to keep residents engaged and mentally active during their time in quarantine. Activities that require older people to use their brain are said to help improve mental health.
Due to the social distancing rules, you can be sure that your more mischievous residents won't be able to cheat on the Easter quiz!
We wish you all a lovely Easter weekend. Stay safe & well!
Are you looking for care for yourself or a loved one? TrustedCare are always here to help!