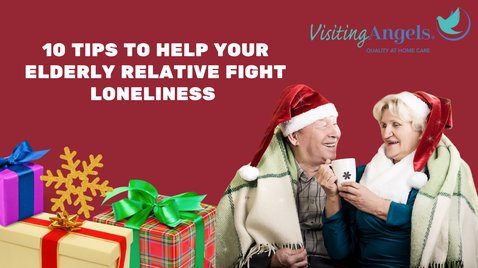 Did you know that the elderly are extremely vulnerable to loneliness and social isolation and these can have a serious impact on their health?
According to the research conducted by Age UK, there are 1.4 million lonely elderly individuals in the UK and in a pandemic such as Covid-19, loneliness in the elderly is said to be a national crisis.
Recent studies have found that:
Social isolation is strongly related to Dementia. Research has shown that being socially isolated is associated with a 50% increased risk of Dementia.
Poor social relationships (as a result of social isolation) is directly related to a risk of heart disease and stroke with the elderly. Click here to read the rest of the report.
It is important to understand that loneliness is not the same as social isolation. Some individuals can be isolated but don't feel lonely. On the other hand, loneliness results from a lack of meaningful connections.
Age UK  have classified loneliness as a negative feeling and a common human emotion that an individual may experience especially when their relationships do not match up to their own expectations and according to Age UK, if we don't tackle loneliness as a community, by 2026 there will be over 2 million people over the age of 50 in England who will at some point experience loneliness.
Their findings also suggest that the reasons people feel lonely are personal, in some cases, people might require personalised support.
Although, there are many ways to overcome loneliness, even if your elderly relative lives alone.
Here are our 10 tips on how you can help them:
1. Communication
Keep in touch with your elderly relative by phone. Have a friendly chat with them. It is time to increase the frequency of calls to your parent or grandparent. It is always nice to talk to your elderly relative as you might discover or learn new things about them that you did not know before. Make it a regular commitment, schedule in your diary to call your elderly relative more often.
2. Basic IT skills
Consider teaching your elderly relatives to use technology so that they can continue to maintain connections. A device (such as a mobile phone, computer or iPad) with many video calling apps such as WhatsApp, Skype or Facetime is a tool for them to stay connected with you and your family.
3. Communities
If you teach your elderly relatives basic IT skills, it would be extremely beneficial if you could sign them up on social media platforms. For example, a Facebook account will allow your elderly relative to engage with friends, family and community groups. Facebook community groups can vary from area to general friendship groups such as: Caregiver & The Elderly, Ask The Elder and London Elderly Covid-19 Community Support Group.
4. Support
Be the person that your elderly relative can talk to. Whether your elderly relative is going through a difficult time or not, having a chat with them always brings a smile to their face.
5. Assist the seniors with Christmas shopping
Christmas food or gift shopping can be difficult for seniors who have less mobility. Showing your older loved ones how to use the internet or assisting them with online shopping is a great way to initiate a new learning experience as well as keep them entertained at home.
6. Essential shopping
Offer to do essential shopping for seniors before the festivity begins. Seniors might need assistance with medications or running errands.
7. Personalised gifts
Make your own Christmas cards or go that extra mile to provide a personal touch when buying gifts for seniors this Christmas. Photographs or handmade gifts from grandchildren will definitely bring a smile.
8. Doorstep visit
For other senior relatives or members of the community who are outside of your support bubble, you may still be able to visit, you can drop by for a chat at their doorstep, being socially distanced and wearing a face mask of course. Sometimes human contact and a lovely chat from your loved one can be enough to bring joyful cheer.
9. Virtual & online games night
Our last blog had ideas on how to help your elderly relative fight loneliness, you can read our blog here. You should consider teaching seniors how to use technology so that they will be able to join in family game night, online of course. Online games such as Connect 4 or Online scrabble – most seniors have access to a tablet or a smartphone. How about an online word game to get started with on this site?
10. Companionship
Perhaps it would be beneficial to have extra support for your relative. Visiting Angels can help your elderly relative overcome loneliness. At Visiting Angels, we provide companionship, taking time to listen and chat. Through companionship care, we aim to prevent the elderly from feeling lonely or isolated. Our caregivers are highly trained to the level where they are able to notice the early stages of loneliness and are able to help the elderly through a variety of things such as personal care and companionship.