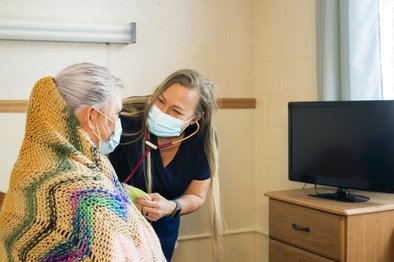 The past several months have been challenging as a result of COVID-19, especially for those who are caring for a loved one full-time. Now that social distancing restrictions are beginning to lift, a short break from caring to recharge your batteries may be needed...but how has respite care in care homes changed as a result of the pandemic?
We have teamed up with care home provider, Agincare, to answer your frequently asked questions and settle any uncertainty & concerns you may have surrounding respite care in a care home whilst the COVID-19 pandemic is still active.
About Agincare
Agincare is a family business built on strong family values. Their core values are a homely, warm and welcoming approach, high-quality affordable care, choice and independence. All of their care homes & nursing homes are managed to ensure that their staff have both time and space to deliver affordable, quality individual care.
1. What is your current visiting policy for people in the process of choosing a care home & family/friends of residents?
"We are now welcoming visitors back to our care homes – albeit at a safe distance of at least 2m, and with a few stipulations to minimise the risk:"
| | |
| --- | --- |
| • You'll need to book your visit in advance, by phoning the care home – we cannot offer visits without an appointment | • Visitors will need to bring a face covering (face mask) and use hand sanitiser |
| • Each visit will be limited to an hour. We need to make sure there is suitable space for each socially-distanced visit, so we can't have as many visits happening at the same time as we would have done before COVID-19 | • Even though it will be extremely tempting to hug and kiss your relative when you see them again after so long, you must keep at least 2m from them – it's for their (and your) protection |
| • There will be a limit of two visitors per visit, from the same household | • Please do not come if you are unwell or showing COVID-19 symptoms, or if any member of your household is self-isolating |
| • Visits will take place in the home's outside space, depending on the home's facilities: | • Please arrive on time for your visit, to make sure your loved one has the full 60 minutes of your time |
| o a garden visit, with 2m distancing | • Unfortunately, we are not allowing children under 13 in for visits at this time |
| o a window visit – you talking to your loved one through an open window or patio door on the ground floor of the home, with 2m distancing | • Please do not bring flowers in with you – any presents need to be something that we can easily clean |
"We hope that these arrangements will mean that as many of our residents as possible can see their family and friends in person again – they've missed you so much!"
"We also hope you will understand that if a resident or member of the care team tests positive for coronavirus we will need to suspend visits until the home has been COVID-free for 14 days."
2. Do respite residents need to test negative for COVID-19 before their arrival at a care home?
"Any person coming from a hospital environment will be expected to have a negative test result however, the nature of respite is that more often a person will come from home. They will be tested on admission and isolated in their room until the test result is back."
3. Upon arrival, do respite residents need to socially distance or isolate in their bedrooms?
"If a person is admitted from home for a period of respite, the assessment will help determine they have been protected in their own family 'bubble' and will therefore not need to socially distance or isolate. All will be tested on admission to obtain a negative result. If however, the result is positive, they will be expected to isolate in their rooms."
4. Will staff members be wearing PPE?
"Yes."
5. What happens if a respite resident develops COVID-19 symptoms during their stay? Will they need to remain at the care home beyond the agreed length of stay?
"Ethically we would consider it necessary for the person not to return into the community if they have a positive test result in order to contain the virus and prevent spread to the community/their family home."
"However, it would be dependent on consultation re costs. If a longer period of stay is required, the commissioner would need to agree on funding. It is likely that with the Care Act easements, the placement could be extended with public funding for the period required."
PLEASE NOTE: This is Agincare's current policy and other care providers policies may vary! Please contact providers directly to find out what their latest policies are. (Dated:28/7/20)
If you have any further questions or concerns about respite care during the Covid-19 pandemic, please do get in touch with our Care Adviser Team who will be able to help!
Are you looking for respite care for yourself or a loved one? Contact us today for free help & support!