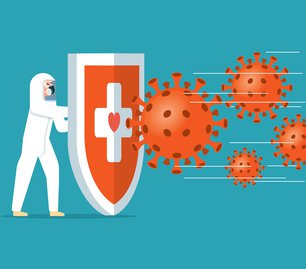 As Covid-19 guidelines begin to relax, family & friends of care home residents are eager to find out how they can reunite with their loved ones safely, without putting them at risk.
This article is focused on advising you of the measures that many care homes are actively putting in place to make visits from family members possible.
Measures that have been put in place:
Log Cabins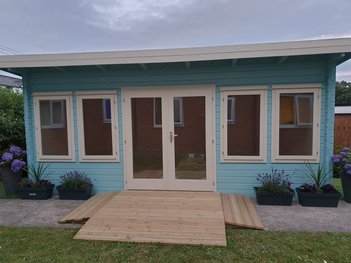 Cabinstore Ltd has been providing care homes with log cabins for the use as social distancing spaces for families to have quality time with residents.
Log Cabins are not only a quick solution for care homes but cost-effective and no planning is required for certain buildings. However, if planning is required, they offer an in-house service.
They can carry out groundworks, assembly, insulation, painting service and electrical packages providing a Design to Completion service. The Government Adult Social Care Infection Control Fund is also available to care homes to enable them to introduce a log cabin to their home.
Visiting Pods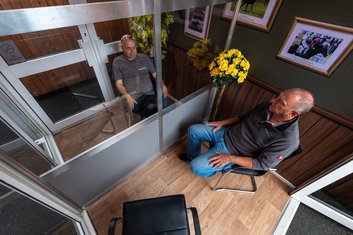 Showplace has been creating innovative garden visiting pods for care homes to help reunite families.  Their mission statement is "Creating solutions where others find challenges". It is part of their DNA so adapting their products to ever-changing requirements is what they have always done and what they do best!
All of Showplace's pods have separate entrances for residents & visitors and come with the option of full separated internal walls (glass/Perspex) or lower-level screens like you would see in retail environments. They also come in a range of different sizes.
Where pods are fitted with a full glass division, as standard Showplace supply a hands-free speech transfer system which has a hearing loop capability.
It is the responsibility of each individual care home to make their own assessments on the cleaning routine needed.
Virtual Meetings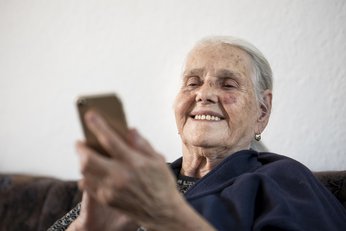 Care Homes are continuing to encourage virtual communication between residents and their families whilst the pandemic is still active to reduce the risk of Covid-19 getting into the home.
Communication networks such as Skype, Zoom and Face Time are popular amogst care homes, and staff members are helping residents to connect with their loved ones by arranging scheduled calls.
There's no question that virtual meetings are not quite the same as being able to physically visit a loved one, but they certainly help residents to stay in touch with their families. This is crucial for their mental wellbeing and can help to prevent feelings of loneliness, which many people experience later in life.
Garden Visits
As a first step towards allowing family members to visit their elderly loved ones, many care homes are arranging social distanced garden visits. Although unable to hug their relatives just yet, simply being able to see them and talk to them is incredibly special and means a lot to both parties.
Care Homes are of course sticking to the Government Safety guidelines and are being very careful, ensuring to sanitise the areas used between each visit.
Below, is a video from the BBC showing family members of residents at The Homestead care home reunite with their loved ones via a garden visit.
Cuddle Curtains
Most care home residents and their family members are longing for the moment that they can give each other a big cuddle again. A few care homes are making this possible again - whilst being safe!
The Westlands Care Home in Hampshire has installed a plastic curtain which facilitates family members being able to hug care home residents, whilst not risking the transmission of COVID-19. The visiting tent & curtain are, of course, fully sanitised between each cuddle to avoid the virus getting into the home.
See the BBC's video below showing the cuddle curtain being put to good use - have your tissues at the ready!
If you have any questions about the measures that care homes are putting in place to ensure that family members can visit care home residents safely, please do get in touch with us today!
Are you looking for care for a loved one? Get in touch with us today for free help & support!