Have you heard about Jelly Drops' water-based treats, invented with dementia in mind?
Jelly Drops are treats designed to boost water intake. The
 bright, engaging drops can help people maintain their fluid intake, independently and enjoyably! They're 95% water, sugar-free (with no laxative effect), vegan, and contain natural flavours and non-artificial colours – so you can eat as many as you like!
Image courtesy of Cavendish Park Care Home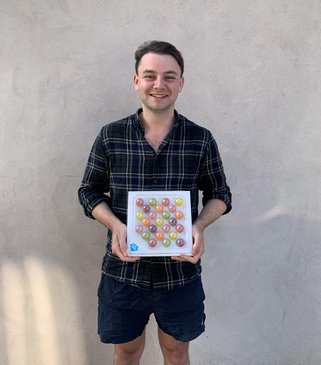 What is the story behind Jelly Drops?
Launched in 2020, Jelly Drops were invented by Lewis Hornby (pictured to the right), a Design graduate from the Royal College of Art and Imperial College London. He came up with the idea of Jelly Drops in 2018 when his late Grandma Pat, who had dementia, was admitted to hospital with severe dehydration. Fortunately, after 24 hours on IV fluids, she made a full recovery but Lewis was shocked that something as simple as not drinking enough could have such a huge effect on her health. Looking into the problem further, he realised this situation wasn't uncommon, unfortunately for the 50 million people living with dementia, dehydration is a huge problem.
Lewis wanted to help, so he started by speaking with dementia psychologists. He learnt that many people with dementia don't feel thirst, don't realise drinking would quench their thirst, don't recognise cups or don't have the dexterity to use them. To gain a better understanding of the problem,  he lived in his Grandma's care home for a month. The confusion around drinking was clear, with some residents sometimes putting food in their drink or pouring the drinks away.
With drinking being such a problem, he started to focus on eating habits, and here he found much more independence, particularly with finger foods. Even still, it was difficult to get people with dementia to engage with their food… unless he offered them a sweet! Usually when he'd walk around the care home most of the residents would ignore him (which is fair enough!), but if he had a tray of sweets in his hand they'd all light up and take a handful. That's what gave him the idea to create Jelly Drops!
Jelly Drops are sweets made of 95% water with added electrolytes. He made them bright and colourful to attract attention while the firm texture and teardrop shape makes them easy to handle, allowing the elderly and those with dementia to boost their water intake independently and with dignity. He designed the tray to look like a normal box of treats. It was really important that the solution was stigma-free, and that Jelly Drops are sweets that anyone can enjoy, they just happen to be designed with people living with dementia in mind.
Watch Lewis' Ted Talks video to the right if you would like to find out more about his story!
Fun Facts
Whilst they look like they burst when eaten, Jelly Drops are in actual fact solid in texture throughout.
The sweets are vegan-friendly as plant-based gelling agents have been used instead of gelatin.
A tray of Jelly Drops contains 300ml of water
Jelly Drops have at least a 1 month shelf life
Each tray of 24 sweets contains 6 flavours: strawberry, raspberry, blackcurrant, orange, lime and lemon.
The sweets are made from natural flavours and non-artificial colours.
Top 5 Benefits of Jelly Drops
1. Increase water intake
Jelly Drops contain 300ml of water per tray. A tray can be snacked on throughout the day and can make a significant impact on a person's fluid intake.
2. Engaging
Jelly Drops are eye-catching with their bright colours, come in 6 different fruity flavours to tantalise the taste buds and are designed in a drop shape that makes them easy to grip for older people with motor problems.
3. Natural
The treats are made with natural flavourings and colourings with no added nasties!
4. Cost-Effective
Jelly Drops are very reasonably priced and can be purchased as a one-off or on subscription (more information in the Jelly Drops FAQ!)
5. Stigma-free
Jelly Drops have been designed to look like any other sweet treats you find on the shelf in the supermarket. Though they have been designed with people with dementia in mind, they are suitable for all to enjoy.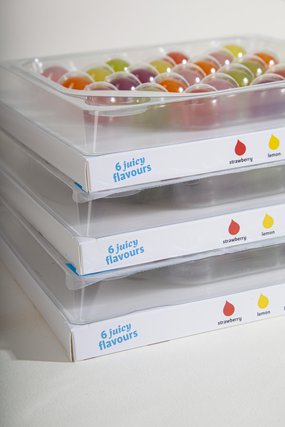 "I'm interested in Jelly Drops for my relative who has dementia, where can I purchase them & what are the payment options?"
Jelly Drops are currently exclusively available to purchase on the Jelly Drops website. There are 2 options you can choose from when buying Jelly Drops:
One-off purchase:
Single tray - £7.95 + shipping from £3.95
Value pack (7 trays) - £44.95 + shipping from £6.95
Subscription:
All trays delivered in packs of 7 - £39.90 per delivery + £6.95 shipping (Works out as £5.70 per tray)
Your first subscription box will be FREE, just pay £3.95 postage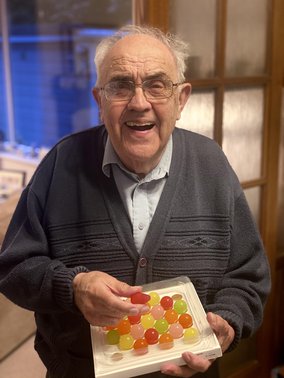 "I would like to buy Jelly Drops for my relative, but are they suitable for everyone?"
Jelly Drops have worked hard to make Jelly Drops suitable for all kinds of dietary requirements and healthcare conditions, and are pleased to say that their sweets are vegan-friendly, gluten-free, sugar-free, tree nut-free, peanut-free, soy-free and dairy-free.
Precaution that needs to be taken:
If your loved one has swallowing difficulties, it is not recommended that they are given Jelly Drops unless a Speech and Language Therapist has been consulted beforehand and has deemed it safe.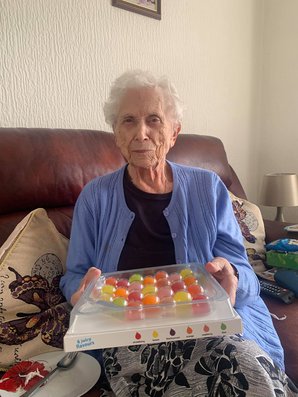 "I am thinking about subscribing to receive Jelly Drops regularly, are there different frequency options?"
If you would like to subscribe (good choice by the way!), it's recommended that you consider how often you would like to receive deliveries based on how quickly you think your loved one will get through 7 trays of sweets.
Frequency options:
Tray every 1 day - weekly delivery
Tray every 2 days - fortnightly delivery
Tray every 3 days - delivery every 3 weeks
Tray every 4 weeks - delivery every 4 weeks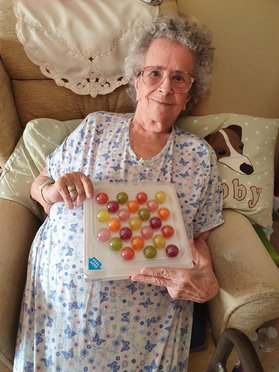 "If I decide to subscribe and receive Jelly Drops regularly, will I be tied into a fixed contract?"
Jelly Drops appreciates that your needs may change and therefore, subscription plans are completely flexible and you are free to amend or cancel at any time.
Via the 'My Account' section on Jelly Drops' website, you can select 'Manage Subscriptions' and then 'Delivery Schedule' to view all upcoming deliveries. Here, you can choose to skip deliveries where they are not required
If you wish to cancel your subscription, this can easily be actioned but navigating to the 'My Account' section, clicking 'Manage Subscriptions' followed by 'Subscriptions' and selecting 'Cancel' on your next purchase.
If you would like to find out more about Jelly Drops or would like to order a tray/start a subscription, please check out Jelly Drops' website!
Are you looking for a care service near you?
TrustedCare can offer free support with your search!