International Nurses Day is a day dedicated to celebrating the outstanding work and difference our Nurses across the world make to the lives of their patients.
At TrustedCare, we held an International Nurses Day Competition for our nursing home partners. We invited nursing home teams to nominate their Nurses to win a bouquet of flowers as a special recognition prize. We received so many wonderful nominations from our partners and wish that we could have sent prizes to everyone!
See below several nominees that we felt deserved special recognition for their hard work and dedication to the care sector: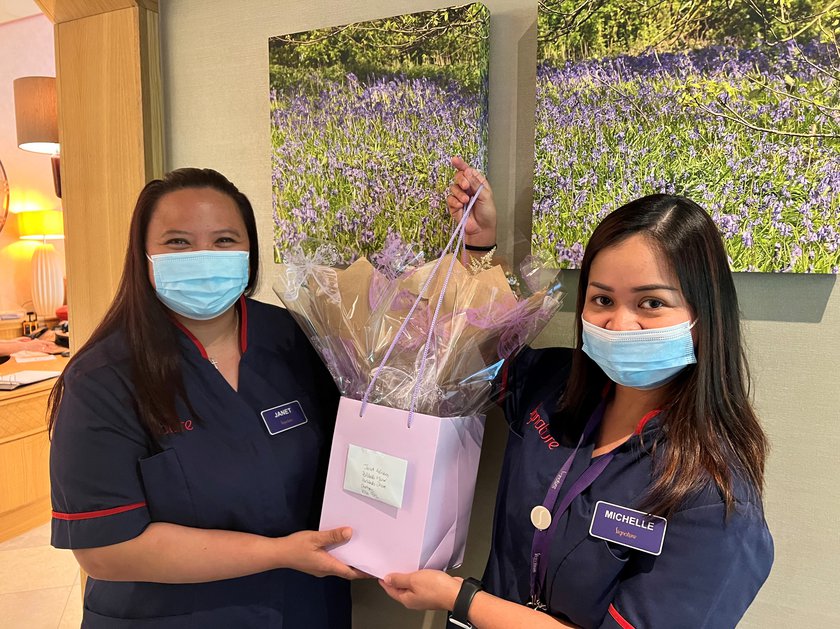 Image above: Janet (left) with Michelle (right) who nominated her for the competition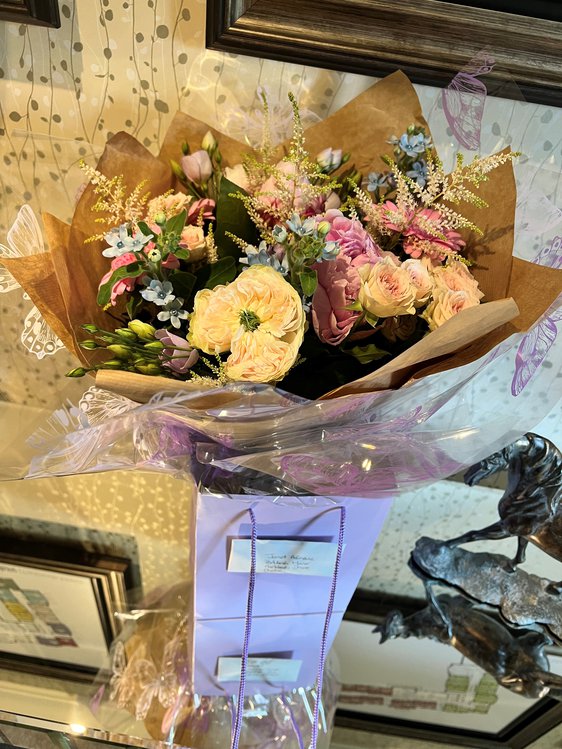 Image above: Janets' bouquet of flowers
"Janet was employed at Parklands Manor in October 2021 and has done so many great things at Parklands Manor in such a short span of time.
Having come from previous employment, working also as a Deputy Manager, that gained the nursing home an Outstanding commendation from CQC, massive changes in the various systems at Parklands Manor had been put in place to improve the delivery of services to the residents. To mention a few – she devised protocols/checklists for accurate reporting of service users' concerns (falls, wounds, communication handover, medications, and referrals among others). This made the staff efficient and the tasks effectively. It would not be a surprise if Parkland Manor will be Outstanding too.
As a manager, Janet had been very professional in dealing with staff concerns. She is level-headed and unbiased when she deals with conflicts. She is never judgmental. When she criticises, even though it is negative, she has her way of presenting it positively because she is mild-mannered and approachable. When she wants to make a statement, she can be firm and exact. It will take one to show her evidence to make her change her mind, but she accepts every suggestion, every concern, and every observation at heart. She will do everything to resolve an issue with a win-win solution. She is a remarkable leader. She is worthy of the nomination and the win in recognition and appreciation for the many hearts that she had touched."
Nominated by Michelle Japlit, Care Manager
Cristina-Amor Uy, Clinical Services Manager & Registered Nurse at Elton House, Signature Care Homes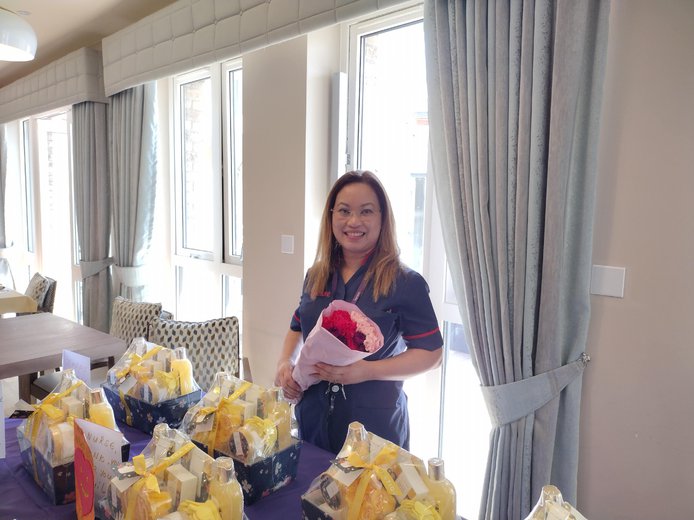 Image above: Cristina with her flowers
"We would like to nominate Cristina-Amor Uy, Elton House's Clinical Services Manager/Registered Nurse for recognition on International Nurses day for the following reasons:
Cristina always has a very sunny disposition and inspires her staff and colleagues through her unwavering, positive, 'can-do' attitude. Cristina has come in on her day off to cover last-minute sickness to ensure all of our residents are provided with the care they deserve. We really admire her selflessness.
She is always keen to help other departments when she can, going over and above what is expected of her. Cristina is always thinking about others and is in the process of setting up a program for Elton House to start receiving student nurses so she can mentor them as part of their nurse training. This is just one example of her kindness and willingness to give up her own time to help others.
Cristina is highly regarded by the whole team at Elton House and manages to give so much whilst still being a wife and mum to four children."
Nominated by Karen Fleming, Client Liaison Manager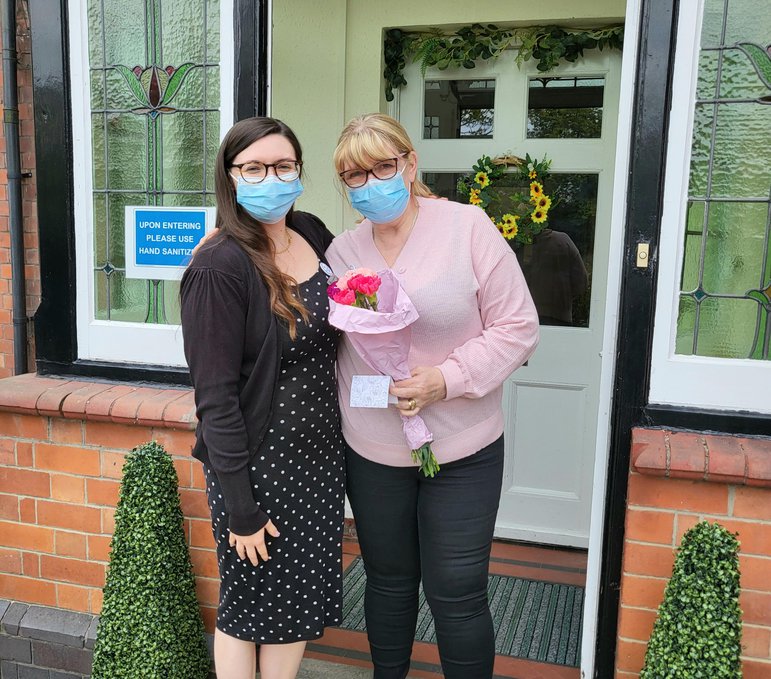 Image above: Karen (right) with Rachael (left) who nominated her for the competition!
"I would like to nominate my fabulous clinical lead, Karen Shaw. After a varied working life in healthcare, she completed her nurse training in 2017. Karen joined Brunswick House Nursing Home in October 2021 and hit the ground running. Karen came into a well-established team and found we fit her like a glove!
Karen shares her knowledge with the team and is constantly supporting all staff to upskill. Within her first month, she increased the team's knowledge on wound care and the recording of it. Most recently Karen is driving general additional training for continued professional development for the whole home. Nothing is ever too much trouble and she is so passionate.
During a COVID outbreak whilst undertaking asymptomatic testing, we received our PCR results at around 2100 and the night nurse on duty had tested positive. Karen did not hesitate to go into the home that night. Karen is one of the most dedicated and driven colleagues I have ever had, and I am so thrilled to have her as my right-hand woman."
Nominated by Rachael White, Registered Manager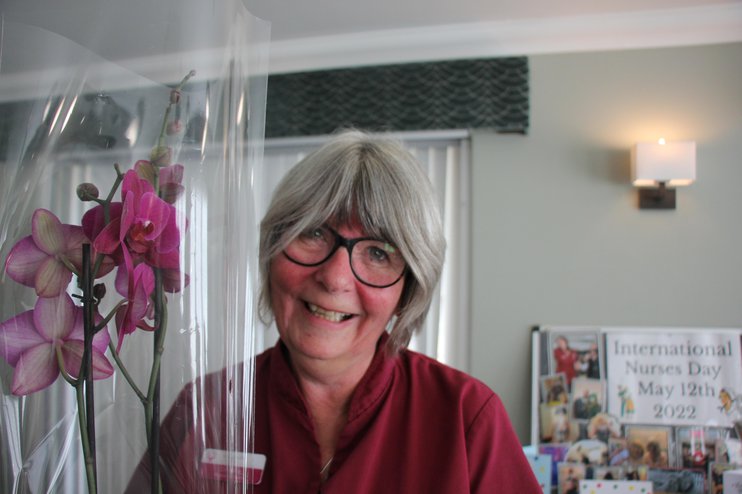 Image above: Christine Turner with her flowers
"Christine has had a long career in nursing and management in nursing and care homes. Christine joined Hastings Court in 2021 after her mum came to us a resident for palliative care then decided to join our family.
Christine is perceptive, adaptable, supportive and always teaching both care staff and our other nurses. A true team player, Christine will cover shifts and is always willing and happy to help, always constructive and never complaining.
Christine's compassion and kindness shine through when caring for our residents and are matched by her palliative experience and expertise.
We think Christine is an all-round superstar and thoroughly deserves this award and is a winner in our eyes."
Nominated by Siobhan Rowles, Client Liaison Manager
Thank you to every single Nurse out there, you are all appreciated!