Greensleeves Care Homes celebrated International Day of Friendship on Friday 30th July, whilst demonstrating ways in which staff and residents prevent loneliness within the homes.
'Chronic loneliness' is a pressing issue for many older adults worldwide, more so than for their younger counterparts, with 6% to 13% of people aged over 65 living in the UK saying that they felt lonely all or most of the time. Older adults who are socially isolated are also at a higher risk of both mental and physical health issues.
Many of Greensleeves Care's homes participated in the event, highlighting the friendships that have blossomed between residents as well as the activities that bring people together within the homes.
De Lucy House (Diss)
De Lucy House celebrated the day with a church service led by one of their very own residents. The service was focused on friendship, promoting a culture of peace and connection.
Activities co-ordinator, Nikki Clark, said of one particularly close friendship in the home:
"We have some lovely friendships between residents at De Lucy House. One dynamic duo is Pearl and Dorothy. Dorothy arrived last December and soon after turned 100 years old."
"The two ladies made friends through sitting together at lunch time, as we encourage socialisation throughout the day. Now they often sit together for coffee and activities."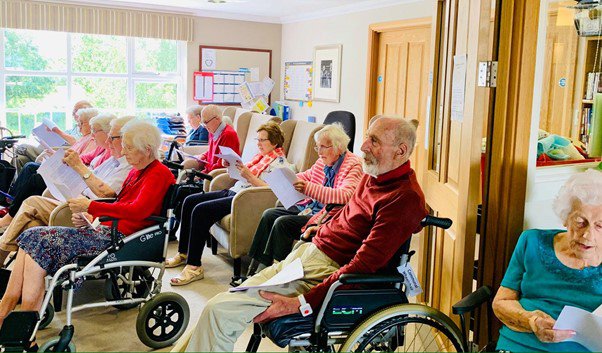 Church Service at De Lucy House
Henley House (Ipswich)
Jill, Pat and Joan all met at Henley House and have become firm friends over the past few months and are always helping and looking out for each other.  Jill told us "We enjoy spending time together and doing the crossword," Pat said "I am not sure how we became friends, it just happened" and Joan then said, "We all enjoy watching the horses together as well."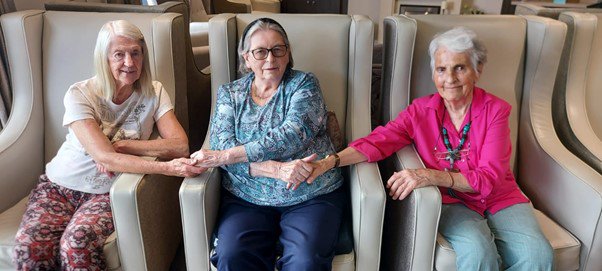 Best friends at Henley House
Pelsall Hall (Walsall)
Residents at Pelsall Hall made friendship bracelets for each other in honour of the day. Residents also created inspirational cards to show their support for each other.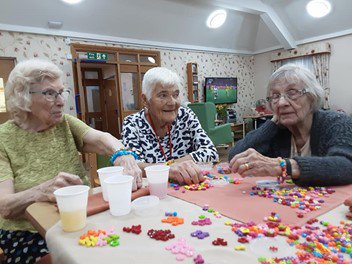 Friendship bracelets at Pelsall Hall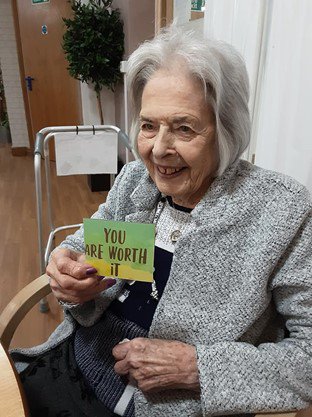 Inspirational cards at Pelsall Hall
Harleston House, Lowestoft
Activities Co-ordinator, Gareth Harding, said about friendships at the home:
"Residents at Harleston House form long lasting friendships that they form whilst living together. Connections are made through activities, mealtimes and other social interactions that happen through the day. As a Dementia care team we recognise those connections and support the residents to continue with them when further on in their Dementia journey."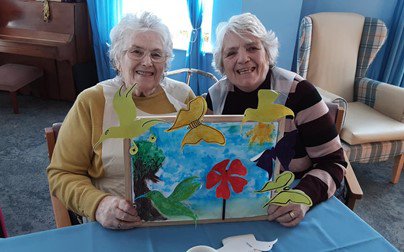 Friends at Harleston House
Are you looking for a care service for a loved one? Please get in touch for free support from a Care Adviser!