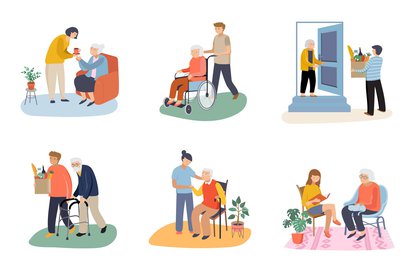 The past several months have been challenging as a result of COVID-19, particularly for those who are caring for a loved one full-time. Now that social distancing restrictions are beginning to lift, a short break from caring to recharge your batteries may be needed...but how has respite care changed as a result of the pandemic?
We have collaborated with Lifted to answer some of your frequently asked questions surrounding home care & live-in care respite during the COVID-19 pandemic.
About Lifted:
Lifted uniquely combines higher employment standards and industry-leading technology to offer better, personalised care that empowers individuals, families, and Carers. They offer home care for people living with dementia, arthritis, MS, Parkinson's disease, Alzheimer's disease, learning difficulties among other conditions. We also offer end of life care. We have garnered exclusively 5 stars reviews and were crowned Stat Up Care Provider of the year at the Home Care Awards 2020.
1. Do you require a respite client to have a negative COVID-19 before you begin caring for them?
"We do not require a negative COVID-19 test but we do ask for assurance that a client is not currently experiencing COVID-19 symptoms."
2. How are assessments being carried out on people requiring respite care during the pandemic?
"We are happy to carry out assessments virtually or in person depending on the preferences of families. A virtual assessment takes place over Zoom and multiple family members are welcome to attend. An in person assessment takes places at the client's home and our staff wear appropriate PPE. All Assessment are carried out by our senior trained care experts who have deep experience in support families to live safely and happily at home."
3. What should respite clients expect upon their care package commencing? (PPE, social distancing, new procedures)
"All of our Carers are equipped with high-quality PPE and have received additional training in how to wear and dispose of this safely. Carers are supported to regularly wash their hands thoroughly. They also observe social distancing with any visitors to the home, and with clients where that is possible."
"All clients and family members are able to download our app and get to know our Carers before they arrive so they feel confident. They can also read notes in the app after every visit so they know that all is well.  They can leave us reviews and chat to us 24/7 using the app to let us know if they have any concerns."
4. What happens if one of the carers develops Covid-19 symptoms whilst looking after a client?
"If a Carer develops COVID-19 symptoms while looking after a client, they would immediately contact our Care Manager and if safe to do so they would leave the property. We would arrange for another Carer to attend. We would never leave a client that required care without support."
5. What happens if the respite client develops COVID-19 symptoms whilst being cared for by your carers? Will you continue to care for them until the end of the respite period?
"If a client developed COVID-19 symptoms while in our care we would work with the family to agree suitable next steps depending on the severity of the symptoms and of the needs and wises of our Carers. We would ensure that a vulnerable client is never left without the Care they need."
PLEASE NOTE: This is Lifted's current policy and other home care/live-in care companies policies may vary! Please contact providers directly to find out what their latest policies are. (Dated:28/7/20)
If you have any further questions or concerns about respite care during the Covid-19 pandemic, please do get in touch with our Care Adviser Team who will be able to help!
Are you looking for home care or live-in care respite for yourself or a loved one? Contact us today for free help & support!