Helping Hands Home Care Stoke-on-Trent have gone above and beyond to help customers to celebrate the easing of restrictions after over a year in lockdown.
The care team have organised fun activities and days out to ensure that all of their customers can celebrate the easing of lockdown restrictions. From afternoon tea at home to a day out to see some wildlife, the Helping Hands team have shared small acts of kindness.
In April, the team put together afternoon teas for their customers to enjoy in the comfort of their own home. Two afternoon teas were sent to Mr and Mrs Shutt, Mr Shutt said: "Absolutely, 100% brilliant! Christine and I really appreciated and enjoyed it, thank you."
Their daughter Leanne also commented that it was a "beautiful thing to do".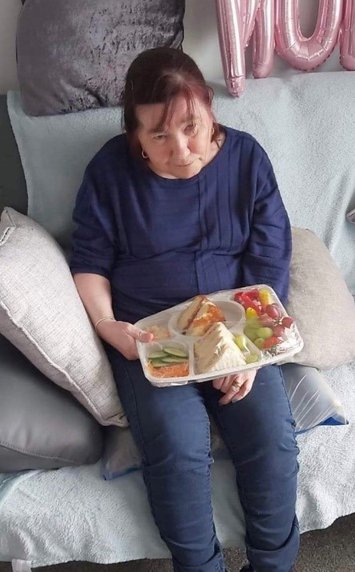 Christine Shutt with her afternoon tea. Christine and her husband Stephen both enjoyed the treat delivered by their carers.
On Friday 30 April, Joan Tams went on a day trip to Gentleshaw Wildlife Centre with her carer Sam. Joan loved looking at all the animals and reading all about them. Her favourite animal was the great grey owl called Apache, who refuses to fly if there are aeroplanes in the sky. Joan said: "I really enjoyed it; it was lovely to see all of the animals."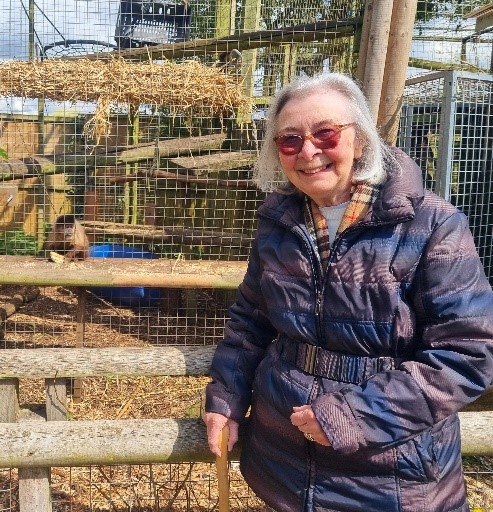 Joan Tams at Gentleshaw Wildlife Centre.
Care Coordinator, Terri Anne, treated her customer Michael to a makeover in time for lifting restrictions. Michael's son will soon be visiting from Florida, after so long apart he wanted to look and feel his best for his son.
Michael said: "I haven't had my haircut in over 12 months due to the lockdown. I've always been a well-kept man, so this has been tough for me. I understand restrictions are easing but it hasn't been easy for me to feel comfortable getting an appointment with a barber, so I am beyond grateful and cannot thank Helping Hands enough as something so simple has meant a lot to me."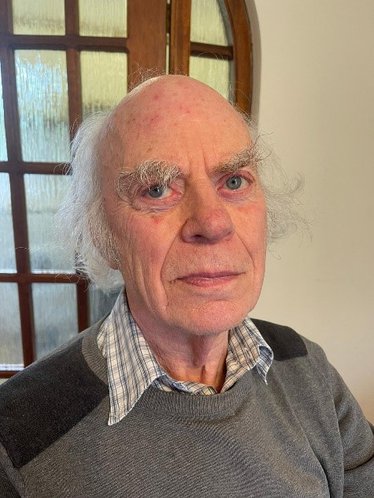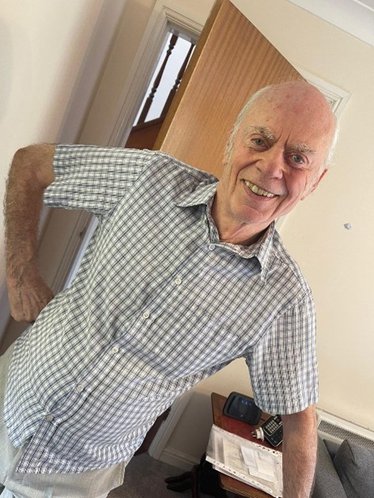 Michael Anderson before & after his haircut
Francis Hipkiss turned 100 on Tuesday 4 May, and the team wanted to make the day a special occasion, so they sent a large planted flower for Francis, who is green-fingered.
Kelly Salt and Terri-Anne Hyde, Care Coordinators, said:
"This pandemic has been hard for everyone, especially our team who have been fantastic throughout. During the first lockdown, Kelly's mum made each carer a knitted guardian angel for them to carry in their cars, she also made cakes which we accompanied with a letter of appreciation. During this difficult time, we had an influx of new customers and an increased demand from our already existing customers; our staff stepped up to help wherever they were needed. The whole team have tried their best to keep spirits high and ensure that our customers felt safe. Some of our carers and customers were entertaining us all with their fantastic TikTok videos. It's been a very tough year for everyone, but we've made it and there is light at the end of the tunnel."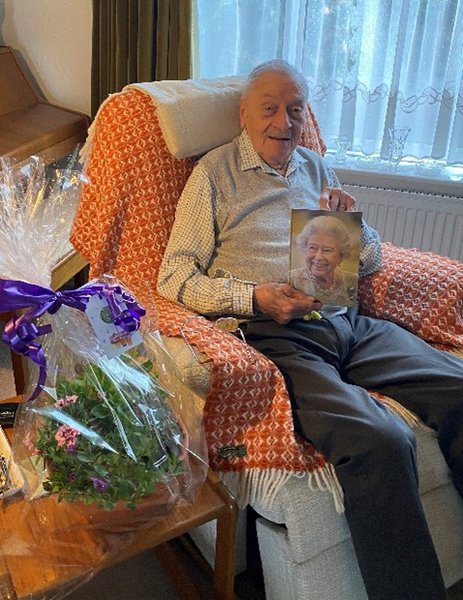 Francis Hipkiss celebrating his 100th birthday with a photo of the queen at his potted plant from the Helping Hands Stoke care team.
Monica Ahir, Area Care Manager, said: "Here at Helping Hands, we truly value each customer and whilst the last year has been difficult for them, our carers have gone out of their way to provide special experiences that mean something to their customers. I am really proud of how the Stoke team have kept spirits high during the pandemic."
Helping Hands Stoke-on-Trent currently supports 92 customers in the area and employs 34 local carers.
Are you looking for care for a loved one? Get in touch for free support!