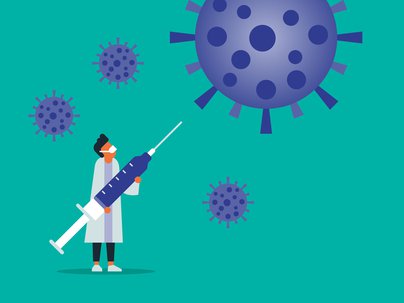 Care home residents & care home workers have been granted top priority by the Government to receive the Covid-19 vaccine.
The vaccine has provided a new lease of hope for care home residents who have had very little contact with the outside world since the beginning of the pandemic.
Read on to find out the answers to your most commonly asked questions.
"Which vaccine will my loved one be offered?"
There is no guarantee which vaccine your loved one will be offered as it greatly depends upon which vaccine is available first and the stock in your local area. The main aim is to vaccinate vulnerable groups as quickly as possible to help protect them from the virus. However, you will be able to check which vaccine your relative is being offered with the care home they reside in. Providing they have the mental capacity to make decisions for themselves, your loved one will be in their rights to decline the offer of a vaccine should they wish.
As of the beginning of February, the two vaccinations that have been rolled out in the UK are the Oxford Uni-AstraZeneca which is being created in Oxford & Keele and the Pfizer-BioNTech vaccine which is being imported from Belgium. The US Moderna vaccine has also been approved but isn't expected to roll out until Springtime. There are a few additional vaccines which are still in the process of being approved for use.
| Company | UK Approved | Type | Doses | Storage |
| --- | --- | --- | --- | --- |
| Oxford Uni-AstraZeneca | Yes | Viral vector (genetically modified virus) | X2 | Regular fridge temperature |
| Pfizer-BioNTech | Yes | RNA (part of virus genetic code) | X2 | -70c |
| Moderna | Yes | RNA | X2 | -20c |
| Novavax | Pending | Protein-based | X2 | Regular fridge temperature |
| Janssen | Pending | Viral vector | X1 | Regular fridge temperature |
"Where will care home residents receive their vaccine?"
Your relative will receive their vaccination within the care home they reside in. Nurses, GP's and other NHS staff members have been visiting care homes to carry out the vaccinations.
For members of the public, there are more than 1,000 locations offering the vaccination across the UK including:
Vaccination centres across the country
Hospital hubs
Local GP practises and community pharmacies
"My loved one lives in a care home where there is an outbreak of Covid-19, will their vaccine be delayed?"
There are a small number of care homes that have had their vaccination visit delayed by Local Directors of Public Health as a result of a Covid-19 outbreak within the home. In these cases, the visit will proceed as soon as it is deemed safe by Public Health.
NHS staff are also returning to care homes to vaccinate residents who had recently had Covid-19 at the time of their initial visit or were not able to have it for other clinical reasons.
"How effective will the vaccine be at protecting my loved one from the virus?"
The effectiveness of the vaccine partly depends upon which vaccine your loved one has been had. Though only recently rolled out, trials suggest the following success rate of the 3 UK approved vaccinations:
| Pfizer/BioNTech | Oxford/AstraZeneca | Moderna |
| --- | --- | --- |
| Up to 95% | Up to 90% | Up to 95% |
"Will my loved one experience any side-effects after being given the vaccine?"
Thankfully, the side-effects of the Covid-19 vaccinations seem to be mild, as with many other vaccines. The most common side-effects which may be experienced are:
A sore arm
Achiness
Headache
Tiredness
"My loved one is living with dementia, who will decide whether or not they have the vaccine?"
If your loved one still has the mental capacity to make decisions themselves, they will of course be able to make the decision as to whether or not they would like the vaccine.
On the other hand, if your loved one living with dementia does not have the mental capacity to make a decision themselves, a 'best interests' decision will be made on their behalf. If they have an appointed Attorney of Health & Welfare, it will ultimately be the Attorney's decision but they will be encouraged to speak with professionals involved in their loved ones care to ensure an informed decision.
In the instance that the individual does not have an Attorney of Health & Welfare, the decision as to whether your loved one has the vaccine will be made by health professionals who will have consulted with people who are closest to the person.
"Once my relative has received the full course of their vaccine, will I be able to visit them in their care home whenever I like?"
Although people are actively being vaccinated to protect them from the virus, as a nation we still need to abide by the national guidelines.
However, if there are exceptional circumstances such as the case that your loved one is receiving end of life care, the government has advised that you will be allowed to visit your loved one in their care home.
Are you looking for care for a loved one? We would love to help!