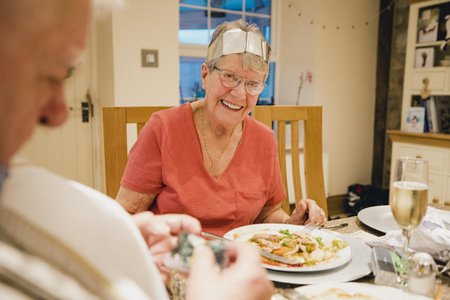 This year, many older vulnerable people are opting for a quieter Christmas at home to reduce their contact with other people. Furthermore, a large proportion of older people continue to avoid shops for fear of increasing their exposure to Covid-19.
Relatives of those self-isolating may be worried about them spending Christmas alone and missing out on Christmas dinner. However, you will be pleased to hear that there are several companies offering Christmas food deliveries suitable for older people throughout the festive period.
Top 6 Christmas Meal Delivery Boxes for Over 65's...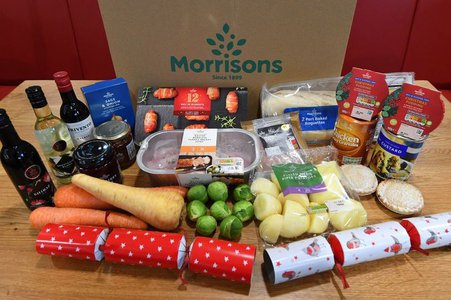 1. Morrisons Christmas Dinner Delivery Service
Morrisons have launched a 'Christmas Dinner Box for Two' which is available to order via Morrisons Doorstep Deliveries phone line.
Their excellent value Christmas Dinner Box arrives complete with step by step instructions and timings to ensure a stress-free Christmas Day.
Key Points
Delivery cost - Free for all elderly & vulnerable people
Benefits - No hassle with subscriptions
Included in the box - Morrisons Savers Part Baked White Baguettes (2 per pack), Morrisons Deli Counter Brussels Pate 50g, Morrisons Basted Boneless Turkey Breast 465g, Morrisons 12 Pigs in Blankets 300g (Frozen), 1 Loose Parsnip, Morrisons Peeled Maris Piper Potatoes 600g, 2 Loose Carrots, 8 Loose Brussel Sprouts, Morrisons Sage & Onion Stuffing 85g, Morrisons Cranberry Sauce 200g, Morrisons Pure Clear Honey 227g, 2 Morrisons Christmas Puddings 100g, Morrisons Ready To Serve Custard, 400g Morrisons Chicken Gravy Granules 200g, 2 In-Store Baked Mince Pies, 2 Red Wines, 1 White Wine (187ml), 2 Individual Christmas Crackers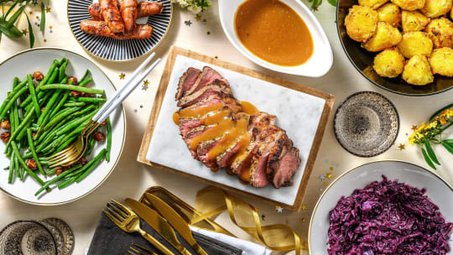 2. HelloFresh
HelloFresh is a subscription food box which can be tailored to your individual needs. They have added some delicious-sounding Christmas recipes leading up to Christmas.
You can order your Christmas box by simply picking a plan, selecting a delivery date!
Key Points
Price - 2 people receiving 3 meals per week costs from £27 (At the time of writing, if you are a new customer you can get 50% off your 1st box + 35% off next 3 boxes).
Delivery cost - Daytime delivery from £3
Benefits - There is no commitment, and you can skip deliveries or cancel your subscription at anytime. This means that you can order a one-off Christmas delivery without being tied into a contract.
Example recipes -

Christmas Roast Beef and Red Wine Gravy Roast
Lentil Nut Roast and Proper Roast Potatoes Roast
Pigs Under Blanket Burger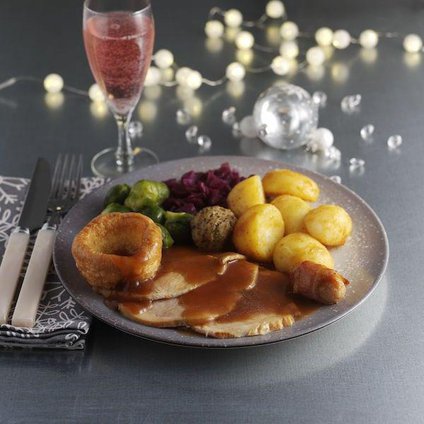 3. Wiltshire Farm Foods Christmas Collection Menu Pack
Wiltshire Farm Foods are selling a Christmas Collection Menu Pack whilst stocks last which includes a great range of 11 meals from dinner to desserts and caters for all kinds of dietary requirements.
Key Points:
Price - £39 per menu packs
Delivery cost -  Delivered free to your door
Benefits -   No subscription/contract so you can cancel at any time
Christmas Collection Menu Pack includes: Roast turkey breast (pictured), Turkey, Beef & Gammon Carvery, Luxury Shepherd's Pie, Roast Chicken with Apple & Brandy Sauce, Chicken & Chianti Casserole, Sausages in Rich Onion Gravy, Christmas Sherry Trifle, Christmas Pudding & Custard, Chocolate Orange Roulade with Chocolate Custard, Wiltshire Ham, Artisan Mince Pies (Pack of 6)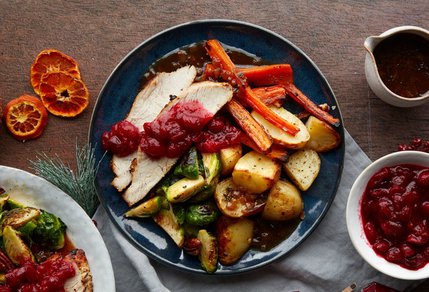 4. Mindful Chef Christmas Options
Mindful Chef is a health-focussed food box delivery company who are providing festive menus to people throughout the Christmas period.
The company prides themselves in being ethical and environmentally friendly. For each meal they sell, they donate a school meal to a child living in poverty so you can be sure that you are doing good by ordering a Christmas meal from them!
Key Points
Price -  For 2 people from £15 depending on the quantity and which recipes you choose (At time of writing,  £10 off your first box)
Delivery -  Free
Benefits - Flexible subscription which can be cancelled at anytime
Christmas turkey with sprouts & cranberry sauce (pictured)
Festive Chicken & Chestnut Pie
Mushroom & lentil roast with creamed leeks
Pecan stuffed mushrooms, potato gratin & red cabbage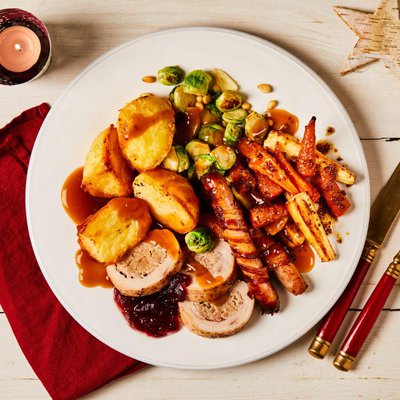 5. Gousto Christmas Dinner Box
Gousto, a food box delivery service, is offering a scrumptious Christmas Recipes to new and existing customers this year.
Key Points
Price - Based on 2 people:
- 2 recipe box - £24.99
- 3 recipe box - £29.99
- 4 recipe box - £34.99
Delivery - Free
Benefits -  You can cancel your subscription at anytime at no cost
Turkey or Vegan Christmas Dinner With All The Trimmings (Turkey pictured)
Creamy Bacon & Caramelised Onion Tartiflette
Festive Vegan Sausage Roll With Spiced Apple Sauce
Festive Pork & Sage Stuffing Pizza With Gravy Dip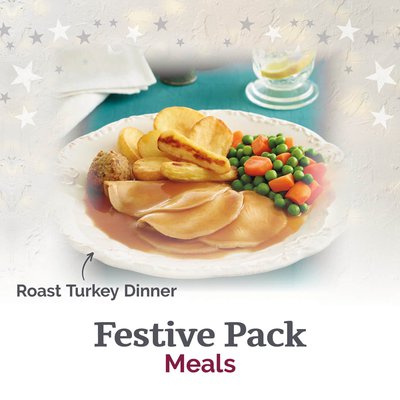 6. Oakhouse Foods Festive Meal & Dessert Packs
Oakhouse Foods are a a trusted frozen meals delivery service, delivering predominantly to over 65's. They also have a brand new specialist softer food range within their portfolio called 'Made for you', designed especially for people with swallowing difficulties.
Key Points
Price per person -
- Mini Festive Pack - £25
- Festive Pack (Meals) - £34
- Festive Pack (Meals & Desserts) - £47
**All festive meal packs come with free mince pies!**
Delivery - Free if you spend over £30
Benefits - There's no commitment so you can receive deliveries as little or often as you like
Example Meals -
Luxury Roast Turkey Dinner
Turkey Curry
Mini Pork and Mulled Apple
Spiced Pear & Brandy Trifle
Are you looking for care for your relative? TrustedCare can help!