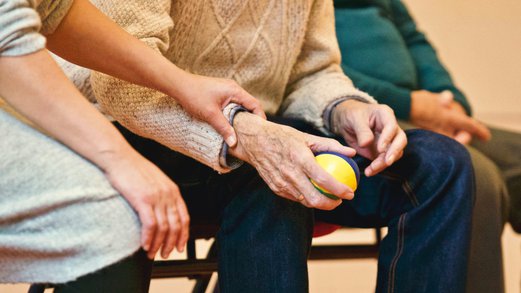 An estimated 28 million adults in the UK are living with pain, with a particularly high prevalence of chronic pain in older adults.
Common causes of pain in seniors include osteoarthritis, degenerative spine conditions, neuropathic pain, cancer-related pain, and ischemic pain. These conditions, as well as a greater need for fall prevention, create unique needs for furniture.
If you are seeking comfortable, ergonomic furniture for a senior in care, keep the following tips in mind.
Chair Choices
Chairs and sofas should provide the right firmness and back support for seniors, but also be easy to sit on and stand up from, with no fall risks. In general, adjustable chairs are ideal since their width, angle, and height can all be adapted to a senior's body shape, height, and condition. If seniors sit for long periods of time, they should opt for a chair with pressure management to prevent ulcers. Seniors may also benefit from head support, which promotes healthy breathing and eases the process of eating. Chairs should also possess features such as side supports for the arms, footrests, and (if necessary) riser functions, to enable seniors with knee and other problems to easily change from a sitting to a standing position.
Sofas with Support
There are many sofa designs and shapes available — ranging from sectional sofas to rollbacks, barrel backs, and recliner sofas. Modular sofas can be a good choice for seniors who like to lie down in the living room to watch the television or read. Barrelbacks can work well for those needing lower back support, while recliners are ideal for those wishing to adjust their position throughout the day. Sofas should be easy to get in and out of and be made in material with a good level of grip. Safe choices include microfiber, LiveSmart fabric (which is spill-resistant), and dedicated non-slip materials.
Safe Bed Choices
Adjustable beds are definitely the safest and most comfortable option for seniors, who can find their perfect position with the use of a remote control device. Some beds have added features such as programmable settings, massage features, and under-bed lighting. If seniors prefer to use a non-adjustable bed, they should ensure that their mattress has features like zoned support (which provides more firmness under the hips while also relieving pressure at the top and bottom of the bed), breathable material like organic cotton (which helps keep sleepers cool), and pressure relief (some beds are double-sided, which essentially comprises two mattresses instead of one).
Tables and Furniture for Storage
Seniors should opt for rounded pieces of furniture that will not cause bruises or pain if they are accidentally bumped into. The height should be appropriate for the user — for instance, one should not have to bend down too low to place a tray or cup of tea on a table. Moreover, coffee tables and small storage furniture that is low can pose a tripping risk. Storage furniture should be easy to close and open, gliding out with a touch or through the use of secure handles. All large or heavy pieces of furniture should be firmly attached to the wall to prevent them from falling over.
Summary
A majority of seniors can have conditions that cause them pain. Ensuring they have safe, comfortable furniture is therefore important. Seating should be adjustable and provide support to key areas of the body — including the head and lower back. Furniture should be firmly affixed to walls and at the right height for the home dwellers.
Are you looking for a care service for a loved one?
Our team of Care Advisers can provide free support!