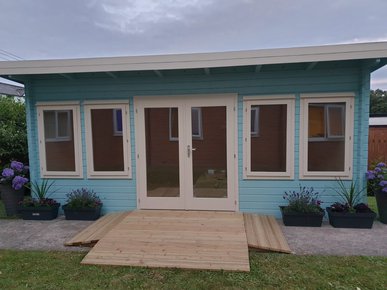 Cabinstore has adapted to the current environment by creating bespoke log cabins for care home providers to help reintroduce family visits safely.
We have collaborated with Cabinstore to find out the answers to your frequently asked questions!
About:
Cabinstore are a one stop shop for supplying log cabins and carrying out all services required from start to finish. They offer a complete package from design through to completion service and can also build beautiful bespoke garden buildings, allowing clients to create their own design and level of luxury.
The company employs skilled master craftsmen, landscapers, professional painters and qualified electricians to create the innovative care home log cabins. They can cater to elderly patients disabilities in terms of safe walkways and creating wheelchair ramps for easy access. Cabinstore are able to supply underfloor heating, spotlights, guttering and laminate flooring as part of their service. All of the cabins are made from FSC certified timber from sustainable and regenerative forests.
With the government grant available to care homes, 50% of the cabin cost can be reimbursed. Cabinstore's log cabins offer a viable, cost-effective solution for care homes, providing a warm, friendly, calming environment for residents and their families to reunite and relax in.
1. How much do your log cabins cost? Can care homes buy them or rent them?
"Our cabins start from £1,225 plus VAT and they are only available to buy."
2. How quickly can a care home get a visiting log cabin up and running?
"3-6 weeks from starting the groundwork's to the finished item."
3. Are the log cabins easy to clean?
"Yes, normally they are painted inside with 2 coats of clear varnish and are easy to wipe down. Another advantage is that doors and windows can be opened out or removed to allow good airflow."
4. Do the log cabins come in different sizes? How many people can fit in them safely?
"Yes, our cabins are available in a variety of sizes. The most popular cabin for care homes is the penthouse style cabin 20.5m2 which can fit 10 people safely. Cabinstore also offer a bespoke service whereby we can create a cabin to any required size."
5. How have you ensured that the log cabins are safe for family members to visit care home residents?
"The care homes that we currently work with have supplied us with a detailed specification of their requirements and we have worked with them to fulfil their brief. Once painted internally, the wood is easy to wipe down and our care home partners then carry out their own deep cleans on the finished cabin and provide the necessary PPE."
Would you like to find out more about Cabinstore's care home log cabins? Contact them directly for more information 01827 880780 / sales@cabinstore.co.uk
Are you looking for a care service?
Contact our team for free help & advice!