Staff and residents at Wheatlands care home in Much Wenlock were celebrating being able to go on short excursions again as lockdown restrictions ease across the country.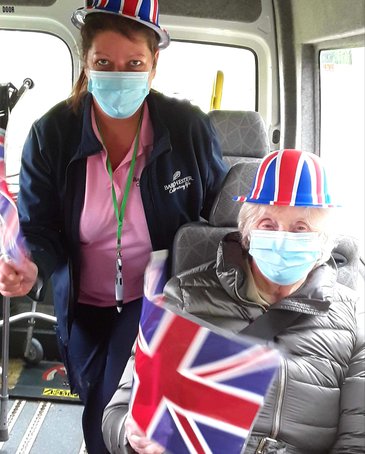 Residents are now able to go on a short trip to outdoor spaces without having to isolate on their return!
Residents from Wheatlands enjoyed a long-awaited trip to the countryside where they were able to enjoy the lovely views and share creamed tea and scones with jam and butter.
Claire Brewer, General Manager at Wheatlands Care Home commented: "It is absolutely wonderful to be able to take our residents out for trips again. We have all been waiting for this day and we are so thankful it is finally here. Our residents have enjoyed all sorts of different entertainment during lockdown but nothing beats some fresh air and a change of scenery to blow away the cobwebs."
Cynthia, a resident at Wheatlands said: "Staff here have been brilliant throughout lockdown putting on all kind of different events to keep us entertained, we have been very well looked after but it is lovely to be able to go out and about again. It really does feel like life is starting to get back to normal."
Our varied life enrichment programme keeps residents active, and provides a daily choice of engaging physical, mental and spiritual activities tailored to residents' interests and abilities.
We are welcoming new residents into our homes to ensure that we are there for those that need care and support. We're making our homes as safe as possible and will ensure that all new residents and staff are vaccinated before moving in or working in our homes.
Wheatlands Care Home is run by Barchester Healthcare, one of the UK's largest care providers, which is committed to delivering high-quality care across its care homes and hospitals. Wheatlands provide residential care, dementia and respite care.
Are you looking for a care home for a loved one? We can offer free support with your search!