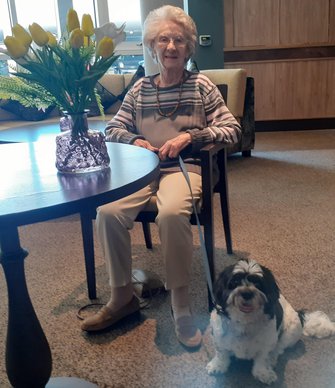 After Pat's family contacted TrustedCare in search of a suitable care home for her and her dog, Bobby, we successfully referred them to Elton House, Signature Care Homes.
When the time came for Pat to look into care homes, her one condition was that her lovely dog, Bobby, would be able to move in with her.
Care homes that accept pets are hard to come by, but Sian Swannell, one of our Care Adviser's, went above and beyond to shortlist homes that would accept both Pat & Bobby. During her search, Sian came across Elton House which Pat's family went on to decide was the right home for Pat & Bobby.
The team at Elton House are delighted to have been able to facilitate Pat & Bobby moving into their home, and are working closely with The Cinnamon Trust who have volunteers that help with walking Bobby.
Karen Fleming, Customer Relations Manager at Elton House, has said "It has been a privilege to accommodate both Pat and Bobby, keeping them together was a priority for Pat and Bobby's wellbeing, they are lifelong companions and that shouldn't change when a persons needs change. They are both happy and well in their new home".
Sian Swannell, Care Adviser at TrustedCare has commented "We've seen an increasing number of people hoping to move into a residential or nursing home with their beloved pets. It can be a challenge to find the right home for the person, and also for their pet. I was delighted to hear not only would Elton House be able to meet Pat and Bobby's needs, but the Signature group work hand in hand with the Cinnamon Trust to ensure people aren't separated from their furry companions! It's heartwarming to see the people we support settling well into their new home."
Are you looking for a care home near you? Get in touch today for free support!