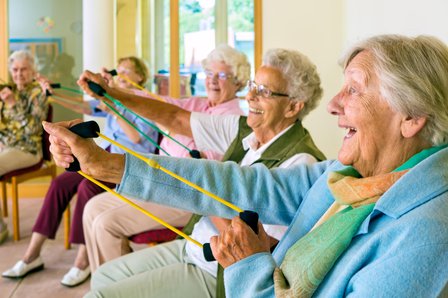 If you are in your later life and have limited mobility, this does not mean that you cannot eat well and exercise to maintain overall mental and physical health. Whatever your circumstances may be, you can make always small diet changes, do gentle daily exercises and practice brain stimulation exercises to make your life with limited mobility easier.
Research shows that we are living longer and have tried to be much healthier since the Covid-19 pandemic. Whether you've been trying to make healthy lifestyle changes to your daily routine or diet or whether you've made small improvements to your healthy lifestyle, there has been a good success rate.
If you have limited mobility and want to maintain a healthy lifestyle, we at Visiting Angels have put together some tips which can help to make a big difference to your daily routine.
1. Eating well
It is very important to have nutrients in your diet because this will contribute to a better life for you.
Even if you don't feel hungry often, it is important to eat well in order to have energy to do daily tasks. Also remember to avoid eating processed foods even though it may seem like the easiest option. Processed meals contain a lot of sugar and might affect your health. You need a balanced diet to be getting all the nutrients.
Remove fizzy drinks from your diet and keep drinking water. There are so many benefits of drinking water such as it carries nutrients and oxygen to your cells, drinking water flushes bacteria from your bladder, it normalises your bloody pressure and it does wonders for your skin. So, keep hydrated, it is the key to maintaining a healthy lifestyle.
Consider planning your meals or get assistance from external nutritional meal planners for help. Hello Fresh deliver fresh, pre-portioned ingredients and delicious recipes which will be delivered right to your doorstep.
You can ask the person that supports you at home or a carer to cook home meals from scratch (This is a service a service that we provide
Click here to get your pre portioned meals delivered to you!
2. Don't let your disability, injury or limited mobility get in the way of exercising
Having limited mobility does not mean you cannot engage in gentle physical exercises. Being physical active has many benefits, from improving your memory and brain function to aiding to prevent muscle mass loss and to contributing to the release of endorphins to boost your mental health.
You don't need to do hours and hours of exercise. You can simply start short and small. Easy and manageable 10–20-minute physical activity sessions of gentle movement will be so beneficial for you. You can build on the time as you get better at it.
Try different activities and see which one you enjoy. There are so many online exercise classics for seniors with limited mobility.

Here are a few you can try out:

Keep moving and be consistent with the exercises. This will improve your blood circulation and your joints.
Be creative and innovative. Put on your favourite song and gently move. This is a form of exercise too.
Walking is an excellent way to stay active. You can walk with a family member or the person who carers for you.
3. Exercising your brain is just as important as exercising your body and having a good diet plan. A healthy and active brain is a huge contributor to a healthy lifestyle.
Puzzles, word games or even cross words – are a wonderful way to exercise your brain. It could be an online puzzle or a cross word you find in your daily newspaper. You can find puzzles and cross words you enjoy anywhere.
Listen to your favourite song or a podcast – there are plenty of interesting podcasts for you to listen to on a streaming app called Spotify. Ask a family member to set up an account for you on Spotify and then you can discover a whole world of podcasts and music.
Engage in meaningful conversations with your loved ones – if you spent many hours of the day alone, having a meaningful chat with someone is a brain stimulation activity in itself. Talk about life, life experiences and life stories, anyone would be engaged.
We can help you to stay healthy in your later life...
Help at home care
Our angels can reheat meals or cook home meals from scratch to meet your dietary requirements. We can also help to ensure that everything at home is where it is supposed to be so that you can continue to remain independent at home.
Companionship care
If you are looking for a compassionate and friendly person to talk to on a regular basis companionship care would benefit you, especially if you need regular visits from a familiar face and someone who is genuinely interested in your wellbeing. We truly believe that building relationships take time and we've had huge success in finding the right caregiver for our clients.
Personal care
A trained carer will offer discreet and professional personal care in a way that is suitable and most comfortable for you. We understand that having someone assist with personal care can be invasive, this is why our caregivers are carefully selected and trained to support you with respect, dignity and compassion.
We can help you with personal hygiene such as assistance with having a bath, a shower, going to the bathroom and continence support. We work around your routine and tailor visits to your specific requirements.
Are you looking for a care service? Get in touch for free help & support!