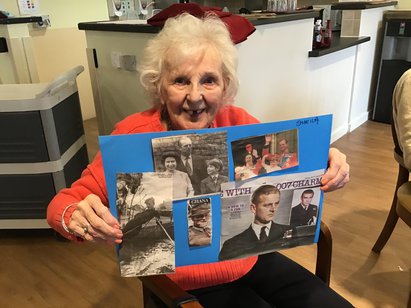 Residents & staff participated in lovely commemorative activities to celebrate the life of His Royal Highness, Prince Philip, on the weekend of his funeral.
As well as watching the live memorial service on TV with the nation, residents created beautiful memorial displays, participated in arts & crafts and enjoyed a spot of gardening in the sun.
Read on to find out how our partners, residents & staff spent the weekend remembering Prince Philip.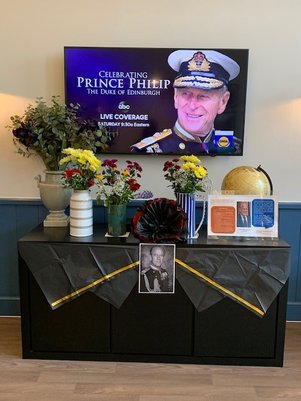 Abbots Wood Manor, Hamberley Care Homes
Abbots Wood Manor's staff and residents enjoyed a party in their Tree Tops Function Room with delicious food and fancy mocktails!
They also created a lovely display with pretty flowers, images and information on his achievements such as how he founded the Duke of Edinburgh award.
Dean Wood, Bupa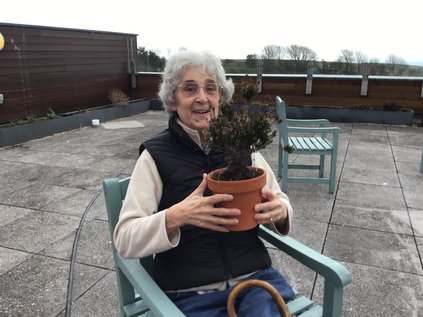 At Dean Wood, residents collected their favourite photos of the Duke of Edinburgh and made collages whilst reminiscing his years of dedicated service. Union Jack flags were decorated and displayed in their lounges for the funeral on Saturday and everyone enjoyed a tea party using a lovely vintage tea set.
All residents are invited to join a weekly club where they discuss the week's highlights and history of events. This week, the Duke of Edinburgh was a key focus. Val is a royal enthusiast and loves history whilst Kev met the Duke of Edinburgh on his submarine whilst working for the Royal Navy!
Dean Wood's gardening club members also planted Scottish heather in loving memory of the Duke of Edinburgh.
Acton Care Centre, Gold Care Homes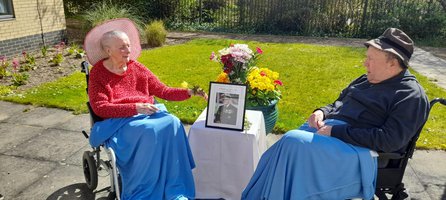 The lovely residents at Acton Care Centre commemorated Prince Philip whilst enjoying the sun in the garden.
Residents were assisted by staff members to light candles and place colourful flowers alongside the memorial display they created.
Burrows House, Gold Care Homes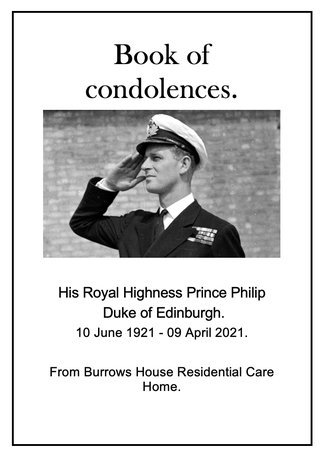 Burrows Houses' Activities Coordinator and Deputy Manager completed a book of condolences with their residents which has been sent to the Queen. Resident, Dorothy, said 'Prince Philip is one of the best. A kind man, a good father, we will remember him fondly. We send our condolences to The Royal Family.'.
Residents watched the funeral on the TV on Saturday and the comments on Monday morning were that they enjoyed the service and all felt sorry for the Queen, noting how sad and alone she looked during the ceremony.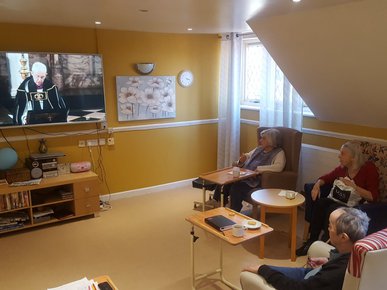 Heath Lodge, Gold Care Homes
Heath Lodge's residents sat together in the lounge to watch the funeral on TV. They also created a lovely display with flowers and framed photographs of The Duke of Edinburgh & The Queen throughout the years.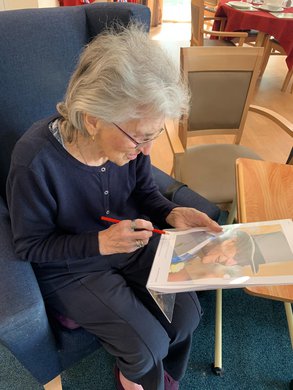 Autumn Vale, Gold Care Homes
Autumn Vale's residents made a wonderful pinboard full of images and information on the history of Prince Philip.
They also displayed images of the Duke of Edinburgh throughout the years & pretty flowers around the home.