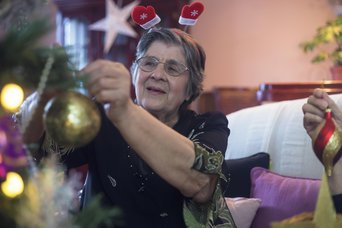 For many of us, Christmas is a magical & joyful time of the year. Christmas music, mulled wine and of course, delicious pigs in blankets are enough to get the majority of us into the festive spirit!
Care homes understand that Christmas can be a difficult time for some of their residents who do not have a family to spend their day with. As a result, care home staff make a huge effort to involve all residents in getting into the Christmas spirit, ensuring they are surrounded by joy and laughter on Christmas Day.
We all have a different idea of what our ideal Christmas Day entails and care homes take this into consideration when planning festivities for their residents. Often, staff members will converse with their residents to find out what their individual preferences are so that they can tailor Christmas Day to everyone's taste. Despite being under the same roof, care homes will try their best to ensure that each resident has a Christmas to their liking whether that means breakfast in bed, or watching their all-time favourite Christmas movies!
What can Care Homes do to help residents enjoy the build-up to Christmas?
Care homes will often arrange assisted shopping trips for their residents. It is likely that residents will have family members & friends they would like to buy Christmas presents for but their health prevents them from doing so independently. Residents may also appreciate the help of their Carer's with gift ideas, there's nothing like a second opinion right?
Sending Christmas cards to friends & family has been a tradition for years and is an excellent way of staying in touch with loved ones. As people age, writing Christmas cards can become more challenging. Care homes realise this and are happy to provide their residents with assistance writing and sending Christmas cards.
Care home staff can assist residents with using video chat to communicate with family members who live far away or reside abroad over the Christmas period.
Staff members will willingly assist residents with attending events if they can. Residing in a care home does not have to mean saying goodbye to much loved Christmas traditions such as attending church services or local Christmas fayre's.
Care Home Christmas activities
Every care home will have a unique selection of festive activities available to residents during the lead up to Christmas. Activity Coordinators will ensure that there is something for all of their residents to enjoy. Here are some examples of activities which may be held at care homes:
Crafts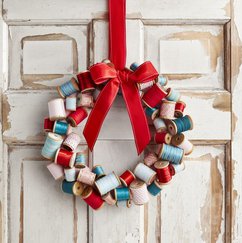 One of the activities that you can expect to see on the activities planner is Christmas card making. Everyone enjoys receiving a Christmas card, and receiving one which has been handmade especially for you is even better!
Another popular activity around Christmas time is wreath making. Residents may have fond memories of the wreath they used to hang on their door each year as a younger person which they can recreate for the door of their room at the care home.
Christmas decorations come in all shapes and styles from baubles to mini knitted stockings. Some tree decorations are even edible! There is no doubt that care homes will have an activity where their residents have the opportunity to get creative.
Themed baking
Mince pies are greatly associated with Christmas so what better recipe to bake at the care home! The smell of mince pies cooking in the oven may be nostalgic for some residents.
For those who are not quite so able but have a passion for baking, decorating gingerbread houses could be on the cards. Supermarkets often sell kits where the gingerbread pieces have been made ready to construct with icing & smarties!
Interactive activities
Music
Care homes are often inundated with performers wishing to entertain their residents with sing-alongs so they will no doubt have Christmas tunes sounding around their homes. There may also be a care home choir that residents can join and attend regularly. There's no better way to get into the Christmas spirit than with a bit of Christmas music.
Nativity Play
Over the Christmas period, local school's may visit the care home to perform a nativity play or to simply put a smile on the resident's faces by spending time with them. You may be familiar with the heartwarming Channel 4 programme 'Old People's Home for 4 Year Olds' which showed the undeniable benefits of young children spending time with care home residents. Since this programme was aired, many care homes have invited school's into their home to spend time with their residents.
Animal Therapy
According to UCLA, Animal Assisted Therapy (AAT) has multiple benefits for older peoples' mental health and physical health. They say that "The simple act of petting animals releases an automatic relaxation response." Many care homes welcome AAT, including Woodspring House in Falkenham, Norfolk. According to the BBC, they recently had a visit from Jack the Shetland pony and his handler Ali Stearn who have been visiting care homes "to bring festive joy to residents and raise money for dementia charities." (see video below). If you would like to find out how emotional support dog's can be trained to support care home residents, check out betterpet's fully accessible guide.
Example of Christmas Day at a Care Home:
Morning
The doors are opened on Christmas Day to friends and relatives of residents, as well as to those who don't have anyone to spend Christmas with. Everyone is welcome, the more the merrier!
9 am The day starts with being served a glass of your favourite beverage in bed.
9:30 am Would you prefer breakfast in bed or with peers in the communal breakfast room, the choice is yours! The chefs have considered everyone's requests and so fluffy pancakes with cranberry compote & delicious baked eggs with smoked salmon are both on the breakfast menu.
10:30 am Christmas is all about spending time with family & friends so everyone joins together by the Christmas tree in the shared lounge where staff and residents exchange presents - be assured that no one will be left out!
11 am Those who wish to attend a Christmas church service will have the option of attending a local service assisted by staff or they may wish to stay at the care home where a lovely church service will be held in one of the communal rooms. For everyone else, an array of activities such as board games will be going on around the home.
Afternoon
12:00 pm Christmas lunch is served and it's not one to be missed; pigs in blankets, chestnut stuffing and homemade cranberry sauce. For those that do not have much of an appetite, smaller plates will be provided. The tables are decorated beautifully with Christmas crackers containing those cheesy jokes we all love and colourful party hats.
12:45 pm Do you have a sweet tooth? If so you are in luck as Christmas pudding and black forest gateau are being served for dessert with a choice of cream, ice cream or custard.
1:00 pm Whilst your scrumptious meal is going down, a range of light activities including a sing-along, Christmas movies, board games will be going on for everyone to join in with as they wish. The care home understands that all the excitement can be tiring for some of their residents so will be on hand to help anyone to their bedrooms for an afternoon kip at any point.
3:00 pm The Queen's speech will be shown on TV at 3 pm on Christmas Day. Residents will be able to watch in the comfort of their rooms if they have a TV, or in one of the communal lounges depending on what they fancy. The famous English cup of tea will of course also be available with a biscuit or two!
Evening
5:oo pm After a heavy Christmas lunch, the menu for the evening is lighter with a wide selection of crackers, cheese & chutney's amongst other buffet-style foods, not forgetting the mince pies that the residents helped to make the previous day!
6:oo pm After a day full of joy & excitement, it's time to begin winding down with the Christmas specials we all look forward to on TV.
7:oo pm Residents begin to say their goodbyes with family members & friends for the night and gradually head off to bed after a glass of bailey's on ice!
We wish you all a very Merry Christmas & a Happy New Year!
Are you looking for a care home for yourself or a relative? Please don't hesitate to get in touch with us today.