"Research suggests that older people in care homes are twice as likely to feel lonely as older people living in the community."
You may be thinking "but how can they be lonelier when they live with many other residents of the same generation as them?" Doris has a Care Home Friends Volunteer visit her weekly at her care home and says "you can be lonely in a crowd." Some residents don't get many visitors, so to have someone make time to see them and talk about things that they wouldn't talk about within the care home really means a lot to them and without a doubt makes all the difference.
Care Home Friends is run by charity Embracing Age directed by Tina English and was set up in 2015 as a local project in the London Borough of Richmond. Today, they have projects in Northern Ireland & the UK and aim to start 30 more projects in the coming years. They aim to connect as many churches with care homes as they can to provide companionship to elderly care home residents who are in much need of a friend. Tina is passionate about making a difference to care home residents' lives and making them feel valued in society.
What do volunteers do with care home residents during their visits?
During a weekly visit to their assigned resident, volunteers will provide friendship and assistance to their elderly friend. Many elderly people struggle with modern technology, so often their befriender will be able to assist them with developing their digital skills so that they can stay connected with their family more effectively.
Befrienders may also read out loud to their new friend, particularly if their eyesight has deteriorated over the years. For someone who once gained great enjoyment from reading a book or the local newspaper, this can be very enjoyable.
Exercise is very important for health no matter what age you are, yet many elderly residents don't often get a chance to venture outside due to requiring assistance. For residents who enjoy the outdoors, going for a gentle stroll to get some fresh air with their befriender can be greatly appreciated and mood-boosting.
Elderly care home residents can often become bored and stuck for things to do at a care home. Therefore, they may enjoy playing a board game with their befriender. Not only do games keep the mind active, but they also encourage social interaction.
Enid's experience of being a Care Home Friends Volunteer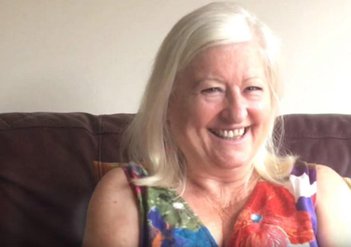 Enid has always had a soft spot for older people so when she heard about the opportunity to become a Care Home Friend, it was a no brainer for her.
She visits the lady she has befriended weekly for as little as an hour and can see how this time means a lot to her. Enid says she was petrified during her first visit, having never been to a care home before and not knowing what to expect. Now that she has been going for a few weeks she says that it just feels like going home as she can pop her head around the door, and everyone knows her.
The lady she has befriended enjoys watching TV programmes so Enid watches the same ones so that they can have a weekly catch up about them. She also cuts clippings from newspapers to bring with her so that they can discuss those too. Enid discovered that her lady loves salmon sandwiches, so she takes some along with her for them to enjoy together with a coffee.
With a busy life, Enid describes her visits to the care home as an 'oasis of peace' which she looks forward to. She loves that she gives her lady something to look forward to and seeing her face light up when she walks in is incredibly rewarding. She has gained a friend from being a Care Home Friends Volunteer and would recommend anyone to get involved.
What training do volunteers receive?
All Care Home Friends volunteers receive training including:
Active listening - Many of the care home residents you visit may not have many visitors, and therefore having someone to listen to them is a real gift. Volunteers will be trained on how to listen actively so that they can be as great a companion as can be. It is a technique where the listener is required to fully concentrate, understand, respond and remember what is being said.
Boundaries & confidentiality - Volunteers will be trained on what the boundaries are during their visits to elderly care home residents. Confidentiality and consent will also be fully covered by the training provided.
Dementia & communication challenges - Training will be provided on how to communicate with someone who has dementia. It is common for people living with dementia to have trouble finding the right words, or they may repeat things over and over. Some people will also be hard of hearing making it more difficult to communicate. The training will provide volunteers with knowledge on how to handle all kinds of communication challenges.
Safeguarding - Safeguarding is the action taken to promote the welfare of vulnerable elderly people and to keep them out of harm's way. Volunteers will be trained on this so that they know how to keep the care home residents safe during their visits.
Ongoing support will be provided to churches to make sure that:
2 references are taken from each volunteer.
All volunteers are DBS checked prior to visiting care home residents. Either the church or the care home can arrange this after discussing with the Care Home Manager.
That there is an appropriate induction process for volunteers who enter a care home.
That there is always a person that both the care home and volunteer can contact at Care Home Friends.
There are approximately 17,500 care homes around the UK and around 50,000 churches. If you are a member of a church and would like to make a huge difference to elderly care home residents' lives, or a care home who would like to get involved, Care Home Friends would be very interested in hearing from you. Don't hesitate to contact them today!
Are you looking for a care home near you? Please get in touch for expert help in shortlisting care homes.