What is a Blue Badge?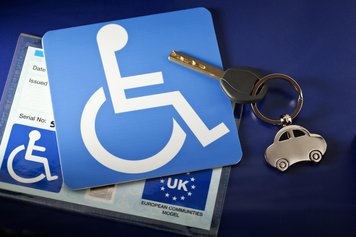 I'm sure many of you will already know what a Blue Badge is, but we will start off by giving an explanation for those of you who don't or would like a refresher!
A Blue Badge as the name suggests is a badge which can be displayed in the window of a vehicle that is transporting somebody who has a disability. If you are a Blue Badge holder, you have the right to park in all disabled car park spaces. The aim of the Blue Badge scheme is to make it easier for people who are disabled to access services, goods and other facilities by making it possible for them to park close to their desired destination.
Disabled car park spaces are available nationwide and enable Blue Badge holders to park in some cases without a time limit on their stay or parking charges. The badge allows permit holders to park on yellow lines for up to 3 hours, unless there is a ban on loading or unloading. It is important to bear in mind that the concessions provided with the scheme don't apply to off-street car parks or privately owned roads.
Who is currently eligible for a Blue Badge?
In the UK around 2.35 million people have a Blue Badge permit due to physical disabilities or being registered blind.
At the moment, to automatically qualify for a Blue Badge you must meet at least one of the following criteria and be aged over 2 years old:
Receives a Higher Rate of the Mobility Component of the Disability Living Allowance
Receives a Personal Independence Payment for being unable to walk further than 50 metres
Is registered blind
Receives a War Pensioner's Mobility Supplement or has received a lump sum benefit within tariff levels 1-8 of the Armed Forces Scheme and has been certified as having a permanent and substantial disability which causes inability to walk or very considerable difficulty in walking
There is also a chance that you may be eligible if:
You have a permanent and substantial disability which means you are not able to walk or are unable to walk without substantial difficulty
If you drive a motor vehicle regularly, have a severe disability in both of your arms and are unable or have difficulty operating a vehicle
Who will also be eligible for a blue badge as of 30th August 2019?
As of 30th August 2019, the Government has announced that positive changes will be put into action to who is eligible for a Blue Badge in the UK. People who have hidden disabilities such as dementia or mental health problems will soon be able to apply for a Blue Badge as well as those who have physical disabilities. For people who fall into this category it will mean that they will be able to benefit from being able to park closer to goods and services. This will be a great movement towards tackling loneliness and  isolation of those who have invisible disabilities. Not only this, but it will reduce the stress that is often experienced by people who have anxiety when tasked with finding a car parking space.
The decision to make changes to the guidelines of the Blue Badge scheme comes after an 8 week consultation in 2018 and forms part of the Government's drive from greater parity between physical and mental health. It has been revealed that the UK Government will supply an additional 1.7 million in order to help the Councils to cope with the anticipated increase in applications for Blue Badges.
The new guidelines will allow people who meet the following criteria to receive a Blue Badge:
People who are unable to travel without "very considerable psychological distress"
People who have very considerable difficulty when walking (both physical act and experience of walking)
People who are unable to travel without risk of serious harm to their health and safety or someone else's (including young children with autism)
How do I apply for a Blue Badge?
If you reside in England, Scotland or Wales, you can apply for a Blue Badge online here.
If you live in Northern Ireland, you will be able to apply for a Blue Badge online here.
If you would prefer to make your enquiry via telephone you can call this number: 0844 463 0213
Top tip: Be prepared with your proof of identity, proof of address and proof of benefits (if applicable), National Insurance number (if you have one) and details of your current Blue Badge (if reapplying)
Are there any costs involved in getting a Blue Badge?
| England | Scotland | Wales |
| --- | --- | --- |
| Up to £10 | Up to £20 | Free |
Update (September 2020)
The amendments to the Blue Badge eligibility have been in action for a year now and I'm sure you'll be interested in the statistics released by Confused.com after they issued a Freedom of Information request to UK councils:
There are 38 Blue Badge holders to one council-owned parking space
Since the scheme was updated, there have been more than 35,000 applications for Blue Badges under the 'hidden disability' criteria.
Only 1,800 new dedicated parking spaces have been added in the past 12 months to accommodate these drivers, suggesting that the demand for a parking spot is greater than before.
Nearly 158,000 fines were issued to drivers in 2019 for misusing a Blue Badge parking space, with a further 2 million drivers admitting to wrongly taking advantage of these spaces.
66% of Blue Badge holders have been forced to park elsewhere, with 49% struggling to get out of the care due to a lack of space.
Alex Kindred, Care Insurance Expert at Confused.com has said "Opening up the Blue Badge scheme to people with hidden disabilities is a really positive move. But it's clear there's a need for more parking – 38 Blue Badge holders to one space is going to create a lot of issues for these drivers. Although, the issue is made worse by people taking advantage. The rules are clear: if you aren't a Blue Badge holder, you don't use the dedicated space."
Do you think you may be eligible for a Blue Badge? If you meet the criteria for the current guidelines do not hesitate to apply today (see "How do I apply for a Blue Badge" above).
Are you currently looking for care services for yourself of a relative? Please don't hesitate to contact TrustedCare today for help with shortlisting services near you!