What is the aim of the app?
The main aim of the app is to keep people who have dementia in the community safe. An estimated 6 in 10 people with dementia are at risk of wandering and finding themselves lost so Alzheimer Scotland is taking steps to ensure that these individuals are found and bought back to safety as soon as possible with the help of their Purple Alert app.
Who is the app for?
The carers of people who are living with dementia - For carers, the app means that they may be able to trace the people they care for quickly with the help of the community.
Members of the community who want to help people who are living with dementia and their carers - There are many people out there who given the opportunity would love to give back to the community and help people who are living with dementia and their carers. The Purple Alert app gives them an opportunity to do this.
How does the app work?
Users of the Purple Alert app are required to create a profile and update their personal details along with a photo of themselves. Doing so will reassure the community that all users of the app are 'real people'. Contact details must be correct in the case that you are being contacted during an active Purple Alert.
The app has an 'Active Alert' screen, showing a list of active Purple Alerts of people who are currently missing in the area. Tapping a missing persons' profile enables users to view details of the person as well as where they were last seen. There is the option to leave a 'comment' which lets users ask questions which may help to locate a person. There is an option to 'receive updates' about a person which will provide pop up notifications on users' devices. If someone has seen the missing person they can tap 'I have seen this person' which will bring up the carers contact details. It is recommended that the carer is called immediately so that they know that their relative is safe. There is a 'Seen Alert' option where users can enter the date, time and location that they saw a missing person.
The carers of people with dementia who sometimes wander may wish to create a profile for them on the Purple Alert app. That way, if the person does go missing, their profile is already ready to be shared. There is a section on the app where you can create a profile for the person with dementia, including information such as their places of interest and a recent photo of them. Once the profile is complete the profile will be saved privately, until required.
The first course of action when someone who has dementia goes missing should be to call the Police on 999. Once this has been done a Purple Alert can be sent on the app by going to the 'Person with dementia' screen and changing the individual's status to 'Missing'. Here, details can be entered such as the date and time they were last seen, and any details about what they are wearing or how to approach them when they are found. Once a Purple Alert has been sent, people who are within a 30-mile radius of where the person was last seen will receive a notification of their device.
Once a missing person has been found, necessary people should be alerted that the person is no longer missing such as the Police, friends & family, and the Purple Alert community. The app can be used to change the status of the person to 'Found' to alert the community.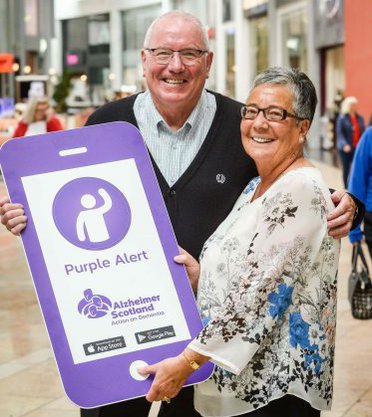 Hugh & Ann's story
Hugh was diagnosed with dementia in 2013 and he & his wife Ann decided that they would not let his diagnosis be a barrier to them getting out and about. Their dementia Adviser made them aware of the Purple Alert app which they have been using ever since. Hugh says that the app has made it easier for him to talk about dementia with friends and family.
During one of their trips to the shopping centre, Ann lost sight of Hugh which jogged her memory about the Purple Alert app she was told about. After calling the Police, Ann opened the app and marked Hugh as missing. A member of the community received an alert on his phone and realised that he was sat right next to Hugh at a bus stop. The gentleman used the app to call Ann and alert her of Hugh's whereabouts. Without the app, Hugh could have got on a bus and ended up somewhere far away.
So, how can you get involved? If you live in Scotland, you can download the Purple Alert app today, create a profile and begin looking out for alerts! Purple Alert's strength is the community and they require more people to download the app to support more people with dementia to live independently and to feel safe when out and about.
Are you looking for dementia care near you? Please don't hesitate to contact us today for free help and support.