Chefs across 23 Ideal care homes get ready to battle it out to be crowned the 'Ideal MasterChef'
Care provider, Ideal Carehomes, has launched an 'Ideal MasterChef' cooking competition with the help of celebrity chef and 'Ready Steady Cook' star, Ainsley Harriott. Kitchen teams from 23 care homes across Yorkshire, the North West and Midlands have been 'whisking up a storm' as part of the operators latest training and development initiative in association with Brakes Foodservices.
The contest comes via the Ideal Academy which supports staff through their career development and skills training using targeted E-learning and specialist workshops. Celebrity chef, Ainsley Harriott was excited to hear about the competition and sent a special video message which includes a culinary poem that he penned himself.
Ainsley said, 'I wish all the Ideal Carehomes cooks the best of luck. I think the competition is really exciting and the idea of being crowned national 'Ideal MasterChef' is absolutely brilliant! I hope you all have a fantastic time and remember to enjoy yourselves; cooking is fun and a freedom of expression and when you do it right, it can be brilliant! Good luck to you all!'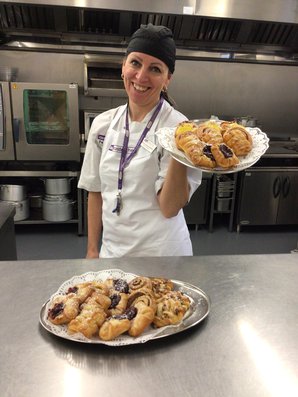 The contest, which is set to be held in accordance with current government guidelines, gives the kitchen teams an arena to showcase their talents as each home grills, steams or scrambles to win their regional heat to go through to the national final held at Brakes Development Kitchen later in the year. The participants will prepare a main course and dessert for a panel of expert judges where they will be scored on areas such as nutritional value, budget, taste and presentation.
Each Chef will sport their very own 'Ideal MasterChef' aprons and receive tailored support and guidance from cookery experts from Brakes Foodservices who will work with them on their menu to advise on technique, ingredient swaps, nutrition as well as budgeting.
Anna Lewandowska, Kitchen Manager at Fairway View in Nottingham, said, 'The health and well-being of our residents is absolutely paramount and each meal that we create is cooked with our residents in mind. We always ensure our dishes are healthy and nutritious whilst also incredibly tasty. I am delighted that we have centre stage to display our cooking and show how every meal we make is much more than just breakfast, lunch or dinner. I am looking forward to our first heat – we plan to knock the judges socks off with some of our resident's favourite dishes!'.
Driving force for the 'Ideal MasterChef' contest and Ideal's Head of Development and Engagement, Sarah Colling, said, 'I cannot wait to see and taste all the delicious dishes our teams prepare! I have had a sneak peek at some of their competition menus and I can really tell that our Chefs are coming to win! The competition will help to cement the ethos in our homes about the whole dining experience for our residents – every mealtime should be a joy and a treat with foods that they look forward to and are full of vital nutrients and super tasty too.'
Ideal Carehomes provide residential and dementia care where residents can enjoy a full programme of health, leisure and wellbeing activities managed by a dedicated team of carers. The Ideal Academy offers excellent training and support to provide staff with all the tools they need to succeed in their roles and beyond.
Are you looking for a care home for a loved one? We would love to help!