Loneliness is a real problem for the UK's elderly and forecasts predict it is only going to get worse. By 2025/26 it is thought that more than 2 million of the UK's over 50's will be suffering from loneliness.
Age UK is an organisation which aims to support elderly people. They are taking action to reduce the level of loneliness experienced by elderly individuals by offering a befriending service.
Rose and Sarah met through Age UK's befriending service after Rose was feeling the absence of someone to have a cup of tea and a chat with. She describes meeting Sarah as 'the best thing that I could have done'. Sarah says that they are planning a skydive next!
" Half a million older people go at least five or six days a week without seeing or speaking to anyone at all..."
Befriending definition: To act as or become a friend to someone, especially when they are in need of help or support.
Age UK Befriending Service FAQ's
What types of befriending services do Age UK offer?
| Telephone Befriending (Call in Time) | Face to Face Befriending |
| --- | --- |
| A volunteer befriender will give an elderly person a call at an agreed time each week. | Available at many local Age UK's. |
| A volunteer befriender will give an elderly person a call at an agreed time each week. | May involve a volunteer going to the home of the person in need for a cup of tea and a chat. |
| The call time guideline is 30 minutes but it does not need to be stuck to. | Volunteers may also accompany the service user to an activity or to a Doctor's/Hospital appointment. |
Who is eligible for the befriending service?
Elderly people over the age of 60
Must have their own landline or mobile phone
Must be able to hear and be understood on the phone
Have the ability to commit to a regular weekly call at the same time
People who experience memory loss, dementia or metal health problems require a higher level of support than what the befriending service can provide. Consequently, the service is regrettably not suitable for people who fall under any of these categories.
Are there any costs involved?
No! Age UK are able to offer their brilliant befriending service completely free of charge. This is because all of Age UK's befrienders are volunteers who want to gift their time to make a positive difference in the elderly community.
How can I sign up or refer somebody else?
You can either call the Age UK Advice Line which is a free, confidential, national phone service, or fill in an online form here.
Checks will be carried out to determine whether the person requiring the service matches the criteria.
Age UK will find a match for you or the person you are looking for (can take a few weeks to find the right person).
The service user will be connected with their befriender volunteer to begin weekly phone calls or visits.
Age UK Advice Line:   0800 678 1602
If you are interested in signing up to Age UK's befriending service or becoming a volunteer, please don't hesitate to give them a ring!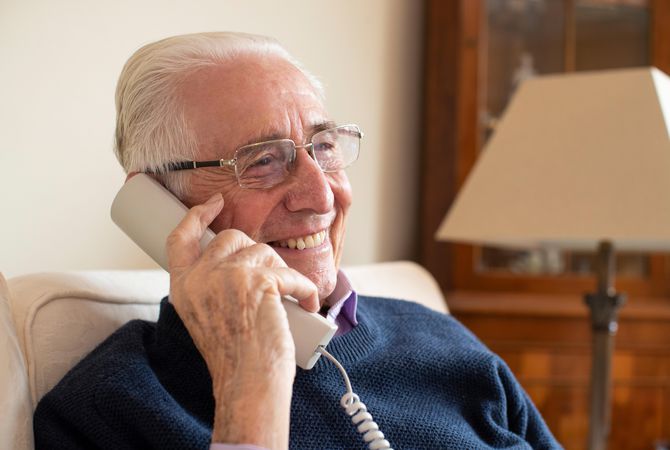 How does Age UK pair people?
Age UK understand the importance of pairing people with somebody who they are are likely to get along with. Therefore, they work very hard to match people based on their shared interests and hobbies. Sometimes it can take Age UK a few weeks to find the right match.
In the case that the service user does not feel like they get along with their befriender after a few calls/visits, Age UK will be able to talk them through the available options.
Is the service safe?
Yes, Age UK's befriending service has been created to ensure that it is secure. All calls between service users and volunteers are recorded and samples will be listened to in order to make sure that everything is running smoothly.  Age UK's computer automatically connects the service user with their telephone friend so they do not need to disclose their personal number.
There are a number of checks that all volunteers must undergo before becoming a befriender:
2 references will need to be provided
Their name and date of birth will be checked against their address
Any unspent criminal convictions will need to be declared
They will be required to agree to the Terms and Conditions
If you or someone you know suffers from loneliness, please know that there are organisations such as Age UK who are leading the way in making inspirational movements to combat loneliness in the elderly. Having somebody to interact with even for as little as 30 minutes a week can have a sizeable impact on the mental and physical well-being of an older person.
For free, help and support shortlisting Care Services near you, please get in touch today.