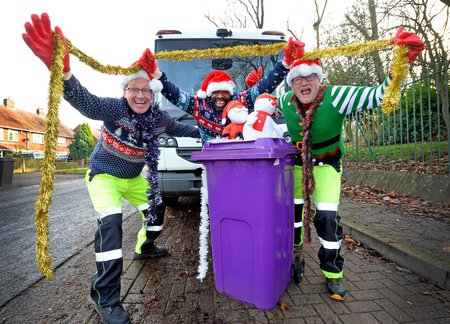 To keep spirits high, many people have been coming up with wonderful & inventive community initiatives during the Covid-19 pandemic.
We have highlighted just 10 of the great things people have done and are still doing to put smiles back on peoples' faces across the country!
10 Community Initiatives...
3 Wolverhampton binmen have teamed up to spread some cheer during the pandemic by sharing their humourous dance routines online. Since the start of the pandemic, their dance videos have gone viral and they have even created a Christmas Single! Half of the money raised will be going to a local charity. They have already raised £3,000 for Wolverhampton Charity, Compton Care.
Check out their funky dance routines to 'Single Ladies', 'Ya Ya Ding Dong' & 'It's Raining Men' on their YouTube channel. Laughter is guarenteed!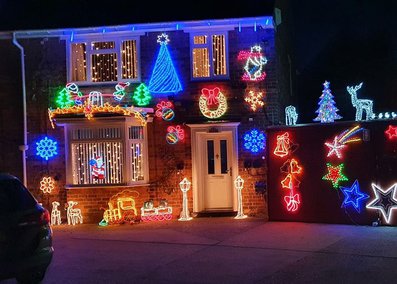 Originating in Nottinghamshire, the 'Light Up Locally' campaign has been keeping peoples' spirits high during the run-up to Christmas. The campaign is encouraging people to put up their Christmas lights early to help boost everyone's mental health during the winter.
Neighbourhoods nationally have caught on to this fantastic initiative and have been going all out with their Christmas lights and decorations. The photo to the right shows Chris Ellis' inventive Christmas display!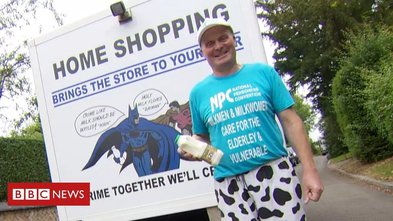 Tony Fowler, who has been a Milkman in Leicestershire for over 35 years, has been going the extra mile to help others. Since the beginning of lockdown, Tony has taken on 200 additional clients. Not only has he been delivering milk, but he has also been acting as a handyman for his customers who are self-isolating. He has been helping out in all kinds of ways from delivering prescriptions to mending broken plugs!
Imogen, now aged 11, was determined to support key workers during the Covid-19 pandemic. She decided that she would like to do a keepie-uppie for every key worker in the country in April to raise money for charity but soon realised that this would be an impossible task for her alone.
Manchester City Footballer, Lucy Bronze, responded to Imogen's appeal for help which 'kick-started' people all over the country videoing and donating keepie-uppies to help her reach her goal. Imogen has inspirationally raised over £11,418 for nine charities since the beginning of lockdown.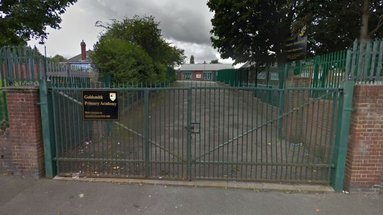 Goldsmith Primary School in Walsall has been hosting birthday parties for their birthday pupils on the last Friday of every month to avoid them having to miss out on celebrating with their friends due to Covid-19 restrictions.
When the school posted an update about the birthday parties on Facebook, the idea gained a lot of interest from other schools who are now doing the same for their pupils.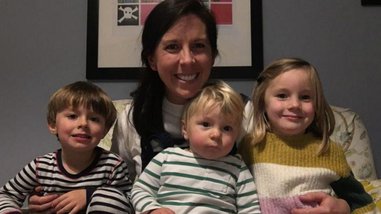 Ruth Woodsend & Jo Waldock, 2 lovely mums based in Bristol, are organising a city-wide doorstep Christmas sing-a-long to boost morale and community spirit across the city.
On the 5th December, they are encouraging people across Bristol to stand on their doorsteps and sing the same 7 Christmas songs together. Ruth & Jo have had 5,000 booklets printed with lyrics to the songs they plan to sing and have been distributing them to all who wish to partake.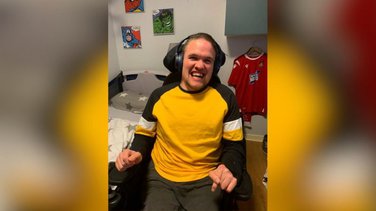 Aiden Scott is a huge fan of Wrexham FC and is living with Cerebral Palsy. He had been raising money towards getting a bathroom fitted in his flat,  which is safe for him to use and meets his care requirements.
Actor, Rob McElhenney, who is due to jointly take over Wrexham FC along with Ryan Reynolds,  donated a sum of £6,000 towards Aiden's cause, enabling Aiden to have his bathroom fitted and pay for the carers he needs to help him use it.
It is safe to say that Aiden was over the moon when he woke up to see Rob's generous donation!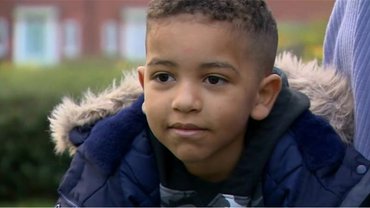 6-year-old Blake Durham from Stockton decided on his own accord that he would like to perform an act of kindness and pay for the man behind him in the McDonald's Drive-thru queue's meal.
Blake's lovely gesture sparked a chain reaction, with car after car paying for the car behind them's order!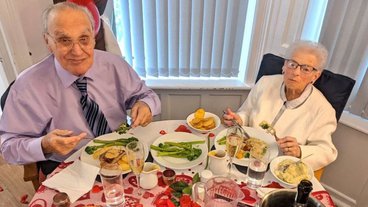 Laurel Lodge Care Home in Norwich decided to throw residents Phyllis & Derek, both aged 90, a belated 66th wedding anniversary party.
Derek & Phyllis had been unable to hold each other's hands for 4 months due to the Covid-19 restrictions until Derek also moved into the care home in October to join his beloved wife.
The surprise party was arranged between staff members and the couple's daughter and comprised of a fancy dinner and photographs from their wedding in 1954. Staff members even came in on their day off to play the piano and sing whilst the couple enjoyed their fine dining experience.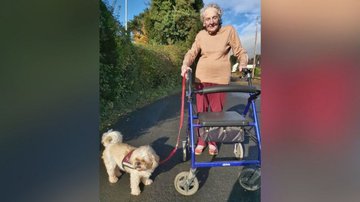 Despite being profoundly deaf and using walking aids, 97-year-old Grace Know from Wrexham is determined not to let anything get in the way of her and her hearing dog, Amy.
Grace was told that she was crazy when she set herself a target to raise £100 during Hearing Dogs for Deaf People's "Virtual Great British Walk". She smashed her target and, as of November, she has raised over £2,400 which will go towards training more hearing dogs like Amy.
Due to her mobility issues, Grace arranged for someone to accompany her on the 8 miles she completed over a series of local walks.
Are you looking for care for someone? Please get in touch for free support!