Immediate Needs Care Annuity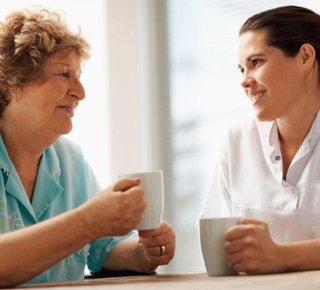 Many people have concerns about the long-term costs of care and what might happen should their money run out.
Will family have to step in to pay for the care?
Will they have to move to a cheaper service?
What happens if their care needs increase?
Families need certainty that their loved one's need will be met long into the future, at the home of their choice, regardless of their needs.
The solution
An Immediate Needs Care Annuity is a type of annuity which guarantees to pay out a certain level of income for life, to help cover the cost of care, in exchange for an up-front lump sum payment.  The pay-out is made monthly and usually paid directly to the care provider; it can be a set figure, or index-linked so any increases in care fees will be covered.  Once the annuity has been bought, whatever money or assets you have left can be used for any purpose, such as passed onto family, secure in the knowledge you will continue to receive the care you require.
How much do they cost?
The cost of the annuity is tailored to the needs and circumstances of the person who requires it; however, the average cost of an Immediate Needs Care Annuity is typically anywhere between £100,000 to £180,000.
Eligibility requirements
You must be medically assessed as needing care to apply for this type of product, and for the insurer to evaluate how much you must pay for your chosen level of income.
The individual who is taking out the Immediate Needs Care Annuity has Mental Capacity, or there is a Power of Attorney (PoA) in place.
It usually takes between 6 to 12 weeks to arrange an annuity, the provider will need to speak with your GP to gain an understanding of your health and care needs.
You cannot normally cancel or get your lump sum premium back, except during the statutory cooling off period (normally 30 days) after purchase.
Interested in finding out more?
Frequently Asked Questions
Do we receive any money back should I pass away before the value has been realised?
Generally, if you were to die in the early years before the annuity has realised its value, the estate will not receive any payment or money back from the product.
Some product providers will allow you to add on additional insurance to pay back some of the product value should the person who has taken it out dies within the first 6 months, this however does increase the overall price of the product and will only return a percentage of its value.
Can we swap care provider?
Yes, it is possible to swap care provider and the annuity will simply pay the new service provider. The annuity will provide you with a fixed monthly income tax free when paid directly to the care provider. If the person leaves the care home and returns home, the product will pay out to them directly however they will then be liable for income tax.
Will an annuity pay out for as long as I live?
Yes, an immediate needs care annuity guarantees to pay out for as long as you live at the agreed monthly rate. It will pay out more than the purchase price value should you live a long time.
Will an annuity pay out if my care needs increase?
An immediate needs care annuity can either pay a fixed income, or an increasing, index linked income, meaning that the product increases its pay out annually.
At the outset it is important to consider the long term care requirements and how an individual's needs might change over time. As needs increase, often so to do the professional care costs.
Can I switch annuity provider for a more competitive rate?
No, unlike other insurance products it is not possible to switch product provider once an annuity has been taken out.