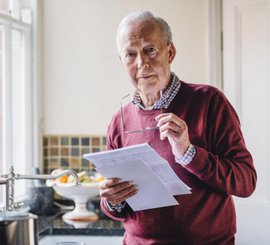 There are many of us who need a little help with day-to-day living, be it from a trusted friend or Carer.
This is likely to include giving them access to our bank card in order to pick-up shopping, collect prescriptions and pay bills.
Although we all like to believe the best in people, giving someone unfettered access to our bank account can cause sleepless nights.
The solution
GuardianCard is a revolutionary new debit card and account designed specifically for individuals who rely on others to make payments and buy day-to-day items on their behalf.  The account and card are linked to an App which families can use to monitor all day-to-day purchases and transactions. It provides complete transparency and can be used like any other debit card - in shops, online and to make withdrawals from cash machines.  The card owner, or their loved ones, can receive instant notifications of any new payments being made and spending limits can easily be set up, putting you in complete control of your money.
How do I get started?
Simply follow this link to the account creation page and download the GuardianCard App.
By downloading the App you will be walked through setting-up your account & can then manage all aspects of your account through the app, including:
Issue physical & virtual cards
Instant account top-up
Online statements
Real-time notifications
Set your spending limits
Choose where the card can be used (in-store, online or at an ATM)
Block & unblock cards
Eligibility & Cost
Anyone who is over 18 years old and has a UK address is eligible for a GuardianCard account, regardless of credit score.
The monthly cost of the account is £7.95 which is less than £2 per week for complete peace of mind regarding who has access to your or your loved one's bank account.
Interested in finding out more?
Frequently Asked Questions
What is the difference between Guardian Card and a traditional bank account?
GuardianCard provides much of the functionality of a high street bank account, plus lots of features on top. Here are some of the benefits that set us ahead of your high street bank:
Each 'Guardian' of the card holder has access to the App to monitor spending and transactions.
Card holders and their Guardians can receive real-time notifications letting you know how much money has been spent, and where, along with the updated balance.
Set spending limits and the option to block on certain transactions.
Specify where the card can be used – ATMs, in-store or online.
Is there a minimum account balance?
No, there is no minimum account balance however there is a maximum of £6,000. To keep card owners safe, there are also limits on the number of transactions and their value which can be set up through the App.
Do you carry out a credit check before approving an account?
We look at your credit history as a verification to your identity and address, however we do not carry out a credit check and your application will not affect your credit score.
How long does it take for approval?
Usually new accounts can be approved within 48hours however please allow up to 5 working days. Once approved, the card should arrive within 7 days and the App can be used immediately.
Am I tied into a long-term agreement?
No, accounts can be closed at any point. Please contact a member of the client services team who will do this for you and arrange for any funds still on the account to be transferred to another bank account.