Hartford Court
5.0 out of 5 5.0 out of 5.0 3 reviews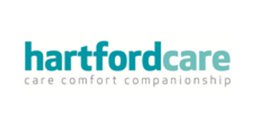 Specialisms
Dementia Care
Old Age (65 years+)
Physical Disabilities
Respite Care
Call this provider - 023 9387 3753
Hartford Care is delighted to announce that that our beautiful new Care Home in Portsmouth is now nearly complete. Hartford Court is a state-of-the-art 60-bed care home that will offer residential and dementia care including respite care and day care services to the elderly people of Portsmouth and surrounding areas.
The facilities at Hartford Court are truly exceptional! The reception area incorporates a comfortable seating area, a resident's shop and a hairdressing and nail salon. The rest of the home boasts a library, a choice of formal and informal dining rooms, a number of lifestyle kitchens and of course plenty of restful communal lounges including The Colonial Lounge, The Captain's Quarters and the Parlour.
The quality of build, design and finish are second to none. A great deal of care and attention to detail has been lavished on the interiors at Hartford Court and the result is delightful, where the traditionally English décor is set off to perfection by nautical touches, inspired by the proud Naval History of the city of Portsmouth.
The 60 individually designed en-suite bedrooms are comfortable and spacious and the building has been designed to make the most of the garden views with many of the bedrooms and lounges having private patio areas with personal access into the garden. The first floor also enjoys a comfortable terrace from which the residents can enjoy continuous access to the fresh air for relaxation.
At Hartford Court, there will be a real emphasis on activities with a really interesting and varied daily programme of things to do. Regularly through the year, the home will hold themed events to which friends and family are invited: murder-mystery dinners, music events, parties and birthday celebrations are just a few examples. Some residents may wish to continue their hobbies – others may wish to try new ones. There will be plenty of choice and dedicated staff to help.
Please give us a call to discuss how we can help support you or your loved one at our care home in Portsmouth, we look forward to welcoming you to the Hartford Court soon.
Hartford Court
Catherington Place
Portsmouth
Hampshire
PO3 6GN
Send enquiry